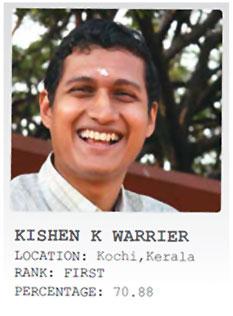 Discipline and the right attitude can make a seemingly unattainable goal, simple. Kishen K Warrier, all-India CA topper, applied this mantra to accomplish his goal. He dispels the myth that the CA course is difficult. The syllabus is just vast, says Kishen, who followed in his late father's footsteps...
Clearing the CA exam requires average intelligence but plenty of hard work," says the 23-year-old Kishen who lives in Kochi, Kerala's business capital. "My late father was a CA and I felt I had the passion for accountancy and commerce."
After topping Class 12 in 2004, Kishen enrolled in the CA programme. His reason for choosing CA, over the MBA was 'cost benefit analysis', he says ie, the cost incurred in the course is much less compared to the salary one finally draws, he elaborates.
He cleared the Competency Professional Test (CPT) first, then Professional Education I and II before appearing for the Final Exam, followed by articled training. "Commerce graduates with 50 per cent marks are exempted from CPT," he says.
The registration for CPT is open throughout the year. A student may register at any time during the year though the examinations are held twice a year in May and November. Attributing his success to hard work, discipline and the right attitude, Kishen admits that the articleship, with a 9-to-5 schedule, did not  leave him with much time for exam preparation, especially when he was simultaneously pursuing BCom.
A meticulous planner, Kishen changed his pattern of study, devoting approximately two to two-and-a-half hours of study on working days and 10-12 hours on holidays. He solved model papers, received coaching from the Ernakulum ICAI branch, and visited libraries for reference material.
"I assigned almost equal weightage to all subjects. But some papers are more scoring compared to others, such as Management Accounting and Financial Analysis (MAFA) in Group I and Management Information and Control Systems (MICS) in Group II on which I focused a little more," Kishen said.
 
The Chartered Accountancy (CA) course is conducted by the Institute of Chartered Accountants of India (ICAI). The course trains a candidate in areas of accounting, auditing and taxation.
The five-year course is structured into two theoretical sections of one year each and on-the-job training or articleship during the last three-and-a-half years, under the Existing Course regime. "But under the New Course regime articleship training is only for three years," Kishen informs us.
CA aspirants can enrol in the programme while appearing for or after having passed Class 12 exam. Currently, despite having some offers on hand, his net analysis is to firm up on a job only after three-four months during the second round of campus placements.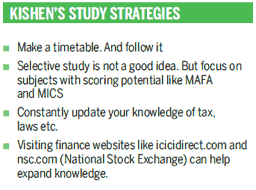 At present, he earns a stipend of Rs 5,000 per month at Kochi-based M/s Ramachandran and KrishnaKumar, Chartered Accountants, which according to him is a back-up.
How important are coaching classes? "They can give you a start and guide you on topics to cover besides inculcating a disciplined approach," he adds. "But self-study is important." The total CA fee (for five years) is approximately Rs 40,000 whereas the entry level salary for chartered accountants averages Rs 75,000 per month. Sometimes the job openings are to the tune of Rs 12 lakh per annum, he apprises. Internationally placed students earn Rs 38 lakh per annum and more.
"During the articleship period, one can earn stipend anywhere between Rs 1,000-5,000 per month," he says.
An avid reader of Malayalam literature, Kishen also spends his free time browsing finance-related websites, keeping abreast of the stock market and watching Malayalam movies.