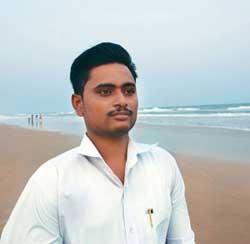 Sangram Behera had no other ambition but to be in the Civil Services. This dream was given to him by his father, a barber. The 24-year-old gold medallist in MSc (Zoology) from Behrampur University topped the IFS exam without any coaching; he says that it was God's mercy. Sangram talked to us from Gopalpur beach where he was celebrating with his friends.
Were you expecting to top?
No, not really. But yes, I was confident that I would be among the top 5. It was God's mercy and my parents' relentless efforts in giving me the resources to achieve this dream. 
Were you nervous before the interview?
In fact, no, I wasn't nervous. Well, for one, this was the second time I was facing the interview board. I had appeared for the Civil Services in 2008, where I cleared the finals and made it to the interview stage but couldn't qualify, eventually. So the earlier experience helped this time round. Besides, the panellists made me feel comfortable by asking me questions about my research and hobbies.
So tell us about your research and hobbies.
My research, though, in preliminary stages is on the Aedes mosquito. In fact, I am especially interested in the regeneration of antlers in spotted deer. As for my hobbies, (laughs), I like to write poems in Oriya. If you ask me if I have a favourite writer, I would say I have many, but what stays with me is their poetry not their names.
What attracted you to the Indian Forest Services since it is an unusual choice?
In times to come, India's ecological future is going to be of utmost importance. Even now many species are on the verge of extinction; both wildlife and forest conservation would affect the country's future progress. At home, we -- my two sisters and I -- were always told of the importance of contributing to society. And for me, there cannot be a better way than to protect India's rich forests and precious wildlife.
So, would you be a good officer just as you have been a good student?
Guidance is key to one's progress. Although I went to a municipal school with little infrastructure, I have been lucky to have had good teachers. Even in the university I had very supportive teachers. Thanks to them I got through without any coaching or outside help. But yes, even my friends are waiting for me to prove myself as an officer. What I can tell you is that I promise to do my very best.
How did you prepare for the exam without any coaching?
For me, it has never been about the number of hours that one puts in, but the quality of the time spent in preparation. I get up at six in the morning and I am in bed by nine no matter what. When you have limited means and resources you learn to manage time and make the most of what you have. Poverty sharpens intelligence. My father's earnings were meagre but I found a way out: I would spend many hours in the library. And my teachers helped me with books and notes.
What if you hadn't made it this time; did you have a back-up plan?
There was no back-up plan. I would have appeared for the exam once again. This was my second attempt at IFS. The first time I appeared for it was in 2007 and I didn't do well in the written. So, I examined my score and tried to rectify my mistakes. And the reason I would have tried again is because of my mother, who once had to sell her silver anklets to meet my education expenses (I am a bit emotional now). She hasn't bought them yet. She's waiting for me to buy them for her with my first salary as an IFS officer.
What's your message to future aspirants?
Faint hearts have never won fair ladies. If you want to, you have to be a braveheart!
Photograph: Sanjib Kumar Mukherjee