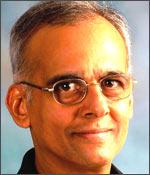 Andrologist and microsurgeon Dr Sudhakar Krishnamurti will be responding to rediff readers' sexual queries on a regular basis.
We invited Get Ahead readers to mail in their questions. Here is the next set of responses:
---
I have a problem while using a condom -- whenever I wear it, I feel some pain as if the skin on the penis is not streching any more. Also, I feel that the condom will get wrinkled up in the front and inserting again and again is becoming tough.
How to use a condom -- is it good to pull back the skin on the penis or use a condom without pulling it back? I got married six months ago, so is it the syndrome of the newly married sex? Please reply.
Regards,
Sush
Everyone must learn how to use a condom properly. Check out this clear, diagrammatic instructional video: http://www.youtube.com/watch?v=tcpfZKvOFZ4
To maximise pleasurable sensations, the uncircumcised patient must pull back his foreskin to expose the glans penis. If you experience pain during condom usage, it could be because your foreskin is tight. A simple andrology check-up will clarify this.
---
Dear Sir,
Please tell me the duration for which a person should have sex normally to satisfy a woman, ie the time excluding foreplay? In other words, how many strokes does it take normally to satisfy a woman?
Besides that, sir, I am a 27-year-old man, unmarried. I had relations with a woman, but I feel that I was not able to satisfy her. I don't know whether it was because I was doing it fast since I was afraid of getting caught, or something else?
Also, I have masturbated a lot from the age of 14; about five-six times a day and I feel like I have weak erectile function. I don't get excited easily anymore and when I do, I ejaculate within seven-eight strokes. Please suggest what I should do? Very soon I am going to get married and I don't want to destroy the life of the girl with whom I will be getting married. Please don't disclose my name.
Rajesh Taradi*
There is no standard algorithm for love-making for all situations. It is quite literally 'different strokes for different folks'. Verbal communication is very important. The couple must openly discuss their likes and dislikes, how they'd like to be pleasured etc. If both are first-timers (still a common phenomenon in India), the couple must read proper sex manuals. There are some good ones out there. A good sexual medical consultation can also achieve a lot. The complaint of 'weakness' following masturbation repeats itself like a broken record in every sexual health and andrology column. This has been addressed by me in past columns. With proper help, you will be fully capable of fulfilling your conjugal responsibilities ably.
---
Hello Dr Sa'b,
I am Samir from Ahmedabad. I've been married for 13 years. We have sex three to four times in the week, but now I am not able to have sex twice in the same night; I do it with my wife only once. Please help me -- suggest any course so that I can have sex twice in a night with long foreplay. And also, is this weakness? Please reply.
Dear Samir:
It's not how many times you do it, but how well you do it, that really matters. Second and third erections are usually craved by men who are unable to satisfy their partners the first and second time. The reasons for why partners remain dissatisfied are:
Inadequate or inept foreplay.
Too short an intercourse session, especially one that does not stimulate the clitoris.
Early ejaculation.
Inadequately rigid erection.
Inconsiderate lovemaking (it's not all about just thrusting) etc.
To stop worrying about your own erections and ejaculations, you could try bringing your partner to orgasm with skilled foreplay techniques. It might be a good idea to discuss openly with your partner what she'd like best, and then offer her that, the way she'd like it.
*Name changed to protect privacy.
---
Dr Sudhakar Krishnamurti is an international award-winning andrologist and microsurgeon. He is the only Indian on the world's first-ever batch of sexual medicine fellows (Oxford, 2007). Best known for the Krishnamurti Operation for Peyronie's Disease, he is also the founder of Andromeda, India's first andrology center, and author of the book Sexx is Not a Four-Letter Word. Click here to purchase the book from rediff Shopping.
Disclaimer: Please note that Dr Krishnamurti will be answering the most relevant queries at his discretion each week. His advice may not necessarily reflect the opinions of rediff.com and while it is in the capacity of professional medical counselling, it in no way should be considered an alternative to visiting a medical specialist for sex-related ailments.