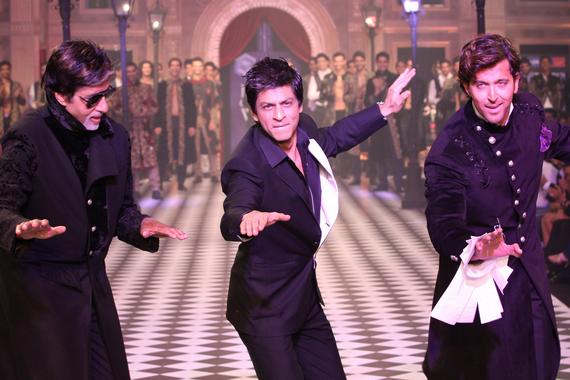 Three generations of superstars came together for Karan Johar and Varun Bahl's showing at HDIL India Couture Week.
After Aishwarya Rai Bachchan walked for Manish Malhotra last evening at the HDIL India Couture Week in Mumbai on Thursday, it was the turn of the men to sizzle the ramp.
Anticipation had been building up since Shah Rukh Khan's tweet about going to watch 'Amitji and Duggu walk the ramp' for Karan and Varun Bahls show.
The high point of the show that started off with Hrithik Roshan and ended with Amitabh Bachchan walking the ramp was when Hrithik invited Shah Rukh Khan from the audience to join them as Karan Johar and Varun Bahl were taking their bows.
Bachchan, Shah Rukh and Hrithik even did an impromptu dance jig much to the delight to the press.
Karan Johar and Varun Bahl's collection was called The Victorian Victor had 41 garments as sherwanis, bandgalas and classic jackets with antique embroidery dominated the show.
Also see:
Images: Stars at FW: Sonam, Rani and more
KJo gets Big B, SRK, Hrithik to dance in his designs!
Malaika, Raveena and more sparkle at jewel show
Bollywood stars descend on Couture Week