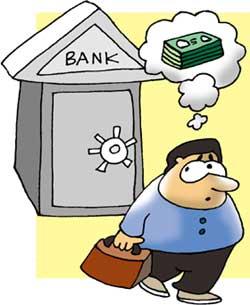 Do you keep your partner in the dark about your money? Illustration: Uttam Ghosh
One in six people own a secret bank account that they hide from their partner, according to a new study.
According to the
Daily Mail
, of the people with hidden accounts, the majority keep at least 3,000 dollars (approximately Rs 13,300) or 2,000 British pounds (approximately Rs 1,41,000) squirreled away, though one in 20 has more than 15,000 dollars (approximately Rs 6,67,000) hidden.
However, a psychologist says stashing away cash may not be the best thing for a couple's relationship.
"I would call this a financial indiscretion, and in the long run it is as harmful to a partnership as a sexual indiscretion," the
New York Daily News
quoted Dr Daniela Schreier, clinical psychologist and assistant professor at the Chicago School of Professional Psychology, as saying.
"There are two forms -- one in which you spend on your credit card and hide the bills, or where you have a separate account. Either can be very harmful for the trust factor with a partner."