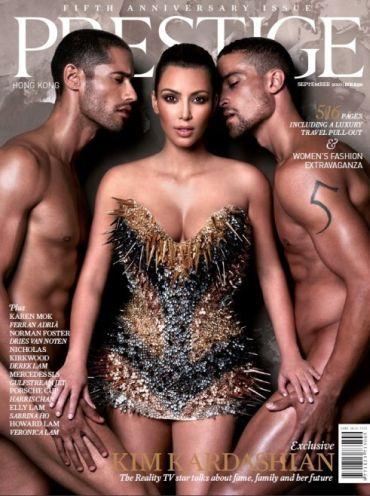 Just when you thought she couldn't get any saucier, the voluptuous starlet has gone and done it again.
Reality star Kim Kardashian has posed for a steamy pic with two naked men for a magazine, calling it her 'most risque' cover till date.
The photo shows the 30-year-old socialite wearing a low-cut, spiked dress by New York designers The Blonds posing with two male model companions for the September issue of a Hong Kong-based magazine Prestige, reported Us Magazine.
"This might be one of my most risque covers to date! I have two covers and I'll be sharing the second cover and the whole spread tomorrow, so make sure you check back. I really want to visit all my fans in Asia!" Kardashian wrote after posting the picture on her blog.
Photograph: Cover of Prestige Magazine