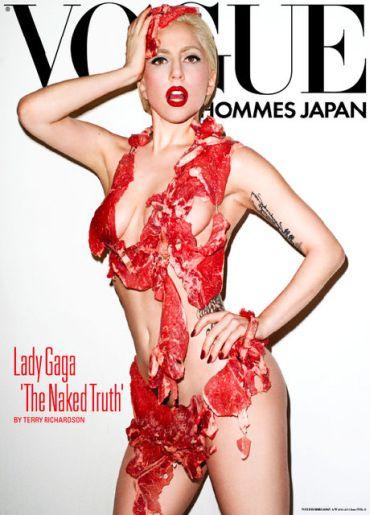 The quirky popster has done it again -- yet another fashion statement has hit the headlines.
Pop star Lady Gaga has angered animal rights activists after appearing on the cover of the September issue of Men's Vogue Japan clad in a bikini made of raw meat.
People for the Ethical Treatment of Animals (PETA) raised objection to the picture.
Fashion photographer Terry Richardson shot the cover.
In addition to the revealing meat outfit, Lady Gaga wears a small slab of beef on her head like a beret.
"Lady Gaga's job is to do outlandish things, and this certainly qualifies as outlandish because meat is something you want to avoid putting on or in your body," News.com.au quoted Ingrid Newkirk of PETA as saying.
"No matter how beautifully it is presented, flesh from a tortured animal is flesh from a tortured animal. Meat represents bloody violence and suffering, so if that's the look they were going for, they achieved it," she added.
Inside the magazine, the singer appears in photos and in an interview as her male alter ego, an Italian mechanic named Jo Calderone.