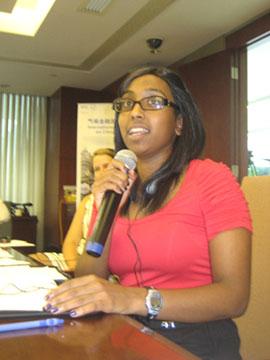 Roopa Suppiah, a 19-year-old Indian-Canadian won the chance to attend the International Youth Forum on Climate Finance in Shanghai. Ajit Jain reports.

Roopa Suppiah, a student at Queen's University, Ontario, was chosen by the British Council to attend an environmental forum in Shanghai, September 1 to 7.

"I feel incredibly honoured to have been selected...from across Canada to attend the International Youth Forum on Climate Finance," Roopa, 19, told India Abroad. "The participants from 17 different countries were between 18 to 35 years. I had the opportunity to express Canada's perspective, opinions and current undertakings to the youth of other countries. I am proud of this leadership role that I have taken in fostering Canadian relations with other countries in the realm of climate change."

Roopa was accompanied by Lars Bouggilda, an undergraduate student at Dalhousie University, and three youth journalists -- all selected through a competition. The core issues discussed at the forum included the costs of mitigation and adaptation, international carbon markets, carbon taxes and climate-friendly investment.

"The objective of the forum was to draft a declaration that will be presented to world leaders at the next Conference of the Parties (COP 16 to the Kyoto Protocol) in Cancun (Mexico) from November 26 to December 10."
The youth leaders will also take the declaration to their respective countries. The aim of the declaration is to 'act as a catalyst to trigger innovative financial schemes and secure an international legally binding agreement on climate  financing'.
The delegates recommended that the financial system be made more transparent 'with  internationally-recognised standards'. They asked for the use of 'government funding to insure private investments against financial risks associated with climate change finance' and the setting up of a centralised body for 'receiving, managing, controlling measuring government'.
They also recommended the establishment of 'an international financial transactions tax' and 'ambitious flat carbon/ environmental/ pollution tax schemes'.
"I feel my week in Shanghai is one of the most productive things that I have accomplished in my journey of  environmental advocacy over the years," Roopa said. "The discussions that we had at the forum were relevant, current and progressive; we really did make headway in the field of climate finance."