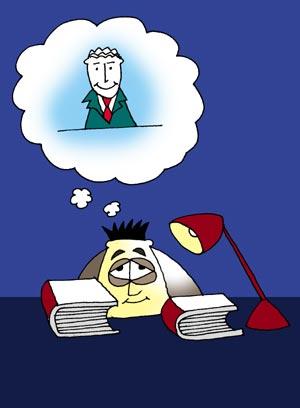 Do you think I should opt for an MS or would an MBA be better for me?'

This is a question posed by lakhs of students every year to anyone who cares to listen or anyone who looks even slightly more experienced than them.

With the Indian economy back on an upswing, the lure of lucrative jobs is only adding to the confusion of these students, who are usually in the penultimate or final year of their undergraduation.

This dilemma is further compounded by the lack of competent higher education counsellors in India, who have the requisite knowledge of the various avenues available to students or the resources required to reach out to these students en masse.

Ideally, the question of which is a better option is best left to the student to answer as one's interests often tend to change as one gains exposure and experience. However, it is always advisable to receive some kind of formal training in the industry before considering a Masters in Business Administration. A minimum of 2-3 years of work experience is recommended.
Most B-schools that mandate compulsory work experience as a selection criterion, both in India and the US, do not stress on the type of industry as long as the candidate has some work experience. This exposure helps one to better understand and appreciate the finer practical aspects of any organisation.
On the other hand, a technical degree does not require any kind of work experience because it is an extension of the basic knowledge gained at the undergraduate level and one is essentially delving deeper to gain a better understanding of the concepts. And who says you cannot pursue an MBA after an MS?
Consider, for instance, Naina who finished her MS from Princeton University and then decided that she wanted to pursue a master's degree in management. Having completed her MBA, she went on to join the marketing team at a leading semiconductor company in California. Her technical knowledge, combined with her management degree, enabled her to understand their target customers better and hence tailor the marketing campaigns to their needs.
What is important is for students to introspect and understand their own aptitude and areas of interest, and then look for avenues where they can match these two. This will help them to avoid taking decisions in haste and also ensure that their interest in a field does not fizzle out easily after a decision is made.
Also, thorough research to gather more information from industry experts, acquaintances who hold both technical and managerial degrees, and the internet can help students to ease this confusion. The Pathfinder is one such book that can be of immense help. Also, online forums like PagalGuy.com, Freshersworld.com etc provide some guidance.
To quote Manasi's situation, born and brought up in a family that flourished in the business of textiles, she was expected to follow the footsteps of her forefathers and join the family business. However, her interest lay more specifically in the application of the principles of science. In spite of the lure of the family business, she opted to pursue an MS degree from Stanford University.
Typically, a student whose brain delves deep into the analytical and the technical aspects is believed to be more inclined to pursue his/her education in the technical field. On the other hand, a student who has strong entrepreneurial or managerial aptitude and who believes that s/he wants to create or manage a business entity would clearly benefit from a master's degree in management.
Take the case of Vijay, an engineer with an IT company who has had entrepreneurial instincts ever since his high school days. He believed in the creation of jobs and it is no wonder that he chose to graduate from Wharton Business School last year.
Although technical education has traditionally maintained a strong-hold in India, statistics show that management education is fast catching up. The 'Open Door 2009' report by the Institute of International Education states that there was a 12 per cent increase in the intake for management students with engineering coming a close second at 11 per cent.
As for the prospects after securing a master's degree in a technical field, either in the US or in India, students need not be apprehensive as there are several emerging fields that are very promising. Aerospace, physical infrastructure (civil engineering/ town planning/ architecture) and renewable energy are a few examples of such areas.
Students pursuing a management degree can usually expect to enter the industry in any of the broad functional areas of an organisation like marketing (brand management, digital marketing, advertising, business development etc), finance (corporate finance, investment banking, risk analysis etc), operations (project management etc) and human resource management.
So, to summarise the decision-making process:
Introspect to understand your own aptitude, interests and goals.
Thoroughly research all available avenues that match the above and gather more information before taking a decision.
For students interested in pursuing postgraduate management education, gaining some prior industry exposure is recommended.
Ultimately, though Confucius sometimes 'confuses us', he was right on target when he said, "Choose a job you love and you will never have to work a day in life". To do this, you need to first choose a field for higher education that you love.
The author is the managing director at GREedge.com.