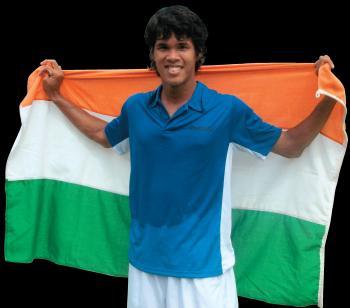 This 24-year-old tennis champ broke the Davis Cup jinx for India, and now he's raring to go! Photograph: Careers360
Tell us about your most endearing moment in school?
I think there were many. But what I really liked most was the fact that while also being a good student, I had a lot of time to be part of different clubs and associations within the student body, as well as a good social life. I really enjoyed the balance I had between tennis and the other parts of my life as a student.
What were your career plans in college?
They were always to be a professional tennis player. That's why I made the move to college tennis, and the University of Virginia in Charlottesville provided me with the perfect opportunity to hone my skills.
How did you spend your first salary?
I gave it to my mother and she invested it back into my tennis.
Should one take up a profession for passion or pay?
I took up a profession that is my passion, and hopefully which will pay me well, too. It's a very individual choice. But it works out well for me.
Which teacher do you remember the most, and why?
While my teachers at school were very supportive, my best memories have been with my various tennis coaches as they are the ones with whom I spent the maximum time.
How do you cope with failure?
You just learn from it. You won't win every match you play, so just take it in your stride and move on.
What do you fear most?
I'm afraid of a lot of things. I was afraid of the dark while growing up. I still prefer not to watch any kind of scary movie! I also dread the day when (or if!) I will run into my favourite actress. I am sure I will be completely dumbfounded and I think I will be incapable of having a normal conversation.
What does the current wave of success feel like?
To my mind, I have to do a lot more to feel I am successful. What I have achieved so far is good, but I still have a very long way to go.
And the day before a match?
I just go through my regular routine. Practice, rest, hydrate myself, and play my guitar.
What has been the most fascinating moment so far in your professional life? And the most despairing one?
Well, it was definitely something special for me to win a Davis Cup tie for the country and help us move into the world group -- after so long, it was definitely a great feeling. As far as disappointments go, I was heartbroken after our undefeated team in college lost in the semis of the national championships. But I knew we let it all out on the court and we had nothing to regret in the end.
Which is better? Living for fun or living with a purpose?
I believe that we should all live with a purpose, for sure. But I am a bigger believer that the purpose that we are living for should be a fun process. So, living a fun-filled life with a purpose would be ideal.
Careers360 is a complete careers magazine