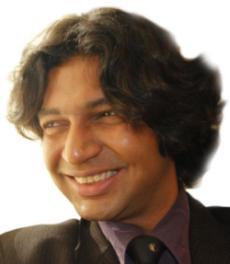 In the first of a new series featuring Indian bloggers, P Rajendran speaks to Gaurav Mishra, the maverick behind gauravonomics.com
A marketer who tired of all that is marketed, a social activist who operates through the confined medium of the Web, a yuppie who found solace in academia... Gaurav Mishra takes getting used to.
Mishra, a blogger who runs gauravonomics.com, which, among other things, talks about digital activism and how social media intersects with social change, is currently focusing on votereport.in, an election monitor that covered the recent elections in India.
He's also part of mobichange.org, a team trying to use SMS and voice on more rudimentary cellphones (costing about $30) to connect people. He contributes to Global Voices and Digiactive, sites speaking up for the developing world using digital media. And when Mishra feels a burning need for brevity, he merely Twitters (www.twitter.com/Gauravonomics).
But Mishra was not a shoo-in into the blogging community. Born and brought up in Patna, Bihar, his trajectory appeared to direct him inexorably to the Indian Administrative Services before he veered off course.
After 17 years in Patna, where he studied at the Kendriya Vidyalaya, he headed for the College of Business Studies in New Delhi, to secure a bachelor's degree in business administration. In 2002, equipped with a master's degree from the Indian Institute of Management-Bangalore, he headed for the world of business.
Soon he was living the life he had dreamed about: he found an expansive lifestyle in Cuffe Parade, an upmarket downtown Mumbai area, just a stroll down from his office at Tata Motors, where he managed the sales of the Indica, the company's hatchback offering.
Mishra says he spent "six years making up for the 17 years I had no money." And his blog, a spin-off from his online experiences while marketing the Indica, had matured from personal meanderings to marketing and more.
Then, early last year, the 29-year-old had an epiphany, one he lightly terms a third-life crisis. He had a good thing going, but there was something missing.
"I said, enough. That's not going anywhere. It's a race you can never win anywhere... The only thing to do is get off that treadmill and ask yourself what is it that you want," Mishra says.
He decided he'd start by not consuming anything that was not a necessity. He started by saying goodbye to his office car, then his maidservant. Then, to eating out, watching movies and pubbing. He mulled over his career and decided to chuck it too. He applied for a fellowship studying social change in emerging economies, an issue he had begun to address in his blog. He decided that all his possessions needed to go into one backpack, down from "three rooms of stuff".
He put up a contest on his blog, offering people most of his possessions, if they could tell him more interesting reasons why he ought to give them his things. After handing over his things to five winners, Mishra was left with just three backpacks of material.
Currently, Mishra is the Yahoo! Fellow in Residence Institute for the Study of Diplomacy, Georgetown University in Washington, DC. He leads a relaxing schedule, a far cry from the 70-hour week he did while pushing cars in Mumbai. He teaches a course, has teaching assistants and other students work on social media in emerging countries, such as Brazil, India and China.
"I approach social change from a very strong technology lens," Mishra says. "I wouldn't be adding any value if I joined a non-profit and taught children, for instance. I bring an understanding of how new technologies, like the Internet and social media can involve people in an issue."
Votereport.in is a non-partisan site that uses citizen inputs, Google Maps and the power of Ushahidi -- a software put together primarily in Africa that collates SMS, e-mail or Web information on a map -- to bring transparency and accountability into the election coverage.
But there's no monetary advantage to blogging, he says. Mishra admits it has helped him be called, what officially is the Yahoo! Fellow in International Values, Communications, Technology and Global Internet. It has also helped him connect with people, given him research opportunities and speaking engagements. But actual earnings from advertising on the blog have been negligible.
Mishra argues that new bloggers often tend to live two lives -- online and off. "If you've started blogging, it should reflect something in your real life. Until you find a way to connect real life with online life, blogging in itself does very little."
Given all that Mishra does, the line between his real and online lives appeared not just to have blurred, but winked out altogether.
Five of his favourite blogs
Smart Mobs: About mobile technology, with an activism slant.
MobileActive.org: All about mobile activism.
Apophenia: Danah Boyd on social media and culture.
My heart's in Accra: Ethan Zuckerman on digital activism and citizen journalism.
Rconversation: Rebecca Mackinnon on the Internet in China.