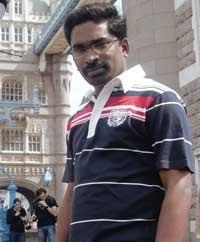 Raghurajan Maraparambil had finally arrived when he landed at London's Heathrow airport. But the journey from Kodalur, Kerala to the UK was tough. When he was young, his mother worked in the fields or construction sites.
His father was a construction worker and farm hand. "Feeding us was not enough. We also had to be educated (three boys, three girls). I remember the entire family separating and bundling paddy to be planted in the field," recalls a misty-eyed Raghurajan.
Education, the only weapon
"I was an average student, but I got a scholarship of about Rs 1,000 for being among the 10 best SC/ST students in Class IX. I would get the money only after being in Class X for six months," he says. "Education is perhaps the only weapon that can help children win the war against poverty," he maintains.
"English was the toughest! But my brother made me read English newspapers, daily," he shares. The effort paid off when he opted for PCB in Class XI, at an English-medium school. Clearing the medical entrance exam was tough, so he opted for a professional diploma in radiological technology course at Thrissur Medical College. "I was among the 35 SC/ST students selected, but after two years, only five got through." The course made him realise that his technical skills were at a par with the best in his class. "I was lucky to find some good teachers."
Next, Raghurajan pursued a diploma in advanced medical imaging technology at the Sree Chitra Thirunal Institute of Medical Sciences and Technology. He was ranked third in the national entrance and second at the end of the course. The institute not only helped him shed his inhibitions, it also prepared him well for the future.
Clinical application specialist
"For a radiographer, this profile is the most "glamourous" and there are very few specialists around. The salaries are usually good. At private firms, freshers earn between Rs 20,000-25,000." His first campus interview was with a Seimen's general manager for CT in Kochi. Questions ranged from personal to technical. But there were only two vacancies, and his classmates made it. Next, he met the applications manager from GE.
"The one hour interview was purely technical," says Raghurajan. Despite being sure of his technical skills, he did not hear from the company. And then a call came from GE, Kolkata. "I had never been out of Kerala," he says. His future boss gave him a detailed job description and cited examples of all those recruits who had gone on to greater posts despite language barriers.
"I joined in 2006.  I knew no Bengali, had very little knowledge of Hindi, the languages I needed to interact with people on a daily basis," he shares.
Cracking tough interviews
The job exposed him to various types of medical equipment, involved making presentations and demonstrations for clients, teaching technicians how to handle equipment and attending training and installations abroad. He travelled to Bhutan, Bangladesh, Vietnam and Indonesia, where he met doctors and technicians. He even got to meet Dr Scott W Atlas, senior fellow at the Hoover Institution, professor of radiology and chief of neuroradiology at the Stanford University Medical Center. "Some of my seniors worked as radiographers in the UK. So, I got my qualifications registered there and was now  eligible to work in the UK," he says.
The interview for his UK job was a three-step telephonic interview. "It was not too easy as it took me some time to get used to the accent!" he says. Round 1 with a UK consultancy firm was work-related. Round 2 with the company managers was purely technical. Round 3 was with the HR department. There's one glitch: it's not a permanent job. "Leaving a great-paying permanent job was a tough choice. But the possibilities are immense," he shares. "An IELTS clearance is mandatory. Thankfully, my first try at IELTS with only five days' preparation, got me through. I now work as an MRI senior radiographer with a firm in Colchester," beams Raghurajan.
There's no travel but he gets to apply the skills he learnt, takes decisions independently and faces no interference. Working with doctors from several countries, including from Africa and the Middle East, has helped Raghurajan see things from a different perspective.