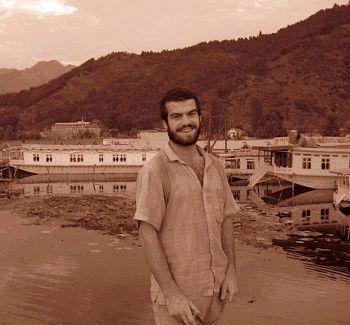 Arthur J Pais interviews 18-year-old American student William J Oppenheim III, who, along with a few friends, has established the Omprakash Foundation, which links for-free volunteer teachers with more than 100 grassroots educational projects in 26 countries including India, Vietnam, Peru, Nigeria and Ghana and facilitates donations over $250,000 a year.
Omprakash, a resident in a home for the destitute run by Mother Teresa's Missionaries of Charity in New Delhi, had a number of health problems, many of them due to a stroke he had suffered 30 years ago. Yet he looked forward to each day since the stroke, he told an 18-year-old American student, William J Oppenheim III.
"He said he felt he was in paradise each day because the nuns took such good care of him," William recalled last week, soon after he was named among 32 United States Rhodes scholars, about how he came to name a foundation after Omprakash.
The visit to the charity home over five years ago had a profound impact on William and a few friends who were volunteering in India. He had taken a year off after graduating from high school to teach English in a small school in Dharamsala, Himachal Pradesh, India, for three months.
"On our last day in India, we volunteered at the Mother Teresa Home for the Dying and Destitute in Delhi, and that's how I came to know Omprakash," he recalled. "There were just about six nuns there, caring for 300 physically and mentally disabled people. The living conditions at the home were far from what most people -- at least in America -- would call ideal, but the nuns and doctors cared for the residents deeply. Suddenly, my friends and I could feel that money and bureaucracy were not any more the most ingredients in the recipe for positive social change. It also became apparent to us the human-to-human interaction was crucial for the success of any kind of volunteer work."
They also felt that "by letting the voices of people like Omprakash resonate amongst our friends and families in America and elsewhere, we could share the sense of humility and gratitude that this man inspired in us," he said.
The foundation he would start with a handful of friends would eliminate middlemen who charged a fee to find volunteer opportunities.
"Some of these agencies that send volunteers abroad charge as much as $5,000 per person," he said. "Just imagine where that money would go."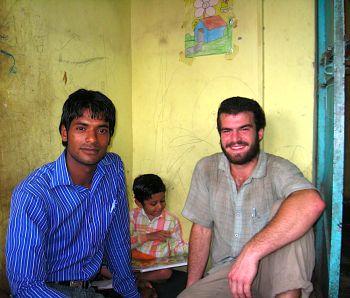 Today, The Omprakash Foundation (www.omprakash.org) links for-free volunteer teachers with more than 100 grassroots educational projects in 26 countries including India, Vietnam, Peru, Nigeria and Ghana. One project is run by the M Venkatarangaiya Foundation (www.mvfindia.in), an eight-year-old organisation started in Andhra Pradesh that helps children in more than 10 Indian states. It fights child labour, offering the children residential 'bridge camps' where they receive free education until they are ready to enter government schools.
The Future Leaders and Women's Development programmes run by Health Inc in Ladakh, Jammu and Kashmir recently received $17,230 from the Community Foundation of Greater Memphis, through the Foundation.
Also in Ladakh, the Springdales School received last year $700 to build a library to store the books it received, as part of the Foundation's book distribution project.
William, an alumni of Bowdoin College, Maine, who will study international education at Oxford, said he does not take any money to run the website or for anything else connected with his volunteer work.
"If you write a check, we transfer 100 percent of that money to Peru. Or India," he said. "We offer an ever-expanding database of grassroots educational projects with which we have established personal relationships. Our content is user-generated: As people young and old travel the world to volunteer. They build relationships with non-government agencies, schools and charity foundations. We invite them to bring these educational projects into the Omprakash network."
The model the New Canaan, Connecticut-based Foundation uses is largely the result of the encounters William had in India.
"We learned soon after starting this foundation that volunteers did not have to go through organisations that charge high fees for admission into structured, pre-arranged 'volunteer trips'," he said. "We worked hard to connect with organisations where we could volunteer directly. During our subsequent trips, we were becoming more aware of another problem: Many educational organisations in India were eager to receive volunteers and other resources, but did not know how to seek that help."
The third problem the foundation faced stemmed from the discovery that many potential volunteers and donors did not know the specific needs of the educational projects. Thus, humanitarian efforts were often doomed to be thoroughly de-humanised by the bureaucratic mechanics of macro-level development.
The Omprakash Foundation, which apart from connecting volunteers also facilitates donations over $250,000 a year, he said, does not offer any guide service to escort volunteers or donors to any countries. The website says: 'But we offer our advice and encouragement to young Americans looking to broaden their perspectives by entering a foreign community and forging relationships without the filter of an organised travel group. We strongly believe that this effort of ours will be eye-opening and intensely educational for both American volunteers and the foreign communities that they will serve.'