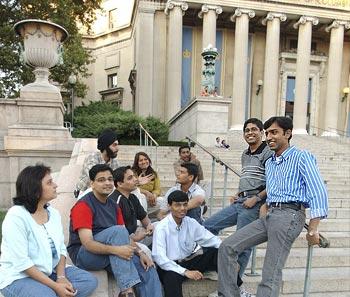 Graduate students from India, who have traditionally dominated the international students category in American schools, have begun shunning US educational institutions.
The Council of Graduate Schools, basing its findings on a country-wide survey, reported last week that enrolment of first-time graduate students from India registered a massive 16-per cent decline in 2008-09, while China registered a 16-per cent growth.
In 2005-06, India had topped the list of international for graduate enrolment with 32 per cent, followed by China with 20 per cent. That percentage declined to minus two per cent in 2007-08 before reaching the current nadir.
"It started a couple of years ago, but the decline has been steeper than I expected," Nathan Bell, director of research and policy analysis, told India Abroad. "I thought there would be some drop in the number of Indian students coming to the US, but I did not expect it to be a 16-per cent drop. That is very significant."
Collectively, students from India, China and South Korea have accounted for about one half of all non-US citizens attending US graduate schools, CGS and the Institute of International Education report. The CGS report shows that after peaking at 12 per cent in 2006, the rate of change in international first-time enrolment has slowed in the past three years.
The CGS found that the overall decline in enrolment at the 10 largest institutions was only six per cent. However, enrolment of Indian students decreased by 17 per cent at the 50 largest institutions, by 16 per cent at the 100 largest institutions, and by 15 per cent at the institutions outside the largest 100. In contrast, first-time enrolment of US graduate students grew six by per cent, the report pointed out, adding that the total enrolment for international students had actually risen by two per cent.
The report attributed the decline in enrolment of Indian students to the global economic crisis, competition from other countries and increased capacity for graduate education in India itself.
When asked how the economic meltdown could be blamed, considering that India had comfortably weathered that storm, Bell said given that India's economy is doing much better that many other countries "It is probable that the economy is not the biggest driver."
Arvind Panagariya, professor of Indian Political Economy at Columbia University, said part of the decline could be explained in context of the increased enrolments of US students. "These tend to be counter-cyclical," Panagriya said. "With the economy doing poorly, more Americans are applying to graduate schools. This naturally crowds out foreign students. But a 16-per cent decline in one year is too large to be explained by this phenomenon alone. Besides, foreign enrolments have been flat, not declined. Visas are probably an important cause, since due to security checks the decisions on granting visas probably do not get made fast enough."
Bell pointed out that students now had options other than the US to chose from. "There are a lot of countries who are working hard to attract international students. The US is not the only destination, which it used to be 20, 30 years ago," he pointed out.
Employment opportunities, or lack thereof, could be another factor, Bell reasoned. Traditionally, after completing their masters or doctorate degrees, Indian students had been virtually assured jobs in the US. "I wonder if there is a perception among international students that more than the US with its economy, there might be better places for finding jobs after graduation," Bell said. "So that part of the global economy could have an effect." Further, he said, India had increased its own capacity for graduate education, thus affording an alternative for students who could now get high quality education without the trouble and expense of leaving the country.
"What may be happening is that some of the brightest graduates are now attracted to the lucrative Indian market rather than higher degrees," Panagriya pointed out. "When you combine this factor with reduced availability of fellowships and assistantships, the diversion to the Indian market could be large."
Renu Khator, president, University of Houston, agrees. "Many American universities had to reduce the size of their entering class in 2009 due to reductions in budget," Khator pointed out. "The number of foreign students may very well be reflective of this reality. There has also been a reduction in financial aid packages being offered by American universities to graduate students, particularly international students. Undoubtedly, the economic difficulties facing American universities throughout the US are major factors leading to the reduced financial aid packages."
Khator pointed out that like other sectors, higher education is also becoming a global market place, as students are travelling to countries like the UK, Canada and Australia based on their interests, convenience and affordability.
"American universities are still among the best in the world in offering research-oriented education; however, not everyone needs or is looking for that kind of an educational experience," Khator told India Abroad.
Asked if this decline had any impact on the US economy, Bell pointed out that the CGS study was not based on that perspective. "I can't say how it would impact the economy. Even though students from India are down this year, the students from China are up. On the whole it is quite flat, there is no change. Obviously, students from India are very important for US grad schools, they being the one of the two largest contributors along with China, and we would like to attract them to the US schools," he said.
Panagariya said the decline was likely a loss to both America and India. "Graduate education in India in most fields is not particularly good, and the US accounts for a very large proportion of annual additions to Indian PhDs," he pointed out. "Therefore, the declining trend is worrisome from India's viewpoint. In so far as some of the most talented students may not be coming to do graduate studies in the US, it is contrary to US interests as well," he said.
Khator said the US benefits a great deal from the fiscal, physical and human capital provided by foreign students who seek higher education in this country. "Since Texas did not suffer economically and its universities did not see a decline in the number of foreign students, it makes me believe that the declining trend is connected primarily with economic difficulties in the US and is temporary," she said, adding that the University of Houston saw a 10 per cent increase in the number of Indian students enrolling in  Fall 2009.
Photograph: Paresh Gandhi