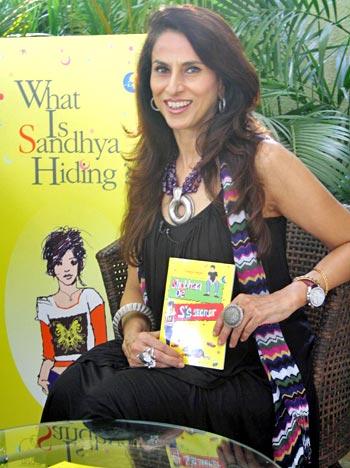 In conversation with rediff.com, Shobhaa De discusses her soon-to-be released book S's Secret, a fictional work targeting Young India. Photograph: Hitesh Harisinghani
As a prolific novelist, non-fiction writer, columnist and blogger, there isn't much under the sun that writer Shobhaa De hasn't covered. Fittingly, then, for her sixteenth book, the 61-year-old De has decided to tackle one of her last untouched frontiers: writing for children who are approaching adulthood.
De says the book, entitled S's Secret, which she jokingly calls her 'sweet sixteenth', is geared specifically for today's Young India, which she feels lacks accessible literature that speaks to their issues and concerns.
"It's my first foray into what I call 'tween' writing," the ever-glamourous De says. "It was a special challenge, because there is a void there: We don't really have anything for our kids -- as in, Indian kids. What we do have are books about wizards and vampires and goblins. But there's very little to tell them about themselves, or where they can find themselves, or their own voice, or their own experiences. Having raised a fairly large family myself, I thought, 'I've gone through all the teenage angst myself, living it through my kids.' I think today's tween in India is quite a confused creature, not entirely sure about who they are or what their values are supposed to be, or what's next."
She says her plan was to harness this angst, especially that which is unique to Indian teens, and bring it out into the open for discussion. But, rather than sermonising and moralising about it, she decided to approach the subject through fiction. She also believes that Indian tweens want to read; it's just that lack of relatable stories drives them away.
"When I was growing up, we had Nancy Drew and we had Mallory Towers and Enid Blyton, the old staples. And while I love those books, they were about people and experiences and kids from a completely alien environment. There were no cultural reference points that I could really connect to at all. But they were great books. Great stories. So I wanted to be able to recapture that innocence, of those lost teenage years, because it was a very innocent time. And I wanted to create a character who is on one level heartbreakingly innocent, but still trying to find her place in a very contemporary, modern world, in Mumbai, where tweens are torn between tradition and modernity," she explains.
While De is guarded in revealing too much of the plot, she does say that the book revolves around the life of a young Mumbai teen -- Sandhya -- who has a secret to hide. But in addition to telling Sandhya's story, De hopes to share a slice of Modern India.
"The protagonist, Sandhya, is the central character. But through all the other characters around her -- whether it's her best friend, or the person she has a crush on, or her immediate family, or best friend's dad -- there are a lot of things that are dealt with in a very subtle way, without it being underlined that 'This is the issue. Please pay attention to it.' One of the characters in the book is a single dad, bringing up a young girl. And we all know how tough that can be, especially for a single dads and teenaged girls with all her problems and all her anxieties."
Asked about the biggest change that urban Indian has seen since her own childhood, De says that it's the phenomenon of working mothers and the shrinking of the family.
"It's a huge shift for a culture that has taken moms for granted. The extended family shrank to a nuclear family and now the nuclear family is often mom and dad at work and the kids left at home to their own devices, or with nannies or at daycare centres."
But working mothers, she continues, are an economic reality.
"Today the two career family is here to stay. It's not about women just sort of finding themselves, and it's not just about striking out, and individuality. I think two incomes are needed. And in expensive cities like Mumbai, Kolkata, Bangalore, Pune, you need that extra income. Because that's what really pays for the perks in a family. That's what subsidises the family's lifestyle."
She adds that dynamics in the Indian family have also changed dramatically since her own youth, a cultural point she hopes to capture in S's Secret.
"I could never have dared to walk up to my dad and say, 'Hey, dad'. It was a very formal relationship. It was very structured. It was very hierarchal. Obedience was something that was just given. I mean there was no question of defying the family -- I did, but that's a different story. But it was not acceptable behaviour. And communication was restricted to what parents wished to communicate. They set the agenda for conversations. Whereas today it's entirely the other way around: It's kids who set the agenda. And they are the ones who very often, and quite rightly, tell parents where to get off."
"You have to be in sync with what's going on," she continues. "There's no point in saying, 'In my time... In my generation...' and so on, because (tweens) don't want to hear it. It's much easier for you to turn in to what they're saying, and pick up the parenting cues from them, rather than forcing anything down their throats."
As for the fast-paced life that many youngsters are getting caught up in, and how parents should respond, De hopes to address it through her series for tweens, of which S's Secret is just the first instalment.
"As a mom, I've had to deal with all of it and more. It's 24/7 parenting. There's really no letting up. It doesn't end. There's no cut-off point. You think that once they're out of their tweens, you're done. But it doesn't work that way. Life has changed in a city like Mumbai. You see 13- and 14-year-old kids clubbing, and knocking back their vodkas and beers. Or underage driving. Or kids smoking. But I'm not about to preach. I'm just going to say: 'Hey, this is what's happening, and I hope you deal with it the right way.'"
De's S's Secrets officially launches later this month.
Image: Shobhaa De holds a copy of S's Secret