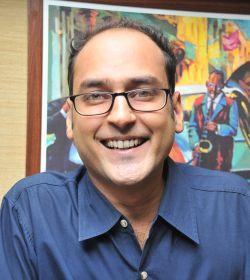 In recent years, India has seen a flood of novels and short stories set in the country's college dormitories, coffee shops and call centres -- fictional stories meant to resemble everyday life in Young India. The only problem, however, is that many of these stories don't resemble real life in today's India at all. They're sterile, cliched and sentimental.
Enter 33-year-old author Palash Krishna Mehrotra, whose debut collection of short stories, Eunuch Park: Fifteen Stories of Love and Destruction, works to tear down all the fluff, while simultaneously exposing India's gritty underbelly: prostitutes, crossdressers, homosexuals, drug addicts and disenchanted students (read an excerpt from the book here).
Matthew Schneeberger caught up with the bright young author, a former journalist who also studied philosophy at the celebrated Oxford University.
When did you first put pen to paper, with the intent of writing fiction?
I started writing stories after I returned to India from Oxford. I was around 25 then. I was a student of philosophy who ended up writing fiction. Analytic philosophers nowadays are like plumbers, fixing a leak here, plugging a hole there. Writing fiction seemed more exciting, especially in India where there is so much to be written about.
How did Eunuch Park in its current form come to be conceptualised? How long did it take you to write?
The first stories were written six or seven years ago. Some, like Nobody Wants to Eat My Mangoes, were abandoned for months until I picked up the threads again. Others like Eunuch Park and Fresher's Welcome were written on a loop. After I had five or six stories, the themes began to choose themselves.
What is it about the short story form that attracts you to the medium? Do you have any favorite short story writers? Who are some of your primary literary influences?
A short story doesn't take too long to say what it wants to say. Or it takes as many words as it needs; a good short story has its own internal logic. When that logic runs out, the story comes to an end. Most novels, on the other hand, tend to go on long after what had to be said has been said. Instead of seeking out truths, novels are too busy lulling readers.
Among short story writers: J D Salinger, Raymond Carver, Vilas Sarang, Leonard Michaels, Isaac Babel and James Joyce.
Among essayists I like Luc Sante, Gay Talese, August Kleinzahler, David Foster Wallace, Cynthia Ozick and William Hazlitt.
Larkin's poems left a deep impression on me when I read them in college. Logan Pearsall Smith is a master of concision. In his short essays and aphorisms, he takes the small, the inconsequential and the everyday and gives it an epic quality.
The stories have a kind of grimy, punk-rock veneer. How did you attain such levels of debauchery? Do you think this is all out there in modern India, in the shadows and bubbling right beneath the surface? What compelled you to write such 'dirty' stories?
I listen to a lot of punk, especially Black Flag. Also the British band Pulp. Jarvis Cocker, erstwhile frontman of the band, sings very polished yet dirty songs about bedrooms and claustrophobia. I suppose they were influences.
Is this real? Yes, of course all this exists in modern India: ragging in hostels, violent schoolteachers, dingy bars where women never go.
Any shocked and negative reactions from people close to you upon reading this? How has the general reaction been?
Not at all. In fact my parents -- to whom this book is dedicated -- were my first readers and provided invaluable suggestions.
I've been lucky that the book got a good critical reception. The general reaction has been: "Wow. I never knew these things could be written about. You told our story." Most of the readers have been in their teens, twenties and thirties. But the readership is not limited to a younger age group. Most reviewers who loved the book are in their fifties. At the Kovalam Literary Festival I was mobbed by seven Malayali aunties who adored the book.
How did you develop your characters? Your narrative voice? How would identify and describe the book's unifying theme and style? Any of the 15 stories in particular represent what you are trying to achieve?
The voice was always there. It's a gift. The themes of love and destruction chose themselves because I have always been interested in the downward spiral right from the Nine Inch Nails album to novels like Patrick Hamilton's Hangover Square, Roy Hamilton's The Murderer and Zola's L'Assamoir.
They say authors generally write about what they know. So how are you so well-acquainted with all this stuff? Where do these stories come from?
These are things I have seen, heard, felt, smelt, been burnt by. The stories come from the world around me. But they are not about me. For example, the protagonist in Fit of Rage murders his girlfriend. As far as I know, I haven't murdered anyone. But then again, one can't be sure!
Was this book written to counterbalance some of the more clichéd images of modern India we've seen arising? Are there any contemporaries in India whose work you admire?
Absolutely. I am bored by most of our novels. I am interested in the everyday. Most Indian novelists fall into the trap of tackling big themes like globalisation or Bhopal. It's the new Orientalism, which the West encourages. Subtle subjects like sexual loneliness and the push and pull of human relationships are for Western writers. Indian writers are best off writing about poverty and human tragedy. But writers should never forget that they are storytellers, not activists or NGO workers or journalists. So yes, I think too many of our novels are driven by newspaper headlines. When I sat down to write these stories I was conscious I didn't want to fall into that trap.
Among Indian writers, I admire Amit Chaudhuri for the quality of his prose, Arun Kolatkar for the range of subjects he writes on and Siddharth Chowdhury for his ability to tell a story straight.
What is it like getting work published in India? In India, fiction doesn't sell huge volumes like in the West. How can the whole literary ecosystem in India be developed to support more and more writers?
I don't think much can happen. We are not a reading people. Without a reading public no literary culture is possible. We are happy if a book sells 3,000 copies. We are ecstatic when we hit 30,000. It's too little.
We are good at organising book launches. That's about it. I don't think things will go beyond that. We have no serious critical culture, no grants, no awards. Magazines don't support writers like they do in America, where the short story form and the magazine have long enjoyed a close relationship.
Any specific advice for aspiring young writers? What have your experiences taught you?
Drinking doesn't help.
The first draft is just that -- a beginning. Most writing happens when one is revising.
There is no glamour and little money in the profession. Writing is solitary and backbreaking work. The process never stops so there really is never any moment when you can switch off like a run-of-the-mill, nine-to-five guy.
What's next from you?
A non-fiction narrative on young India called The Butterfly Generation: A Personal Journey into the Passions and Follies of India's Technicolor Youth.