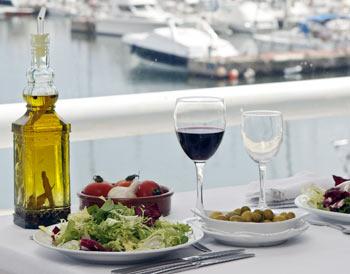 It's Christmastime, New Year's is around the corner and wine is certainly the spirit of the season. So if you're planning to eat, drink and make merry these next few days, here are a few great wine-and-food pairing suggestions for you from MP Sharma, chief vintner and wine consultant with Nashik-based Vinsura Wines. Photograph: Albert Gea/Reuters
A good wine, if paired with the right food, can be an excellent tonic to satiate your appetite. Food pairings enhance and bring out the beauty of the wine as well as the taste of the food. And although wine-drinking is not a typical activity at the dinner table in an Indian home, the country's wine market has begun to grow over the last decade and it is becoming more popular with the newer generation of Indians.
Today Gen Y has a good amount of disposable income and is gradually shifting from other forms of alcohol to wine, as wine-consumption is closely associated with sophistication and status. Celebrating with wines has become a social phenomena, but sometimes choosing from the menu becomes a problem. So here are some tips for a new connoisseur to choose the perfect food to go with your wine.
Chenin Blanc (white)
This is a delicious white wine, made from specially-grown grapes. The grapes are fermented at about 13 degrees Celsius to retain the characteristic flavour of Chenin Blanc.
Chenin is a medium-bodied, refreshingly crisp, soft and fruity wine that has finesse and personality, complimented with aromas of ripe tropical fruit, apple and melon flavours. It has a pleasant level of sweetness, but is dry enough to pair with any light food such as fish, pasta, chicken, paneer dishes etc.
Zinfandel (red)
This is a noticeably medium-bodied wine, with well-structured tannins. Deeply coloured purple-red, tremendous berry fruit flavours and accents of oak mingle seamlessly in this classic, slightly complicated wine.
The spicy and peppery finish adds to the Zinfandel's appeal. This fruity wine pairs well with a wide variety of cheese and mutton dishes. It is just as comfortable at an elegant dinner as at a casual family meal. It goes best with dishes like Murgh Masallam, kebobs and Chicken Tikka Masala, which may actually camouflage the effect.
Sauvignon blanc (white)
The winemaking involved in creating this variety is a unique concept. Clusters of grapes are harvested by hand at the right stage of ripeness and then fermented in stainless still vessels at 15 degrees Celsius. The wine thus created is light, dry, and has herbaceous, grassy characteristics. It performs its role as a light refreshment all too well.
Sauvignon Blanc compliments seafood and a wide variety of gently-spiced Indian dishes including chicken, pasta and Continental dishes. Try it with foods that include tomatoes, lemons or limes, which will match the wine's acidity. With coconut milk-based curries and other dishes, Sauvignon Blanc will cut some of the richness and taste extremely refreshing.
Flora (white)
This a white wine created from a symphony-blend, retaining freshness and the flavours of its constituents. Flora is full-bodied with a clean structure, spicy flavours, notes of raspberries, fresh tropical fruit and excellent notes of spring flowers, rounding off to a memorable finish. It is enjoyable with a wide variety of dishes and does not particularly require careful matching.
Rose (coral pink)
This is a blend of a white wine and Cabernet Sauvignon and is light coral-pink in colour. It is smooth, straightforward, pleasant and easy to drink.
Rose has noticeable residual sugar and hence, is a good choice to be enjoyed with spicy Indian cuisine or fast food and snacks. It also makes a great choice for people who are being introduced to wine -- it is is usually slightly sweet and yet has balanced acidity, with fruity notes. Rose goes great with Paneer Tikka, Reshmi Kebob, and tandoori breads.
White dessert wine
This exclusive wine comes from varietal grapes grown in calcium-rich soil. The presence of important elements and constant care results in crafting a truly excellent wine. The higher concentration of sugar is responsible for the rich golden colour of the wine and its higher level of alcohol. It has a pleasant and sweet bouquet experience -- fantastic flavours including vanilla, honey and fruit. It has a balanced and persistent aristocratic taste that includes hits of apricot and peach. It is good as an aperitif and wonderful with dessert at the end of a meal, when it gives a touch of fine elegance.
Cabernet Syrah (red)
This is a complex, deeply-coloured wine with good body, tannins and aromas. The taste and flavours may be reminiscent of dried fruit, juicy black-currant, savoury spice and gamey meat.
The wine can be best enjoyed with roasted pork, turkey, lamb, venison and Indian and Chinese cuisine. It can pair with everything from Tandoori Chicken, to Fish Curry and Palak Paneer.
Shiraz (red)
This is a deep ruby-red wine with good structure and complexity. It has pleasant dark-berry aromas with freshly ground black-peppery taste and distinct floral notes. The palate shows generous ripe fruit with oak complexity. The finish is soft and lingering.
Shiraz pairs well with spicy mutton dishes, steak or sauces containing mustard or horseradish, game poultry, carioles, mature cheese and a variety of Indian and Thai cuisine.
Sparkling wine
This is made from exclusive Chenin Blanc grapes, carefully selected to create top-quality sparkling wine having its own personal character. It is crisp, soft and well-balanced, with greater fruit on the palate to make it elegant and harmonious. Sparkling wine also has good fizz, mouth feel and a long finish.
It makes a wonderful aperitif. It is a superb accompaniment to oysters, shellfish, lobster and a variety of fish dishes. It pairs comfortably well with moderately spicy Indian dishes and creamy gateaux.
It can also be paired with vegetarian food. If you have a rich and creamy curry, or something heavy like saag, makhani balti dishes, paneer and potatoes, great. In fact, even fast foods like Momos, Paav Bhaji and vadas taste good with sparkling wine! Champagne goes well with sparkling wine too; it offers a nice change-of-taste due to its bubbly, acidic texture.
Some interesting pairings:
A Shiraz, Savignon Blanc or Rose will go best with kebobs, kormas and aromatic biryani.
A Zinfandel goes best with starters like Chicken Tikka, Seekh Kebob and Rumali Rotis.
The Red and White wines make an amazing pair with Vegetarian Fritters, koftas and naans.
One important point that first-time drinkers and servers must note is that left-over wine must be refrigerated horizontally, with the cork kept moist to allow oxidisation and prevent immediate deterioration. Also, care must be taken to keep the wine away from direct sunlight and extreme heat.
Having said something about the pairing of food and wines, the fact still remains that it is a matter of personal likes and dislikes. One's taste might differ from another person's. To conclude, all we can say is, 'wine is bottled poetry' and the onus is yours to experience. Happy holidays!