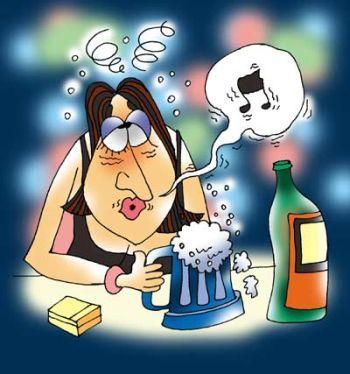 'We were caught in a midnight traffic jam in Goa...'
'I got so drunk I don't remember bringing in the New Year!'
'Our house party was a bore...'
Yes, New Year's eve is a great time to look forward to, but things can go horribly wrong -- which is why you should remember a few valid points:
1. Set out early or you'll be caught in a traffic jam, because everyone is looking to head out. And this specially applies if you're going to celebrate out of town! Don't leave on the 31st, because everyone does. And invariably ends up spending midnight in the car. Take leave a day in advance so you can plan your trip accordingly. As for city jams, you know how it goes -- oh darling, yeh hain India!
2. Don't get too drunk, because you'll regret it. While New Year's is an excuse to let your hair down, don't let your self-respect down with it! Or the photographs of you dancing shirtless on a tabletop will catch up with you on Facebook sooner or later!
3. If you're having a house party, make sure it's well-organised. Or come 12 o'clock and you'll find a few buddies having beer, a couple of others smoking and two-three pals moving lazily to background music. Not exactly a happening scene now, is it? Arrange for good food, good music and good company -- that way, you can't go wrong. Every other way, you can!
4. Don't spend more than you can afford. Because all kinds of fancy places offer exotic-seeming ideas at exorbitant prices, but at the end of it they're not much different than if you'd held your own well-organised party! And do you really want to blow up between Rs 5,000 to 10,000 in one single night? Not really.
5. Stick together with your friends. New Year's should be all about the good old gang partying together -- it's not a couples' thing! So save the posh date for Valentine's Day and get out there and have fun with everyone you know. Else you'll get one long smooch at midnight and the rest of the time you'll be wondering what your buds are doing and wishing you were with them!
6. Remember, it's just another day. Don't go into a tizzy making plans, just pick a fun idea and go with it. The next New Year's celebration will be here before you know it, so even if you blow this one, it's not the end of the world -- unless you blow a lot of hard cash on it and regret it later!
Have your New Year's Eve party plans ever gone horribly wrong? Do you have tips for revelers on New Year's Eve? Share your experiences and advice on the messageboard below!