As part of an ongoing series, we bring you another excerpt from Mumbai-based chef Zubin D'Souza's Khana Sutra: An Aphrodisiac Cookbook.
Part I: Passionate Nibbles
Part II: Love Bites
Part III: Sensual Endings
Presented here is an excerpt and recipe from Chapter 12: The Morning After.
Pre-prepared food, that can stay in the refrigerator the entire night; ready to revitalise you the next morning.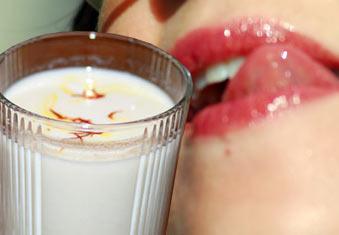 Thandai
During the spring festival of Holi, it was rumoured that Kaamdev, the Indian equivalent of Cupid, flitted through the woods and vales aiming his arrows at whoever would cross his way. He would have looked a rather cool sight, strutting through the undergrowth with a bow made of sweet sugarcane and strung with a procession of honey bees, letting fly his passion tipped arrows at all and sundry. One day, in a streak of daring, he aimed his arrow at the mighty Lord Shiva (aka the Destroyer) who sat deep in meditation. Obviously, the sobriquet was not bestowed on Lord Shiva for no minor reason and he opened up his third eye and reduced the romantically inclined demi-god to ashes. Rati, Kamdev's spouse appealed to the god to restore her husband and she served him a marijuana spiked drink as atonement. I have a strict no drug policy and this is the same drink without the addition of the leaf.
This was said to renew energy and rejuvenate people and get them to feel randy.
Ingredients:
Milk: 400 ml
Sugar: 60 g
Cream: 60 ml
Almonds, blanched and peeled: 30 g
Poppy seeds/
khus khus
: 3 g
Saunf
/fennel seeds: 3 g
Crushed green cardamom: 3 g
White peppercorns: 6 nos
Saffron: A few strands
Method:
Grind the almonds, poppy seeds, fennel seeds and white peppercorns to a smooth paste, add in a bit of milk if necessary.
Heat the milk gently and add in the sugar, the saffron strands and the ground paste. Stir till the sugar is dissolved and the milk begins to thicken slightly.Add in the cream, increase the flame and stir the milk till it boils. Remove off the flame and cool down. Refrigerate and serve chilled.
Excerpted from Khana Sutra: An Aphrodisiac Cookbook (Rs 250) by Zubin D'Souza, with the permission of publishers Jaico Publishing House.
Click here to buy Khana Sutra from rediff Books!