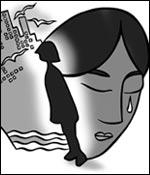 We invited readers to comment on how young people can deal with stalkers and obsessive lovers. We also carried professional advice and a few harrowing accounts from young women. Here, reader Amit Kumar shares a few safety tips with women:
I am a guy, but I still want to give some tips to all the girls who are suffering at the hands of stalkers across the country:
1. I advise all the girls to be bold enough, rather than being scared of stalkers.
2. Don't hesitate in seeking help from friends, classmates (boys or girls), even neighbours.
3. Parents are the best help in such times.
4. Half of the problem here arises because of the fear inside the girl. This fear worsens things right through theday, till night.
5. They can also take help from women help groups in various towns and cities.
6. Girls in India cannot move ahead merely by getting an education in top schools and classes. They have got to handle disgusting things like this smartly and boldly.
7. Girls in India are more concerned about society views and all. But a time comes when they should come out of this shell.
8. It's the girl who is supposed to make the first move. The rest of society will follow her immediately.
Have you ever been stalked? How did you deal with it? Please share your experiences and suggestions with us. Send your stories to getahead@rediff.co.in (subject line: 'Stalker experience') and we'll publish them right here on rediff.com
Illustration: Uttam Ghosh