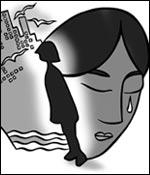 We invited readers to comment on how young people can deal with stalkers and obsessive lovers. We also carried professional advice and a few harrowing accounts from young women. Here, reader Shifali Parekh* tells how her sister's stalker left her whole family shaken:
This is my elder sister's stalking experience actually, but our entire family suffered due to it. Ours is a family of women, since my father expired and we don't have any paternal relatives.
We were staying on our own in a chawl in Pune back then, as we were not well off. This incident occured about 6 years ago. I was about 24 years old and my sister was a year older to me. She used to take English-speaking courses and this guy was actually her student, but of the same age. He had joined the classes on the pretext that his career was not moving because he couldn't converse in English.
Initally, this guy used to follow her when she used to go to work and on the way back home. Then what he did was alarming. He left his family house and took up residence in the chawl two doors from us. Plus, he went to the extent of decorating the kholi. Basically, each time he wanted to step out, he had to pass by our door. You can't imagine how horrible it was, since he used to look into our house whenever he was passing and we couldn't do anything about it, because it was on his way.
He continued following her everywhere, until my mother called him to our house one day and gave him a piece of her mind. But this guy turned out to be bolder than we thought. He told my mother that he intended to marry my sister and went on to threaten that he wouldn't allow her to get married to anyone else. Our neighbours and everybody was indifferent towards us. One of them actually went to the extent of saying that if we were not interested in that match, then she would like to send him a proposal on behalf of her niece, since he had a good job and was financially stable.
By then, I had managed to secure a good job and we moved out from there. My sister left her job, but this didn't deter the guy. He found out her number and started harrassing her. She switched at least five cellphone numbers because he continued to harrass her over the phone, using different numbers each time and that wasn't all -- he eventually managed to find out where we had shifted to.
We all were irritated by now and finally, I garnered the courage to approach his workplace and informed his employers. I told them to warn him or remove him from the job, as he used their office telephones to make prank calls. I told them that I would be lodging a complaint with the police and because their telephone lines were used, they would have to face action as well. This thing worked. He stopped calling and following my sister for some time.
By then we shifted house again, this time to a well-guarded society in a good locality. After about six months of lying low, he started calling my sister again, from various telephone numbers. Finally, she confronted him herself. She called him back at one of the numbers. Some girl answered the phone and my sis asked for him to get in touch with her. He was taken aback by and he returned her call immediately. This time my sister told him sternly that she was not interested in him at all and never would be, so he should leave her alone and if he wanted to be only friends, he should stop stalking her and approach her like a normal friend does. This was a good year and a half ago. He stopped calling her after that. Good riddance to the nasty pest.
*Name changed to protect privacy.
Have you ever been stalked? How did you deal with it? Please share your experiences and suggestions with us. Send your stories to getahead@rediff.co.in (subject line: 'Stalker experience') and we'll publish them right here on rediff.com
Illustration: Uttam Ghosh