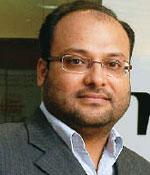 Recession might have been casting a gloomy spell over the job market with salary cuts being the norm, but it seems that things are brightening up, if the recent survey by a global recruiting firm is anything to go by.
The good news is that companies in India are ready to hire across all sectors in the coming few months, so it's time to revamp your CV pronto, if you are looking to test the waters. Shalini Gupta finds out more in a conversation with Sanjay Modi, managing director, Monster India.
How do you think the job market was affected by the global slowdown last year?
If we analyse the economic downturn from an Indian perspective, we find that it actually did not hit India as badly as the western world. Most of the Indian companies took a cautious approach and put their expansion plans or projects on hold anticipating the slowdown in the market. Hiring though was being done across almost all sectors but only for the critical positions. So contrary to the reports in the market, India did continue to hire in 2008 in sectors such as IT, manufacturing, engineering, banking and financial services except for the export sector that really got impacted -- for example the gems, jewellery and leather industry.
In this scenario, do you think the numbers were alright?
The number of people being hired was less as compared to early 2008 or even a year back. Companies continued to hire experienced people or those who brought niche skills on the table. Hiring of freshers was postponed or rather reduced since they are more of a trainable work force. I think what the recession did was it made companies look deep inside and rearrange their priorities by looking at newer geographies as an expansion mode and newer technologies to reduce the costs.
What is the job outlook for the next few months with reports that the worst is now behind us?
We have approximately 45,000 job listings on our website which is almost the same as the number in the early part of 2008, a clear indicator that companies are unfreezing the requirements and are keen to hire again. From March to December 2008 we saw a 30-35 per cent decline in the number of job postings on the website. That stabilised in the first quarter ie from January to March 2009. This was followed by an 8-10 per cent growth from April to May that was across all sectors with IT, BPO, infrastructure and construction companies, to name a few industries, that were on a rebound and were looking at hiring. Our sense of optimism was further fuelled in July and August when we saw a 36 per cent growth, a clear indicator that the job market is on the path to recovery.
Were there any policy measures by the current government that fuelled the optimism on the job front? 
I would attribute it to the current budget, which in my opinion was well thought out with long-term returns. The policies undertaken under the NREGA scheme, easy credit flow given in terms of funding large infrastructure projects, public-private partnership projects and support given to the telecom sector along with the protection of the export-oriented sector are a few of the things that helped fuel employability. A renewed sense of global recovery also seems to be a helping factor.
Which sectors do you think would be hiring right now?
The good news is that IT has come back with a bang. The reason why the numbers of employees hired by IT companies look big is that there is no sector within the non-IT domain which hires as much as this single sector. The other promising sectors are manufacturing, retail, infrastructure and construction and telecom. We also see education moving very strongly because of the recent initiatives taken by the government to open up the sector. Hospitality is another sector to look out for.With the world moving towards research and development in pharma and biotechnology, it is a growing domain of the future.
Across what levels will hiring happen in the next few months?
Lateral hiring would continue to be there. We also see a good momentum building up for recruiting fresherswith up to one year of job experience. There are going to be jobs for peoplein the rural markets as well in the months to come.
Rural seems to be the flavour now. Did Monster also do something in that geography?
We have been focusing on tapping the talent pool in the rural markets for the last 14-16 months, which is why we launched rozgaarduniya.com along with ITC's e-Choupal in August this year. This was in tune with the need of organisations which were looking at tapping job seekers beyond the cities.
Internet penetration was a challenge. Hence we collaborated with ITC's e-Choupal to use their kiosks to help potential job seekers in these areas connect with their employers. We were successful in providing 1,200 jobs by 40 employers within a span of three weeks of the launch. The initiative gave us access to 40,000 villages in nine states helping us reach an untapped audience of five million people.
What sectors are hiring job seekers from the rural sector? Were any other innovative methods tried to reach out to the hinterland?
Expansion in infrastructure development in sectors such as telecom and infrastructure, microfinance and logistics, agro-based industries, security companies, banking and financial services and FMCG have seen jobs being generated for job seekers from rural areas as well. We are now looking at spreading out the campaign in more than nine states. To expand our reach, we focused on the convergence of technology, wherein we partnered with a satellite company so that people could look for jobs sitting in front of the television in the comfort of their home. This is targeted at B and C towns with a large penetration of satellite television in order to address a large audience.
Is there any decline in the number of people who are looking for jobs during recession? 
Last year we were getting around 13,000 to 14,000 resumes per day and this year we are averaging around 16,000 resumes per day, so things are definitely looking up. Freshers are always posting their resumes online and we believe that once the opportunities are less, people try and explore more to spot the opportunities where they can apply. Even people who are in experienced positions apply for a job in unsure times thinking that they can have a fallback option in case they land a good opportunity.
What was the biggest challenge for you during the downturn?
The challenge from our side was to map the job seeker to the industry sector. And there was an important learning that we got. This was mapping the skill of the job seeker to the right industry sector. For example, ideally an IT professional would look at being absorbed within the IT sector, but his skills can be deployed even in sectors such as banking and financial services, telecom etc. Lot of job seekers went for training and study during this period which is a good thing since the dynamic work environment of today calls for reskilling on a continual basis.
Social networking sites have become hunting grounds for potential employers these days. Do you see any competition from them?
We see social networking sites as complementing us rather than competing with us. Hiring is scientific and a person goes through a certain procedure. They are not investing 90 per cent of their workforce finding what is happening in the recruitment space which is something that we are doing along with providing a strong value proposition side by side. We believe hiring happens seriously at our website. We might possibly use them to expand our reach.
What would be your advice to someone who is looking to be hired in the next few months?
Money is definitely a criteria for the potential job seeker but it should not be the sole criteria, though its a big motivator and influences the decision to choose a future employer. People today are also looking at the credibility of the company and the kind of work areas they would be exposed to as a professional. What is needed is to evaluate all the three criteria above in totality, rather than giving weightage to just one factor before taking up a job offer.
I would suggest that someone who is just starting in his/her career should give more emphasis to learning rather than the emoluments and also take into account the integrity of the company that one is going to join.
Careers360 is a complete careers magazine.