Passion and not getting distracted by temporary failures are the keys to success, Gurbaksh Chahal, 27, told the 18th conference of the Network of Indian Professionals held in Toronto last month. Ajit Jain reports.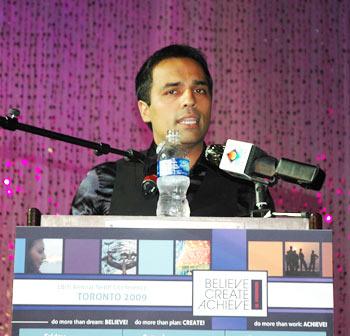 He should know. When he was barely 18, he sold his first company, Click Agents, for $40 million. In 2007, he sold his second company, BlueLithium, to Yahoo! for $300 million.
Like most Indian parents, Chahal said in his keynote speech September 6, his father Awtar Singh, who recently retired from the United States Postal Service, wanted him to become a doctor or an engineer. But Chahal dropped out of high school.
"Listen to your heart," he told the 800-strong audience of young professionals that listened with rapt attention. "We tend to do well at things we love, so find something you love. Success comes from wanting to win, so you've got to want it bad, you really need that killer instinct. You have to believe in yourself, often to the point of madness. Do your homework before you start anything, as ignorance is dangerous. What you don't know can and will hurt you."
Another piece of advice the young entrepreneur gave in his nine-minute speech was "Learn to listen: Listen even to the people you disagree with. Process what you have heard and have the courage of your convictions."
He continued: "Don't get emotional. Logic and emotions don't mix. The road to success is paved with failure. If you're afraid to fail, you'll never succeed. Take chances. Without risk, there's no reward. But make sure it's an intelligent risk and when you commit, you really have to commit."
Winning, he said, is not only about making money. "To me, winning is waking up in bed every morning excited about the next step." He conceded there will be "bad days, there will be setbacks. You will have more of shares of failure but at the end of the day, you pick yourself up and you keep going."