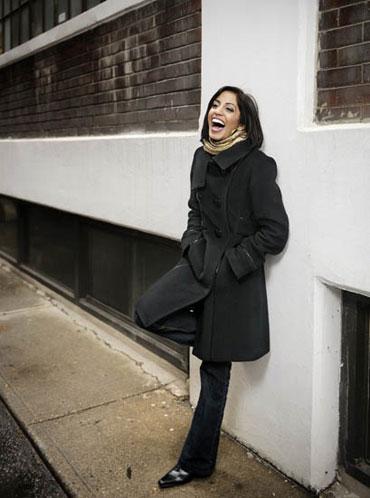 Singer Prita Chhabra was invited by the National Basketball Association to sing the Canadian and American national anthems at the Air Canada Center in Toronto April 4 before a crowd of 20,000 people. 
For Chhabra, 27, singing is spirituality. "I feel god is by my side, helping me sing better each day, helping me write better songs," she said. "I sing to myself even while I do chores. When I sing something takes over. When I am on the stage, energy comes out of me and I believe I am connected to god. Time stops for me."
In the audience at the Toronto Raptors versus Golden State Warriors game were about 3,000 South Asians invited by businessman Nav Bhatia. He has been celebrating the Sikh festival Baisakhi for the last 11 years by buying tickets at the Air Canada Center and giving them away to young South Asians who may otherwise not be able to attend an NBA game. It costs him $60,000 a year. "I do it to celebrate Baisakhi and promote our culture on the national TV networks," he said.
Chhabra said, "South Asians at the game came up to me and said they were very proud."
She wore a salwar kameez. "I felt very proud to be wearing traditional clothes and bringing our culture to the mainstream audience. I always enjoy singing, but singing at the NBA game was special because it was to mark Baisakhi."
Chhabra always knew she wanted to sing. "I started singing before I started speaking," said the Montreal-born singer. "Other students were excited about getting their degrees, but it wasn't a big deal for me. I didn't want to be a professional, make lots of money. I wanted to sing and write music."
But her parents didn't think she had the talent. "They didn't understand that I loved music. I wanted to disprove that and the opportunity came when they invited guests home for a party. They were mostly South Asians, all bigwigs -- lawyers and doctors. I was really angry at them (parents). So, I said to our guests, 'May I have your attention please?' and sang one of my favourite songs. Everyone was astonished and my parents started crying. They felt embarrassed that I had turned the tables," she said. "Now, they are very proud of me, as they see me on TV and read newspaper articles about me. They also saw me in Orlando with (standup comedian) Russell Peters."
Chhabra writes her own songs. "I started writing when I was in the second grade," she said. Her first album 'Spread the Word' released last year. She is working on her second, which will have mostly Indian-themed songs.
She also made history in December last year as the first South Asian Canadian musician to open for a Billboard charts topper, when she opened for British R&B superstar Jay Sean at the Hershey Center (Ontario, Canada). 
After the NBA game, she was all set to sing the national anthem before federal lawmakers at the House of Commons in Ottawa as part of Baisakhi celebrations, April 15. "I also just got booked to sing at the Blue Jays (a professional baseball team) in Toronto on May 31 and I am doing the Desi Fest on May 29," Chhabra said.
The next stop on her list, she says, is "two Grammys under my belt".