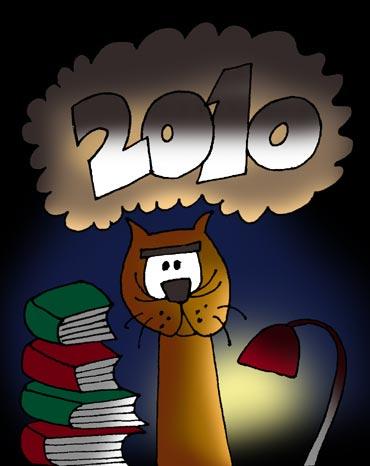 As preparation for CAT 2010 for admission to India's top B-schools gathers steam,
we invited readers who have taken the CAT in previous years to share their experiences
and advice with this year's test-takers. Here Harsh Chandak, an IIM Lucknow student, shares his advice...
In the last four years, I have written CAT as many times. While most of you might be looking for a success formula to cracking CAT, which I'm quite sure does not exist, you can certainly come close to one.
Every IIM student will have suggestions and advice about CAT and most of will be so distinct that you are bound to get confused about what to do. But if you analyse all the advice, you will come across some common traits. Let's take a look at those common traits.
CAT preparation consists of three parts -- fundamentals, practice and strategy.
Fundamentals
Most candidates who ace CAT are either already good at fundamentals or they ensure that they are good at fundamentals. Fundamentals means concepts required to solve problems in Quant, English and DI. Concepts can be formula, grammar rules, way to analyse and other similar aspects.
Being strong with the fundamentals is a must before you begin practicing. When you attempt the CAT, 60 per cent of your score depends on your fundamentals. But just mugging up fundas will not help you maximise your score.
Practice
To capitalise on your knowledge of the fundamentals, you must practice. The CAT exam is more logical, rather than based on a candidates intelligence quotient. Hence people from different streams have a level playing field, and practice will make all the difference.
Strategy
The final 10 per cent is the strategy part. This consists of things like how you manage time, your decision-making skills (how you pick questions), how you handle stress and how you improvise from your pre-decided strategy. This will be unique to each candidate depending on what works for them, so it is important to introspect and track your performance over time. 
General tips
In Quant and DI ensure that your basics about calculations is right. If not, work on and then build on your fundamentals. Always go from less difficult to more difficult while practicing, instead of starting off with the tough parts. It will only make you more nervous. 
For English try to read as much as you can and also work on building your vocabulary.
Most importantly, take mock papers regularly to test your preparation level. Also analyse every paper you have given. Follow this process religiously, and your score will improve just by cutting down on your mistakes.
GD and PI will be entire a different ball game, but the key is focus, dedication and perseverance.
Did you crack the CAT recently? What was the experience like? How did you begin your preparation and how did you plan your CAT strategy? Which are the most important study topics? What are the common problem areas that test-takers face and how did you approach them?
Simply e-mail us your CAT tips and advice at getahead@rediff.co.in with the subject 'My CAT tips' and we will publish the best right here!
Illustration: Uttam Ghosh