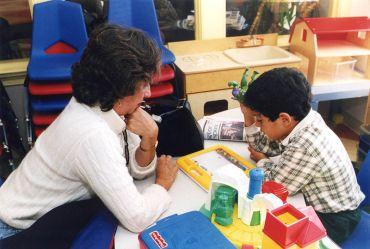 Share stories of your favourite, most inspirational teachers with us.
Ever feel your eyes going misty when you take down the old school album for a walk down memory lane?
Childhood faces and special moments from the past smile up at you as you flip through the pages and wonder how life, which was so carefree then, can possibly have changed so much.
And as for your teachers -- those wonderful people, who were your parents away from home your whole school life -- you chuckle at how much they put up with and hope that a certain Mrs Coelho or Mr Mahajan will still be around when your children head off to school.
Sure, some of them were strict, but when you look back, you're thankful that they were. And you cherish every single moment of your life from back then, even those moments when you landed up in hot water and were disciplined, because they've all helped mold you into the person you are today.
With Teacher's Day coming up on September 5, we want you to share a story about your favourite teacher with us. It can be amusing, interesting or sentimental -- but it has to be about that special someone who made the biggest impression upon you in the course of your academic career.
Simply write in to us at getahead@rediff.co.in (subject line: 'To Teacher, with love') with your experience and, if possible, a photograph of your teacher and you. We'll be publishing the best entries right here on rediff.com
Photograph: Wiki Commons