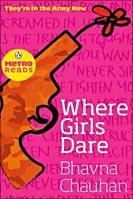 Where Girls Dare is a fictional account by former army officer Bhavna Chauhan that follows the antics of 52 lady cadets or LCs, who train alongside 400 gentleman cadets (GCs), some of whom believe that girls in the armed forces is a bad idea.
We bring you an excerpt from Chapter 14, Of Route Marches and Maha Crib Sessions:
Suddenly, a loud howl broke through the normal sounds of the jungle. The jungle speaks -- after sunset, a humming crackling sound began and grew into a crescendo. We all crouched down, to merge with the terrain.
'I told you, there are hyenas,' Shruti whispered aloud, trying her best to paint a gory picture of our future.
'Switch off the torch else its batteries will run out' Archie instructed. These were our emergency batteries at work. We would have to get to the next landmark to get new batteries, water and some energy.
Divya switched off the torch. We didn't want the lights attracting any animals. Oc course, the hyena-eating scene was imaginary. If any group didn't turn up by 2.30 or 2.00, a search party would go looking for them in a vehicle. But nobody wanted to return that way -- in a vehicle escorted by ustaads. That was humiliation.
'Let's just go back to point 2. It will take time, but that's better than this,' Archie suggested.
We headed back to our previous landmark to start afresh. It was a clear night and this was a more sensible option. We crossed the hillock and came to a small dusty road. Hardly had we walked 5 metres, when we heard a welcome sound behind us -- the sound of a squeaky horn. We all turned around and saw a worn-out tempo snaking its way on the road, 200 meters away. its single headlight lit up our hearts.
But we were in a dilemma. Should we take it?
'Don't be crazy! It's the dead of night. What if he is a psycho or a serial killer or something? What if he gets some idea seeing us girls?' Divya asked.
Chennai was famous for the notorious Auto Shankar, a psychopath who had slaughtered single women who travelled at late hours in his auto.
'Divya, Auto Shankar won't take this route; he plies in the city. And we have rifles, okay? When will our training come handy?' Kaddy countered, holding up the weapon.
'And even if he's Auto Shankar, we can overpower him, tie him up, drive the auto ourselves, reach in time and hand him over to the police. I'm sure there must be a big reward on his head,' Shruti said animatedly.
'Girls, it's not an auto, it's a tempo,' I added though not very sure if that ruled out Auto Shankar.
I loved the way the discussion was going now. Our brains had totally stopped working. But when Archie, our devout, God-fearing comrade said, 'Let's take it yaar, for some distance,' it made up our minds. She always rejected wrong ideas with 'Have some fear of God, you'll commit a sin,' but not today.
We waved down the tempo and the driver studied us all with a wary look. A recharged Sridevi explained in Tamil that we needed a lift, we were cadets, this was a national cause and that he would be serving the nation. Archie made her towering 'He-man' presence felt, flashing her rifle just in case the driver got other ideas seeing girls. He seemed to understand Sridevi because he nodded vigorously in agreement.
Such a nice, simple fellow -- we thanked him and blessed him, but he was no tthat simple. After hearing us out, he made that cute gesture with the thumb and finger of his right hand, that universal symbol signifying money! But we were in no mood to disagree. Kaddy always carried money for buying eatables. And today, that rolled up five-hundred-rupee note hidden in her boot was to going to be used.
We jumped into the back of the tempo, amongst the sacks of potatoes and flour and the tempo lurched ahead on the road. Archie still kept a look-out on the route to ensure he didn't stray from the road. I was sandwiched between the cold metal side of the tempo and a sack, so I pushed the sack to make some place and I saw a hand, a human hand move. My gut muscles contracted -- this guy was not some ordinary villager transporting commodities! I lifted my rifle but and nudged Kaddy quietly, who kicked the sack and a figure jumped up with its hands up.
Of all the people in the world it was Lamba!
'What are you doing here?' Kaddy asked him.
'I should ask you the same thing. You girls are some trigger-happy soldiers,' he replied, pushing away the rifle pointed at him.
'But I loved your "national cause" pitch,' Lamba continued, taking a dig at Sridevi's passionate speech.
It turned out there were seven more GCs hiding behind the sacks. We were not the only Einsteins hitch-hiking the ride. Lamba and his group had also lost their way and found this tempo. They looked so calm and collected
Can't be their first time, I thought to myself.
'So, you do this all the time?' I asked him, imagining all the GCs in tempos and trucks, playing cars and sleeping while we girls slogged like fools walking in route marches.
'Oh please, don't give me attitude now. Will you believe me, if I say it's the first time?' Lamba responded and offered water.
But this was going to be one long night.
After what seemed like ten minutes, the tempo stopped at a fork on the road and the driver ordered all of us out. He was going the other way and this was goodbye time. We pleaded and cursed him but then started walking again.
'Never paid five hundred bucks for a ten-minute ride before!' remarked Shruti. The mandir of the village was visible and we made our way to it. We knew the way to landmark 2 from there. The boys broke away, taking a shortcut through a small stream while we traced back our original route -- no bright ideas this time.
We reached there in half an hour and then started for landmark 3 in the proper way with the map, compass and route chart.
'Other groups must have reached by now. We'll be left behind,' Diya said. We doubled our pace and hurried. Thankfully, the rest of the landmarks posed no problems and when we reached the final check point, we discovered that we were the second group to arrive. This was a great achievement.
'Imagine if we had stuck to the map earlier. We would have made a record, yaar,' Archie remarked.
Yes, but cadets don't believe in simple things, they have wild ideas. Later we came to know that many groups had tried the same thing and drifted. Three GC groups and one LC group came accompanied by search parties.
Lesson learnt -- there are no shortcuts in life. Follow the route chart -- that is the shortest route in the jungle. Don't act smart or maaro chatki. Refer to commandment five.
Excerpted from Where Girls Dare (Rs 150) by Bhavana Chauhan with the permission of publishers Penguin Books India.
Here's your chance to win a copy of this book! Write a passage on the one experience that taught you there are no shortcuts in life. Send an e-mail with your anecdote in 150 words or less to getahead@rediff.co.in (Subject line: 'There are no shortcuts in life'). The ten best entries will receive a copy of Where Girls Dare each, so hurry! The contest closes February 22 -- click here for more details.