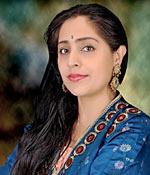 Abhishek Mande interviews Bhavna Chauhan, ex army officer and first-time author, about her new book, Where Girls Dare, part of the Metro Reads series from Penguin Books.
Bhavna Chauhan graduated from the Officer's Training Academy in Chennai in March, 2001. Nine years after she completed her course, served in the army and decided to stay at home, Chauhan chose to fictionalise her account. The book Where Girls Dare, released by Penguin Books India, is part of their Metro Reads series and promises to be a great travel companion (click here to read an excerpt).
In the book, Chauhan follows the antics of 52 lady cadets (LCs) who train alongside 400 gentleman cadets (GCs), some of whom believe that girls in the armed forces is a bad idea.
Chauhan currently lives in Roorkee with her army engineer husband and a four-year-old son. Excerpts from an interview:
Let's see -- your book Where Girls Dare is about lady cadets at the Officer's Training Academy (OTA). How much of it is based on your personal experiences?
Well, I always wanted to write about my life at the academy. The characters, the flow of the story, everything was in my head. It was always something I wanted to do but never got around to doing. When I finished the course at OTA, my mother handed me a file of all the letters and scraps I had written to her during my stay at the OTA. It is a thick file that I still have. It proved to be a great starting point for my novel. Besides, life at the OTA is perhaps the best experience any cadet will ever have, although you don't feel that way when you are there.
Going by your book...there catfights in the Academy! Tell us about them!
(Laughs) The army is also made up of people. Everyone has hearts and feelings so there are bound to be differences. The army is also a place where you learn to focus on others rather than on yourself. That is a major change, because all along your school and college life, you are only concerned about your marks and performance. Here you have to adjust with people who come from different backgrounds. It can be quite a task.
And how gentlemanly are the gentleman cadets?
Oh they are very gentlemanly. But everyone likes to have fun. So they do let their guard down once in a while. Besides, not all lady cadets are ladylike either! When at work it's no nonsense though.
In the book you mention how the media has been reacting to lady cadets (LCs) in the army. What is the sentiment like within the army? Do men like to have girls around?
Well, like everywhere else, in the army too there are men who have their reservations. Some are very open to the idea and others take their time to open up. You have to understand that the army as an institution has been around for centuries, but women have just come along. You've got to give the men some time to adjust. When I was leading a platoon the jawans had very genuine questions about what training lady cadets underwent. They'd ask me if I was trained in rifle shooting. But eventually they got around it. It's a mixed bag.
How do you deal with the mixed bag? Especially those who think that women in the army are bad news?
My response to people who feel that way is that it is their problem. But the army is a transparent organisation. The redressal is much faster. I have never really had a problem with men who don't approve of women in the army.
What were the three life lessons you learned during your training?
One, as a team you work better and succeed better. Two, I could do things I never thought I would be able to. I try to remember this even to this day when I feel down and out. Three: it made me a stronger person and more assertive. My training inspired me to go beyond myself.
How did the transition from architecture to army come about?
(Laughs) It was one of the crazy things I did. I always wanted to be in the army because my father was in the army too. So I guess in a way it was a logical step. My father-in-law was in the army, so is my husband. I'm a pucca fauji kid.
We've often seen on television that army people looking upon civilians somewhat condescendingly. Is that how they feel about us in the army?
(Laughs) We are not a separate community. The army is just like any other organisation. It's just more disciplined. That's it. One of the things we are taught in the army is how to deal with people. It forms an important aspect of our coaching.
You've quit your job and are a homemaker. Would you want to go back?
I have never really regretted my decision. When I was about to make it, I gave it very serious thought. I needed to be with my (then newborn) son and needed time for myself. Besides, had I not left, I would not have been able to write this book!
What do you do now besides writing?
The mornings are busy. I help my son pack up and see him off to school, finish the household chores and after everyone's gone, I have my moments of peace where I read the papers, write, listen to music. Then of course, there are the ladies' welfare meetings and parties. So it keeps me occupied.
Is it tougher being a housewife than being a soldier?
It's as difficult being an army wife as it is being a soldier. And I can say this because I have seen both sides of the coin. As a soldier you are in the limelight and in the line of fire. As an army wife you face the repercussions indirectly. There are a lot more responsibilities. When your husband is posted in some corner of the country, you just have to take charge. And you may not necessarily have a family backup. But on the flipside it makes you very independent. Most army wives I know are very adept. They can run a house without any help.
You've drawn from your experiences at the OTA. Have your batch mates taken to it?
Oh they've liked it quite a bit. They can see parts of themselves in the various characters. And they are able to relate to the situations too. So I guess it's good news!
What next? A sequel? What's the plan like?
Yes! I am working on it and plan to set it six years after the girls in the OTA graduate. It'd be something like where my friends and I are today. But besides that I don't really have a plan. I used to once when I was a teenager -- draw lists of things I'd like to do before a certain age, but not any more.
And how many goals from the lists have you achieved?
(Laughs) Well, the book was in one such list!
Here's your chance to win a copy of Where Girls Dare by Bhavna Chauhan! Write a passage on the one experience that taught you there are no shortcuts in life. Send an e-mail with your anecdote in 150 words or less to getahead@rediff.co.in (Subject line: 'There are no shortcuts in life'). The ten best entries will receive a copy of Where Girls Dare each, so hurry! The contest closes February 22 -- click here for more details.