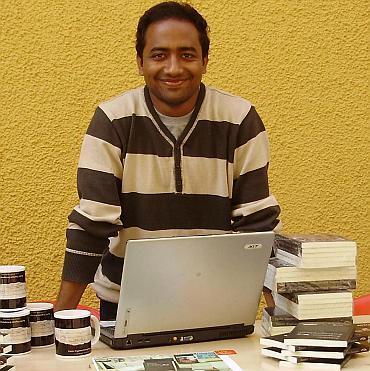 That the Indian youth today is restless and wants to tread uncharted paths is no secret. They want to experiment, they want to explore; failure does not deter them.
Jayanth Gurijala, 24, BTech in computer science from Sastra, Thanjavur, author of Exotic Engineer Entrepreneur and currently pursuing his Master's in computer science from the Indian Institute of Information Technology, Bangalore, symbolises this spirit to the tee.
"I am open to all things in life… who knows I can become a farmer tomorrow," says he when asked about his future plans. But right now he is busy visiting university and college campuses across India to sell his book.
Though he does not know how many books his publishers have sold until now he is "proud to have sold 20 copies at Symbiosis, Pune and arranged to keep 10 copies at a bookstall at IIT Bombay and managed to sell one book," says this humble Hyderabadi, now studying in Bangalore.
Meanwhile, Sapna Book House, Bangalore has sold over 100 copies in a month and a tiny book stall at the Kempegowda Bus Stand, Bangalore, sold another 45 books in the same period, he says happily
Despite his handicap with English grammar, which he mastered in due course, Jayanth finished his debut novel in six months flat.
As part of his marketing initiative Jayanth was in Mumbai recently when he discussed his book, his entrepreneurial zeal and what inspired him to write a novel with Prasanna D Zore.
Your journey as an author till now...
It is exciting. I really didn't know I'd become an author one day. Initially I thought I'd just write the book and give it to publishers to market it. In fact, I took the book as an excuse to explore Bangalore city as I love travelling and covered all the bookstalls in the city to give my book. Right now I am touring all the universities like Symbiosis in Pune and IIT-B.
The response was encouraging at Symbiosis Pune where I sold 20 copies and three mugs that I designed. At IIT-B I didn't have any official stall and even though it was an unexpected visit I managed to sell one book and kept 10 copies there, which I think is an achievement.
What is Exotic Engineer Entrepreneur all about?
The book describes the journey of a software engineer, his love story. It is about a software engineer who, when he finds true love, wants to become an entrepreneur because he wants to give his love a comfortable life.
Are you saying that software engineers cannot give their ladylove a comfortable lifestyle?
When I was at HCL Technologies, Chennai my monthly payment was Rs 18,000, which I don't think is sufficient. Also, my skills were not used to the maximum extent.
So you thought of charting a different path for yourself?
When I was working there I tried a few ideas, which were not very successful, but then each idea gave me a new experience. So after quitting HCL, Chennai when I had six months of free time before joining IIIT I organised all these experiences and created a few using my imagination and it all evolved into a book.
What inspired you to write the book?
I wanted to try out new ideas and I could have done that only when I was sure to have a constant source of income from somewhere else. Also, most of my ideas failed because I could not get a team that I wanted. So I thought of doing something on my own. And then writing a book came to my mind.
How did you manage to write in just six months?
I started by writing short stories. But these are very hard because each short story requires a new idea. Then I realised that whatever experience I had when I was working was worth putting into a book. When I started writing, the initial draft was very boring. Even I couldn't read it the second time. I realised I had to change it to make it readable. So I started organising it into chapters that had interesting incidents to keep the reader engaged.
The next problem was English grammar. I always made mistakes with tenses. But the review that I got encouraged me because my publishers said the book made sense but my tenses were all mixed up. So for the first time I put aside Java for Dummies and started reading Wren & Martin (smiles).
So one doesn't need to be a Shakespeare to write an English novel. What are the essentials of writing a book then?
Just an idea, just a plot and you learn the grammar and the nuances of the language along the way. This is applicable to all those things in life you really want to achieve.
What are the lessons that you learnt while writing this book?
Actually I wrote the book out of all the lessons I learnt in life till now.
Is your book about young entrepreneurs?
Entrepreneurship is the buzzword in India today. Many of my friends tell me that they find the life of a software engineer too boring but they don't know what else to do. From our engineering life we are tuned to getting an IT job and working there. But then I feel it should not be that way. If you want to quit you should just go ahead and quit. There are lots of opportunities around if you look at things with an open mind.
What would you advise to all your compatriots who want to become an entrepreneur?
Start doing whatever you want to and things will evolve to your liking if you put your heart into it. Getting started is the main hurdle. I'm still a student and I hope to become an entrepreneur.
What are your plans for the future?
I don't plan long-term but right now I want to travel across India and market my book. I think the book has the potential to become popular but I want to accelerate the process. Tomorrow if I don't succeed in whatever it is I am doing, I may even become a farmer.
What is the most interesting thing about India today?
There is a lot of buzz going around entrepreneurship today in India. But most of the start-ups today are dot coms and not product-related start-ups. We also have lots of people encouraging young entrepreneurs like the National Entrepreneurship Network. I think any young entrepreneur should attend their programmes actively.