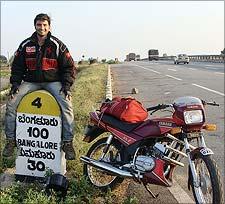 A first-hand account of an avid biker who drove 800 km in a single day's journey.
A friend from school was getting married in Cochin and having his wedding reception in Bengaluru. It seemed like a great opportunity to catch up with my friends and also try out something I hadn't done before -- biking from my house in Pune to Bengaluru.
The two cities are about 800 km apart and I wanted to cover the distance in one go without taking a night halt. It seemed doable as after some research I discovered that there was this one fellow who had done this trip, though by car. He'd covered the distance between Mumbai and Bengaluru in 15 hours.
On a bike from Pune, I hoped to cover the same distance in about 18-19 hours.
The reception was on December 13. I left my Pune home a little before 1 am on December 11, this of course after picking some fruits to have on the way and after having had my bike checked by the mechanic.
The National Highway Number 4 is pretty smooth and for most part is a four-lane road. So I was expecting a smooth ride. But the headlights of the vehicles coming from the opposite direction were blinding. After much contemplation, I decided to pull out my glares and wear them despite the fact that it can get somewhat uncomfortable. After a while, with the SUVs and cars were zipping past me at over 100 kmph I discovered I had to get a little more innovative. That is when I decided to follow the trucks that were driving at about 60 kmph -- the speed I was averaging in any case.
I took a five minute-break every hour and half or two to relieve myself and resumed the journey. The backpack that was fastened tightly to the pillion seat was helpful as it proved to be a good backrest as well.
I crossed Satara, which is about 100-120 km from Pune in two hours and I decided to next halt directly at Kolhapur. As I went along, I encountered several toll stations, which were the only parts that were brightly lit on the highway at that ungodly hour.
After I crossed Satara my speed also reduced a little as the trucks were also not moving too fast, I overtook many and finally decided to follow one that was going pretty fast. Here I was driving at about 80 kmph. It was cold and windy but I was determined to follow it because I wanted to gain on lost time.
It was about 3 am and I was maintaining a distance of about 25 meters from the truck. Suddenly strange things started happening as I began to see apparitions. I realised that this was mist, dust and light playing games. Either way, it was quite distracting. At times I thought I saw some animal ahead of me, but again there was nothing, this was a pretty novel experience for me.
Finally, at around 4.30 am, I reached Kolhapur, which is about 220 odd km from Pune. It was a good achievement and I was hoping to reach Bengaluru by 4 pm. Little did I know what lay ahead of me.
By 6 am, I had crossed the Maharashtra-Karnataka border and was hoping that the sun would rise -- I was getting somewhat tired of riding in the cold weather. At around 6.30 I had a guava I was carrying and realised how much grime and dust had settled all over my face and mouth.
The sun rose around 6.45 am and for the first time in my journey I began to see people on bikes. I refuelled a little ahead and soon I was zipping past Nipani, Bagewadi, then Dharwad and Hubli on the smooth road. The night journey had taken its toll on me and I was beginning to feel sleepy. The wind was strong and I couldn't go beyond 80 kmph.
Sometime later -- I do not recollect where exactly -- the four-lane highway soon turned into a two-lane road. To make matters worse, the road was dug up and there were diversions and potholes. Needless to say this reduced my speed drastically. But at the same time I was also thanking my stars that I hadn't encountered this patch during the night. Still I was hoping to reach Bengaluru by 6.30 pm. But the road was under construction and the village traffic comprising tractors, bullock carts also slowed me down. I entered a small town called Ranibennur and was wondering if I was on the right path. Assured that I was I moved on.
Ranibennur is something of a cross between a village and a city. It was refreshing to see the small town college and school and reminded me of the ones I always see when I bike down to the Konkan coast of Maharashtra.
The NH-4 highway is great in most part. But at times it can be quite a pain. Nonetheless it takes nothing away from the scenic countryside views -- farms, little dams, small hills, sun-kissed barren land, small rivulets, sunflower plantations, village huts are an absolute pleasure to see. Then came Chitradurga, which has a lot of windmills. It made for a great picture for sure but I was on a mission. Besides windmills are not really new to me because I have seen quite a few at Satara. The ones at Chitradurga though dwarfed the latter.
Soon after, the two-lane-under-construction-road became a smooth four-lane one and I was able to drive at about 80-90 kmph.
I crossed Hiriyur and decided to take a pit stop at Sira, which was about 100 km from Bengaluru. Here I refuelled and discovered that I was about 150 km away from the main city of Bengaluru. It was about 4.30 pm and I was hoping to make it before sundown.
A few hundred meters down the road I saw a sign that read 'Bangalore 100 km'. I thought it would be a good place to take picture of my achievement. Here I must have lost about 20 minutes. So by the time I was on the outskirts of the city the sun had already set. It wasn't particularly exciting to drive after sundown twice during the same journey.
By 8 pm though I was at Yashwantpur station after battling the crazy Bengaluru traffic. After much difficulty I found the directions to my friend's place and heaved something of a sigh of relief. I had some beer on the first day. On the second day was the big reception where I had my fill and slept off the third day.
On December 15, I left Bengaluru at around 1 am for my return journey. By 7.30 pm I was back home in Pune.
Want to share your travel stories and pictures with us? Write to us at getahead@rediff.co.in (subject line: 'Travelogue') and we will feature your travel story right here on rediff.com.