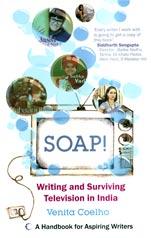 She hails from Kolkata but moved to Mumbai to make a career in television. For 15 years, Venita Coelho worked with all the top channels, donning various hats including those of producer, writer and director.
She now lives in Goa and has recently written a book on the Indian television industry. Soap looks at the ups and downs of working in this field. It also serves as a guide for beginners who want to make a career in the medium.
Venita's other book that was published recently, The Washer of the Dead, is ghost folklore from a feminist perspective. In an interview with Nithya Ramani, she talks about her books as well as dos and don'ts of a career in Indian television.
Tell us how you started out in the television industry.
When I started out, nobody taught television. I joined Zee TV and learned everything from scratch, hands-on, in the field. Later, I taught all that I had learned myself at Sophia College in Mumbai.
Those days, all you did was learn on the job. I've always believed that if you want to learn writing, learn it from television. At that time nobody knew what to do and how and I used to try everything possible. The experiments I tried with television were more than I could imagine.
I studied in Kolkata's St Xavier's College and came to Mumbai to join (media company) UTV.
I have always been interested in writing. I don't remember a time when I wasn't a storyteller or a writer. When I was six, children from higher classes would ask me to tell them stories. I was 10 when I wrote my first novel. I read a lot of James Hadley Chase and I maintained a small scrap book for myself.  I think this came from my mother. She's a fabulous storyteller.
The only professional course I undertook related to media was a one-year writing course at Sophia's. I didn't really learn from real people, only books. My alltime guru has been Scottish author James Campbell (Syncopations: Beats, New Yorkers and Writers in the Dark, This Is the Beat Generation: New York-San Francisco-Paris)
How and when did you decide to start writing books and, specifically, one on television?
I decided to quit TV one day. I then wondered what I was going to do with all the knowledge and experience I had gained. I wrote Soap was because I realised there should be a book out there on how to make it in television. That was the advantage of being on the other side of the fence.
My next book is about blockbuster films -- how to bust those blocks and write a screenplay. I've been working on this for a long time, ever since I was in college, but I never got to finish it.
I also want to write a book on love, sex and marriage; I want to dedicate it to all the single women out there.
Those are very different genres...
I don't know about genres. I write books based on what I have learned in life and not based on genres. I learn something and pass it on in a book. Then I learn something else and I pass it on in another book.
Why did you quit television?
I couldn't do it anymore. I couldn't write saas-bahu soaps.
I cannot send out a message to women to endure all (types of)  pain and remain a sufferer. I don't believe this when it comes to my own life. I am not going to make another woman believe it. I felt morally outraged by it.
The decision to show soaps of this kind was carefully crafted by channels. It wasn't done unknowingly. I have sat with channel heads who gave me reasons to write nonsense. These are well-educated, intelligent women I am talking about. It was all done to get more TRPs. But at what cost? (That) was my take on it. And that didn't go down too well with them. So I quit.
That is when Jassi Jaisi Koi Nahin came about. I was asked to work on it and I did, because I believed in it. But then Jassi too became soap-like and I couldn't take it, so I quit. It's atrocious to let people watch this (kind of stuff). I would not allow my daughter to watch such saas-bahu soaps.
It is so immoral to take up sensitive Indian issues and sensationalise them for TRPs. There are soaps that deal with colour discrimination, when people in India are still being discriminated against on the basis of complexion.
What should be done then, to bring about a change?
If you've noticed, when people made a serial with a difference, it works -- like Balika Vadhu and Jassi. It works initially, because there is a cause. But then even those get made into soaps and the TRPs go down. That means that there is a thinking audience out there that knows how to differentiate between the good and the bad.
Honestly, in this money-making business, there is nothing that these people (the channel heads) can do either. Like I said in (my) book: You can make the money and the kind of profit you want if you have the right script.
You mention in Soap that the best writers cannot take the grind of television. Can you elaborate?
The best writers always defend their work. This doesn't work in (that) system. The system doesn't care about defending your work. They just want to churn out a story and put it up on air. The intelligent writers who stick by their guts do films and write soaps just for the heck of it.
Television doesn't allow you to do very good work for a very long time. You either agree to do it or you don't. I know so many people who have opted out of writing soaps for the very same reason. But they keep coming back to TV for the money. There is no other place that pays you as much money as television.
There's more money in television than in movies?
Yes, definitely. Even if you write a big film, it is nothing like the money you can make on TV. I've written for Karan Johar's adaptation of Stepmom (the Kajol-Kareena starrer We Are Family) but even there -- since it is over a long period of time -- you get your payments in installments.
If you want to stick to television, you should be mentally tough. TV is on a daily basis. You have to work day in and day out. You have to look at it with the attitude that it's a game. Or you have to get technical about it and examine it from a different perspective.
Do you advise people to get into television?
Of course. They should get in and change it. Children these days are very smart and are not as innocent as we were. We were brought up in innocent times. That's not the case today. Television needs sensible people who can run the industry. And change it.
Television could be the most powerful medium (in India). We need thinking channel heads who look beyond TRPs. We have a lot of thinking channel heads, but they think only TRPs, marketing, returns.
How did you deal with these problems?
I ran away (laughs). Then I came back, to work around what was wrong. Sony called me back and I really tried to change things, but I couldn't.
I felt really bad when I saw things going wrong in front of me -- I was handling Jassi hands-on and I couldn't stop them from making it into a soap. That is when I finally decided to quit, since I had tried everything I could and nothing worked.
Why don't channels think beyond the saas-bahu melodrama, vindictiveness, conspiracy and the rest of it?
Because that works.
All I am asking of people is to add a layer of intelligence to what they already have. But that also takes them out of their comfort zone. Somebody has to start cutting-edge television again and spearhead a movement to bring about change. You can't compare Doordarshan with today's channels. The competition is different now and people's thinking has changed. We have to give them what they want.
So it is not just one person who can do it (make a change); there are many factors that play a part. The finance team, the marketing team -- everybody needs to be corporatised. I was hired because I thought out of the box, but when you think out of the box they fire you.
I really hope some youngster comes along and turns everything upside down.
It is very scary... the way things are moving now. There is a part in my book where I've mentioned that kids as young as 10 watch such soaps with their parents and I wonder what they are taught. There is a risk of them becoming what they see, because they are at such an impressionable age.
They watch things that tell them to endure everything, be a sati savitri. Are these the only idols people should follow?
There are Durga and Kali, but nobody wants to even go near there. Be only the sati savitri type and endure everything.
We did have serials like Udaan with Kavita Choudhary, which was woman-oriented -- she struggles and becomes an IPS officer. And then there was Rajni who was a fighter, but these have slowly vanished over the years.
Did that happen because the concept didn't work?
I don't think so. I can guarantee, with my sense for television, that if we have something like that today, it will definitely work.
You are not planning to get back to television at all?
No. I am done with it. I am happy writing and sharing what I have learnt with people.
I keep getting job offers all the time, but I don't feel like doing it anymore. I have moved on professionally. I have a daughter and I have moved on in my personal life too. Also, having lived in Goa for 10 years now, I can't live in Mumbai.
What inspired you to write The Washer of the Dead? Soap is a very different genre, in comparison.
I wrote that a long time ago, but it got published only recently.
I wrote it when I was at the peak of my feminist phase. I (would) cut out clippings from papers and look out for the most depressing stories. Since I am a writer, everything boils down to: What can I do about that? It all started with the myths and superstition that people believe in. I (had) long hair, way down to my knees and my mom wouldn't let me comb my hair after dusk. All that has gone into the book.
How has your family reacted to everything you have done in life -- television, quitting your career, living in Goa?
I am blessed with the most supportive mother in the world. She let me do what I wanted to. She said it's okay even if I didn't get married. I could go out and live my life the way I wanted to.
What kind of response have you received for Soap?
The book isn't officially launched yet, but I have been getting a very positive response from friends. Apart from the controversial aspect, I hope people learn a lot from it.
The TV people are loving the book and reading it with relief. There is so much to learn from the book -- they want to buy it for their writers.
I am also planning to conduct workshops for media college students. As a part of my marketing and promotion, I will be teaching media students about it.
What's next on the agenda?
My next is a book on Bollywood. That will be fun. It will have a lot of funny stories. There are a lot of funny (situations) when you work in films. But, at heart, the book will be about how we should take our films seriously. The West has started taking our films seriously, it's high time we did too.