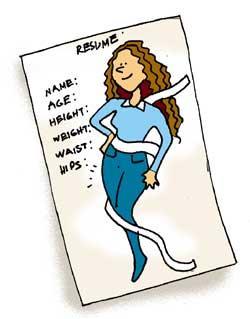 Most people find the idea of creating a resume overwhelming. Even the notion of revamping an existing resume can be daunting. An employer receives almost 100 to 200 resumes in response to a job posting, and only the resume that catches their eye get a chance to get to the interview round and hence the resume has to stand out from the crowd.
But then how does one make an impressive resume to catch the eye of the employers? what are the dos and don'ts fo writing an effective resume?
To answer these and a number of other related queries, Amit Bansal (career counselor and trainer who heads PurpleLeap, an organisation that works with colleges to make students employment-ready) hosted a chat with Get Ahead readers on June 3, 2010.
For those of you who missed the chat, here's the unedited chat transcript:
---
mamu asked, Dear Sir, why is resume so important for getting a good job?
amit bansal answers, A resume is an effective summary of who you are and gives you a chance to highlight your strengths so it is vital for a job interview
---
kapil asked, i am looking for job in oracle,what resuem format should i follow
amit bansal answers, Kapil please use any one of the standard resume formats available hich are highly professional, customize it to your specific requirements
---
sudeen asked, I Have 7years Exp in IT .. whether Resume format should be within 4 pages are Length
amit bansal answers, Try and keep it short and sweet... 4 pages is very long
---
vena asked, i m 54 yrs old i have exp in software for 20 yrs and nearly 4yrs in audit in a bank.i need a resume that will highlightmy strengths can u give me a format for it
amit bansal answers, Do list out your experience with the most recent first. There are some very professional looking resume formatsthat MS office offers, please customize to your requirement, in your case the style does not matter as much as how well content is framed. good luck.
---
sachindra asked, hi,i want some advice on how a resume should look impressive?
amit bansal answers, Sachindra it is important to highlight all your strengths and achievements in the resume so highlight academic as well as extracurricular and work related achievements
---
rajivkjain asked, I am C.A.(Inter) with B.Com and having working experience of 10 years in Accounts, Finance, Taxation & Audits. How shall i highlight the same in my resume to attract employers.
amit bansal answers, Rajiv, do focus on your work experience with the most recent first. List out work related accolades and accomplishments. Focus more on areas you would like to venture into further.
---
awas asked, Can i criticize my current employer in my resume
amit bansal answers, absolutely not, never criticize your employer
---
VINAY asked, Do you really recommend resume to be written from a professional Resume writer ? Does it really make a difference ?
amit bansal answers, Usually it is not really required if you can do it yourself or get someone in the know to help you. If you are absolutely clueless and feel you need the support then maybe
---
sameer asked, iam working in BPO industry , completed MBA ( finance) in 2008, want to switch to finance /finance related industry , how should i present my CV to attract employers
amit bansal answers, You will have to mention your experience and if possible focus on any finance related projects.
---
Sumi asked, Hi Amit, I've been working for almost four years now as a Software Engineer in TCS. Since I'd got my present job through campus recruitment I had not prepared a elaborate CV then. What are the important points that should be covered in an effective resume. How can I keep my resume crisp but effective?
amit bansal answers, Good question. Focus on the basics. Your academics, extracurriculars and work experience. make sure to mention achievements in all three areas. You can put in a bit about hobbies to personalize but keep it to the point and take care to find a good resume template... again easily available
---
Resume asked, Can you suggest any good website for us for good resume templates.
amit bansal answers, Any search engine will take you to many such sites. The microsoft office suite has several professional looking templates
---
SKP asked, Hi i am working a reputed company but i want leave that company bz i want to change this company so pls suggest for prepareing resume
amit bansal answers, Create a resume that highlights your learning from the current job. Use a good template.
---
Resume asked, Sir, Can you please tell us, How to write a perfect resume?
amit bansal answers, There is no perfect resume. A good resume will highlight achievements from different areas like academics, extracurriculars and work.
---
rahul asked, Hello Sir, I'm a sales professional with a telecom company in prepaid sales. What should I highlight in my resume?
amit bansal answers, Rahul, you need to highlight your current experience and focus on the accolades and learning.
---
prem asked, I had left studying after XII but I am very good in computers and also working in a branded computer institute.How should I highlight my knowledge ignoring my weakness of poor educational qualification?
amit bansal answers, Speak about your work experience first, and elaborate on how well you are doing, but you cannot avoid mentioning your educational qualification.
---
sunilnitt asked, Sir, I am a MCA graduate from NIT, Trichy, but i m still struggling to get a job in software field, please suggest me some tips to get a job in software field. ?
amit bansal answers, Sunil, you must analyze interviews you have attended and understand your weak areas, if it is communication or soft skills or your foundation in the subject is weak please address these issues immediately
---
VINAY asked, Dear Amit, I have an experience of 10 years in Manufacturing & 6 years in Sales & then again 3 years in manufacturing. Now I want to move back to Sales. Can you pl. advise me on how to put the Resume ?
amit bansal answers, Vinay evidently you will have to put in the experience as it stands but you will have to justify very clearly in the interview why you want to move back into sales. Treat it as experience that has only added in terms of learning.
---
amit09090 asked, I have worked for reputed companies in Real Estate but now I am with a new group for last 2 yrs. It's difficult to get a call now , pls advice what to do
amit bansal answers, Amit, you need to be able justify at your interview how being with a startup has given you more exposure and improved your skills. You have to be positive about it.
---
Chandu_TATA asked, Hello Sir this is Chandra Sekhar working in TATA Teleservices. Recently i got many calls from different employers. but id didnt get any response from them after sending resume. i am suspecting that quality in my reseume as main reason for my failure. can u suggest me how to come out of this problem
amit bansal answers, Please ensure the resume you float is very well done. it needs to be structured well and the language must be checked. These are the basics, In addition you must know how to highlight the important aspects of your experience
---
RAO asked, Sie I am having 12 yrs exp in Oracle & forms reports. presently working in Nagpur from 3-yrs. how to get calls from hyd,chennai,b'lore.
amit bansal answers, Please contact consultants who will easily be able to find you a placement in these places. It will help if you can shortlist companies you would like to apply to.
---
Bala asked, Dear Sir, I had completed my Dip. in Mech Engg. and then my BBA through Distance Education mode from University of Madras. After that, i did my MBA(regular) from one of the top bschools in south india. My question is, since i had completed my BBA through distance mode, most of the IT and other companies are not considering me for employement. Please provide me the solution or the reason for the same at least.
amit bansal answers, Bala a lot of IT companies have a minimum criteria of regular graduation to filter the best talent. It is something you will continue to face. However given an opportunity at any interview you may highlight you Bschool experience.
---
Nitish asked, hi, i m working in a company from last 6 years, in my tenure my profile include experience in operations, admin, coordination & currently i am working in presales. What shd i highlight in my resume
amit bansal answers, Nitish, your experience sounds like that of a future CEO... highlight the areas that you would like to move into.
---
rahul asked, If I want to change my industry then what things should I need to highlight??
amit bansal answers, Highlight all the relevant experience and make the rest of your experience seem like learning that will help you in this new field
---
Nilesh asked, Do resume gets rejected b'coz of over qualification. I hjave 6+ yrs exp in HR. My qualification is MIRPM, MBA-HRM through distance learning education & MCM.
amit bansal answers, in some cases if the position is junior yes. But typically in a large organization you cannot be overqualified. all experience adds value.
---
sameer asked, my current employer asks for 2 months of notice to get releiving letter or else I have to pay for 2 months salary , do employer's today accept pslips & promotion lettrs (recent ) as proof of employment
amit bansal answers, In some cases they may.
---
del asked, Hi Amit...I'm 32yrs and have had an year's break in my career. I had 3 years of experience prior to this. Please suggest how to manage this when I search for a new job?
amit bansal answers, Do explain the reason and compulsion for the enforced break
---
sere asked, i have good knowledge for a skill but i dont have relevant experience. How do i put that in my resume ?
amit bansal answers, You can only claim to have the skill or interest. If questions are put to you you will need to answer well to prove it.
---
fcf asked, do you believe in a one page format even for professionals with over say 4-5 years experience ?
amit bansal answers, Not neccesarily one page sometimes even two... but always shortest is best.
---
PSH asked, is there any standard for number of pages (i.e maximum no of pages)
amit bansal answers, There are no rules it is advisable to keep it short.
---
Yashad asked, For a person having around 20 years of experience, Would recommend emphasis on achievements or on soft skills to be put in the Resume ?
amit bansal answers, Soft skills - no. Achievements - definitely yes. In your case soft skills would be leadership roles - formal or informal.
---
priyankasdf asked, I have 9 yrs of total experience in retail and have worked with 4 different companies.. I have always been the fire fighting at different locations for almost all the companies.. and that is why I have different roles at different locations in my resume. though my domain is Process orientation and Sales.... How will these varied roles look in my resume... if no then what should i do? IS it good to have so many roles and so many locations??
amit bansal answers, You have to turn it to your advantage by highlighting what the roles had in common and how it has helped you improve what you do best - sales
---
HARI asked, SIR, IAM 23 YEARS OLD DONE BFA SPECIALIZATION IN COMMERCIAL ARTS ALSO UNDERGONE 01 YEARS OF GRAFIC DESIGNING COURSE. CURRENTLY EMPLOYED IN TEXTILE COMPANY BUT IWANT TO CHANGE IN ADVERTISING AS I HAVE KEEN INTEREST AND I HAVE SEND MY RESUME TO VARIOUS AD AGENCIES BUT NOT GETTING CALL FROM ANY WHERE. WILL YOU PLEASE ADVISE HOW TO WRITE EFFECTIVE RESUME TO GET JOB IN AD COMANY'S OF REPUTE
amit bansal answers, Ad agencies usually look for experience in the same industry. Do higlight your creative skills in the resume.
---
RAJ asked, After 8-10 years of experience is it necessary to give education qualification in detail? we should only stress on experience
amit bansal answers, Educational qualification may be mentioned towards the end of the resume.
---
PECtwothousandfour asked, Hi Amit .. whats the importance putting extra curricular & hobbies in resume after few years of experience. I believe work-ex is the main criteria after few years of experience. Whats your take on this ?? please comment
amit bansal answers, The highlight of course is your professional experience. Unusual hobbies can add character and interest.
---
jk asked, Hi Amit...I'm 32yrs and have had an 10 year's break in my academics.i.e. i did it part time while in job. Please suggest how to manage this when I search for a new job?
amit bansal answers, Continuing education is perfectly acceptable today.
---
AjayGhosh asked, My current CV for a VP / GM position runs into 2 pages - is it ok ? Could you please share a professional format ?
amit bansal answers, Perfectly fine.
---
Harsh asked, Hi Amit, What should the objective highlight in the resume of an experience professional(experience may be in any area).
amit bansal answers, The objective of the resume highlights in a few lines the direction you want to take in your career as well as your major strengths
---
KANAGASABAI asked, Sir, I am a Phy. graduate. But 12 years experince in IT department. Experience is enough to other company or any deg/dipl. to be completed ?
amit bansal answers, You should be able to enter an IT company with that kind of experience
---
amit bansal says, Nice chatting with you all. We will continue same time next week.Thanks.

---