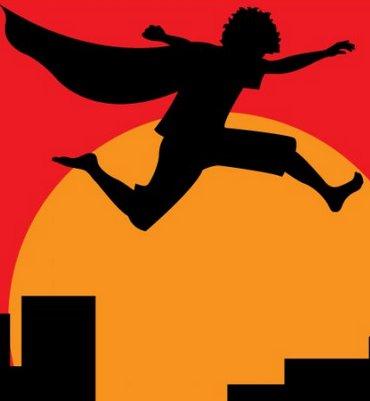 For those who've been browsing bookstores in Mumbai and sneaking away in corners just to check out the latest graphic novels, help is here -- in a cape!
In true comic book superhero style, a delivery boy with a cape is the mascot of Leaping Windows -- a first of its kind comic book library that promises to deliver any (well, almost) comic or graphic novel of your choice at your doorstep within 24 hours of your requesting it.
The idea was born when Koel Chatterjee, a product designer visited Bidisha Basu in Japan where she was teaching English.
"When I got back to India in October, we decided to take this forward. We met up with Utsa (Shome) one of our common friends and started working seriously towards it," Basu says.
Shome, a lawyer by profession, is also a comic book enthusiast like Basu and Chatterjee. The three then 'donated' their personal collections of comic books to the library and started off.
"By January, we had seriously started cataloguing the books, designing the website and finally launched on June 4," Basu says.
As of now, the library does not have a physical space where you can go and browse through the titles. It exists virtually with the entire catalogue being available on their website -- www.leapingwindows.com.
"Real estate can be very expensive in Mumbai and we did not have that kind of money to spare. So taking it online was the most viable option," Basu says.
Eventually the threesome plan to start a cafe where people can also sip and eat as they browse.
Basu tells us that they have a collection of about 1,300 books and promises that more are on their way. "We should have about 2,000 comic books and graphic novels soon," she says refusing to reveal how much their initial capital was adding with a laugh, "It wasn't very large!"
And just what can you lay your hands on if you become a member? Well, pretty much everything from DC and Marvel to Asterix, Tintin and Basu's huge collection of Manga comics. If Indian sensibilities suit you best, there are those classics from Amar Chitra Katha you grew up reading too.
"(We wish to) make comic books and graphic novels available to people at affordable rates. When we were growing up, there was no place we could go to and buy these books. Today, even though they are available at places like Landmark, they can be quite expensive," Basu points out.
She also says that the first thing on their priority list is to acquire more books. With a fan base of over 671 people on their Facebook page, there is no dearth of suggestions for new titles.
A user for instance had rattled out his list of favourites weeks before the launch -- "Offbeat DC/Marvel superheroes like Power Man, Iron Fist, Master of Kung Fu, Dr Fate, Phantom Stranger... the older Classics Illustrated like White Fang, Hiawatha, Tarus Bulba etc," he writes before adding as an afterthought, "Also the older MAD comics...!"
Basu confesses that it is too early to talk about the scalability of the model. However she is confident that it will work out since there is a market for her product. She also hopes that she will be able to eke out a living by working with Leaping Windows full time.
"Currently we deliver only in Mumbai (up to the distant suburb of Virar where the trains terminate) but we soon hope to extend our reach to other cities as well," she informs.
The minimum membership fees are Rs 1,500 with a refundable deposit of Rs 500. There is no limit to how many books you can order in a month. The only condition being that you can get get just one book at a time from a delivery boy who does not wear a cape... not for now at least.