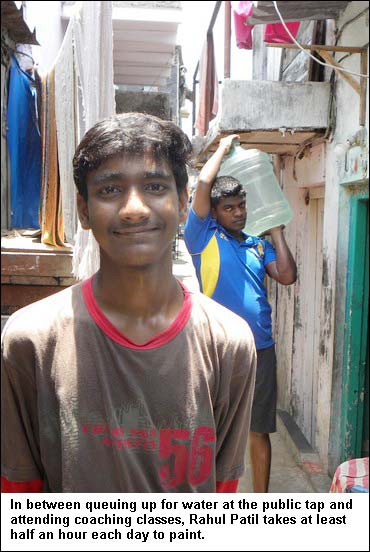 Rahul Patil stands out amidst the chaos that surrounds him. There is a group of people thrashing a kid and yelling abuses in a language you cannot understand. A couple of BEST buses are honking incessantly while a few stray dogs add to the confusion with their loud barks.
Rahul stays with his parents and two siblings in a single-room shanty in South Mumbai. The family shares a common toilet with at least a dozen other households. He also queues up at the public tap at a stipulated hour every day so his family doesn't go thirsty.
Amidst this, the 15-year-old manages to find the time and space to paint.
Apart from the three trophies that line up the only shelf in his house, Rahul has over three dozens certificates carefully stacked away in a corner. These are proof of his achievements -- some acknowledge his participation in various art events but most are certificates of merit. There are also certificates of his successes at athletic events. He says he likes painting with watercolours -- he's painted an entire wall at his grandmother's house -- but doesn't mind the odd pencil sketch either.
The latest feather in Rahul's cap is the trophy he has designed for the world's first ever LeapVault Change Leadership Awards to honour corporate leaders who inspired others to believe in their dreams.
The corporate awards function will be held in Mumbai over the weekend. Here, Rahul will also interact with Curtis Bateman, President & CEO, Spencer Johnson Foundation who will conduct an exclusive workshop on how to lead change. LeapVault is a corporate training company that has exclusive partnership with best selling author Spencer Johnson's Who Moved My Cheese in India.
Rahul Patil takes us through the narrow bylanes that lead to his home and shows how a dash of colour can change one's life:
He says, "I started drawing when I was three years old and have never stopped since then. Every day I have to draw or paint for at least half an hour before I go to bed."
So when he got the opportunity to design the trophy, he jumped at it. Rahul along with his friends at Akanksha (a prominent NGO working in the field of education for the underprivileged) had suggested many designs to LeapVault.
The brief came from Kumaar Bagrodia, the CEO of LeapVault when he conducted a workshop with Rahul's class on change management and change leadership in February this year. An image of the trophy will also be the official logo of the awards.
Rahul draws the design for us in a matter of minutes -- five rectangular plates towering over a circular base and forming an arch.
He tells us about his association with the NGO: "As a child I would come home from school quite early. So my mother enrolled me at Akanksha. She thought it was better that I spent my time learning new things there than waste it sitting at home."
At Akanksha, Rahul started from ABC, literally. As years passed, he worked his way up, learning, overcoming his inhibitions, getting better at Maths and finding an outlet for his creativity.
"At school, I would struggle with Maths and would hesitate to ask questions for the fear of being called a geek. At Akanksha, I am encouraged to be inquisitive. I ask freely and clear my doubts. Now I am much better at Maths than I ever was. In fact I really like Algebra a lot."
Akanksha was also the place where Rahul was introduced to the unique concept of a literary circle. "Initially, I used to hate reading," he laughs, "As I joined the group, I began to enjoy it. I've just finished reading a book and already want to start reading its sequel."
The book he is referring to is lying nearby -- Twilight by Stephenie Meyer. You listen to him somewhat bemused but equally interested as he starts narrating the love story. For perhaps the first time you realise how old he really is. Behind the focused and matured exterior lies a boy who hasn't yet bought his first razor and is fascinated by fantasy tales that provide an escape from the mundane reality.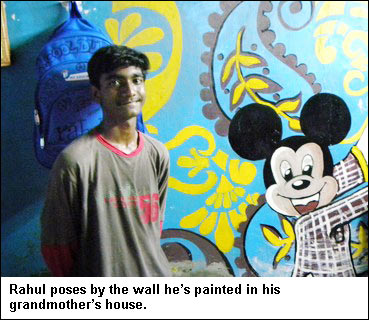 Reality for Rahul Patil is the musty room we are sitting in. His father is a fisherman at the Sassoon Dock, one of the city's largest fish markets. He's nursing a bad back and has been recommended bed rest. The mother, a helper at Akanksha, brings in regular income. Like most parents they want their kids to do well in life.
"They just want to see me at the top. And I want to give them a luxurious life," Rahul says, "I want to be an architect and construct a DNA flyover," he adds gesticulating and trying to explain how it would look. Finally he pulls out a paper and draws a sketch -- the walls of the flyover looking like the human DNA and a long smooth road zooming over bottlenecks.
Right now though, Rahul isn't thinking of his future plans or his dream project. "All I know is I have to appear for my board exams," he says. His days are long and tiring. He spends over six hours every day at his coaching classes then a few more at the Akanksha centre and in between manages to revise everything he's learnt, spend half an hour on his drawings, queue up at the public tap for water and watch an episode of Indian Idol 6.
The question 'How are you preparing for your exams?' meets with a blank stare. To him it isn't a question at all. "You just start studying from the first day itself," says the Class X student rather simply. The policy has worked for him so far. He's stood sixth in his class this year. He plainly says that he cannot relate to kids his age committing suicide because of exam related stress: "I have never felt stressed because of studies. If you study regularly you shouldn't? The only time I feel pressurised is when I have to mug up answers. I've always liked to express myself in my words. (So) it gets frustrating."
"I read about student suicides in the papers but somehow I have never faced what they do so I don't know what to say, except that if you cannot speak with your teachers there are help lines you can call and get advice. Committing suicide is not the answer."
Rahul takes time out whenever he can and plays all kinds of sports. He is an accomplished athlete and likes soccer. But most of all, he likes to imagine himself on an episode of Indian Idol. "I am 15 and my voice isn't formed (sic) yet. When I grow older I'd like to participate once," he says ignoring his sister's giggles.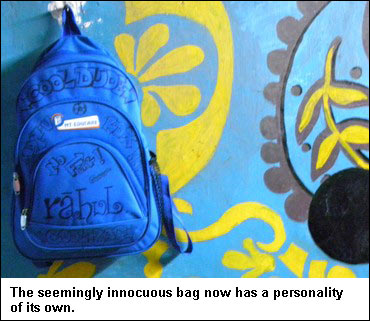 Then he poses for the camera like a pro -- first in his house and then in the lane outside before taking you to his grandmother's house to show you the Mickey Mouse he has painted on the wall. His coaching class bag hangs on the same wall. It would have been a mass-produced piece of luggage that everyone in the class carries, except that Rahul has given it a distinct personality -- he's written his name in calligraphy and painted graffiti on it. The ordinary-looking bag isn't ordinary any more. Tomorrow morning when he leaves for his classes, Rahul's bag will probably stand out in a sea of its clones… as will the slender shoulders on which it rests.