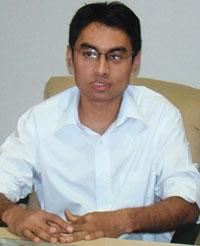 Coming second in the All India Civil Services examination, Prakash Raj Purohit is poised to be a 'yes-we-can' man.
An engineer by qualification, a stint in the corporate world failed to entice 24-year-old Prakash Raj Purohit. Instead, he aspired to go back to his roots in Rajasthan (his home state), serve his people and be an agent of change, especially in the field of education. Coming in second in the All India Civil Services examination, he is now poised to be a 'yes-we-can' man.
How does it feel to stand second?
Honestly speaking, I was a little disappointed when I heard that I was in second place; I hoped for more. However, I felt better when I found out that Dr Shah Faesal bagged the coveted top rank, because I believe he deserves it more than me.
What motivated you to switch fields and join the services?
Since I am very fond of Mathematics and perform well in it, I joined IIT to pursue my engineering ambition. As an engineer and code developer, I experienced the corporate world, but was never inclined towards it.

So, I left my job in 2008 to prepare for the UPSC examination because I felt the civil services was a more diverse and challenging option. I reached the interview stage in my first attempt in 2008 but could not get any further. Failure propelled me to work very hard and achieve my goal.
I always wanted to do something for our people, and the challenges posed by public service and directing policies positively as a member of the bureaucracy, drew me to the profession.

And your UPSC coaching?
I never took up any coaching as I believe that hard work and a thorough study of the syllabus is the key to success. You must enjoy whatever you do.
My focus was to complete the syllabus and revise as many times as I could before the exam. Reference books were numerous; more than 50. I distributed my time among various topics and made monthly, weekly and daily plans. I was regular with my academics and did not skip any day without an urgent cause.

What were your reasons for your choice of the optional subject?
I selected an optional subject I was proficient in. Since I studied Electrical Engineering in my graduation and I am keenly interested in Mathematics, the two served as ideal choices.
Which service and cadre of the services would you like to join?
My preferred service is the Indian Administrative Services in the Rajasthan cadre, as I belong to that state. I wish to go back to my roots and serve my people, be an agent of change who brings about positive policies. My focus will be on education, as I personally feel that education will be the biggest factor, which changes the face of our country.
Who were your mentors and how have they shaped your career?
My parents were a constant source of inspiration and strength for me. My friends and my teachers at DAV School (particularly Ms Mamta, who taught us Chemistry) have been a guiding force and have constantly looked after me.

Who is your political idol?
My political idol is Mahatma Gandhi. I am a firm believer that by using the Mahatma's principles, we can bring a lot of change in our people's lives.