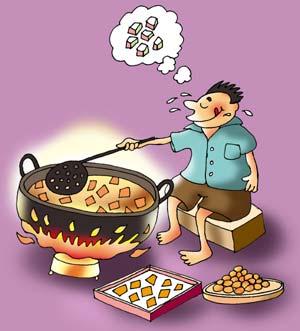 Share your father's experimental kitchen preparations with us! Illustration: Uttam Ghosh
So he might not be the best cook in the world. He may not be the best one in the house either and perhaps barely manages to toss up something edible when your mom is away!
But there are good cooks out there who happen to be men -- and dads -- so with Father's Day coming up on June 20, we invite you to share his favourite recipe with us!
So what if it was an experiment your dad conducted in the kitchen for your sake or to impress your mom? Tell us which one has been your favourite -- the unsuspecting Maggi noodles or the yummy egg omelette he made and surprised you with his culinary skills!
Share these special recipes -- the ones that you remember even years after you first ate them. Simply write in to getahead@rediff.co.in and we'll publish them right here on rediff.com
Also share a photograph of your father and you if possible, so we can publish it alongside.
And don't forget to write a few lines telling him why you love his cooking!