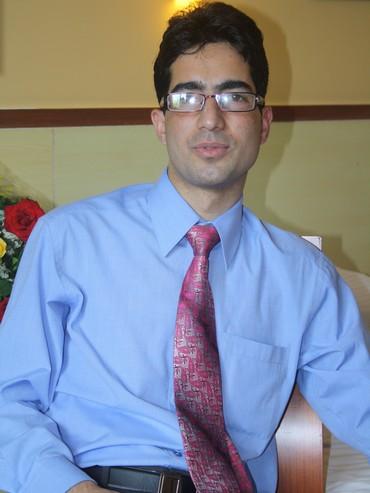 Dr Shah Faesal, a Kashmiri whose father was murdered by terrorists, made history recently when he topped the UPSC civil services exam. He shared his insights with Rediff.com
At 27, Dr Shah Faesal is the first Kashmiri native to have topped the Union Public Service Commission's civil services examination.
Faesal acknowledges that he has become an icon for Kashmiri youth, but says he is not entirely comfortable with this sudden adulation.
Having lost his father to terrorists, the success has brought happier moments for Faesal and his family. Between travelling across the country and preparing for his year-long training before he is inducted into the Indian Administrative Service, Faesal tells Rediff.com's Abhishek Mande what his success means to the people of Kashmir and why the rest of India must face up to the issues there.
Are you getting used to the limelight?
(Smiles) Yes! Initially it was a catastrophe trying to cope with the rush of people. But now I am getting used to it!
Does your being from Kashmir help because now people acknowledge the fact that it is a state that has potential?
These are popular perceptions. Whenever popular perceptions break it becomes news. Never has there been a topper from Kashmir so yes, it does significantly lend weight to my selection.
How have the people in your neighbourhood reacted?
Oh, the response has been unprecedented! The youth have found a new role model and an icon.
Are you comfortable with that status?
No, I don't like being cast into being a demi-god because if people put you on a pedestal today they may also nail you if you fail to meet their expectations.
How are you coping with these expectations and working towards meeting them?
Now that I have got a platform, I am speaking out not just about my achievements and myself but also spelling out the concerns of the youth in the state.
What are the concerns of youth in Kashmir?
The youth there has a lot of potential and talent and the willingness to work hard. They seek opportunities and a safe space to realise their potential and someone to trust them.
The curtain of suspicion that lies between you (the rest of India) and us needs to be removed.
The general perception is that many Kashmiri youth do not consider themselves part of the national mainstream. Is that the case?
It is all about perception. Since you do not have a sense of belonging and relation with and no information about the people in Kashmir the image you carry is that it is a tourist spot.
You need to see that there is human tragedy and pain in the region. Identify with that. Own the pain.
Despite having a strong background in science, why did you choose Urdu as one of your optional subjects?
The intention was to dispel the myth about Urdu being a downtrodden and a neglected language. I wanted to prove that Urdu too can fetch you laurels.
Was that your idea in appearing for the UPSC too? To break certain myths?
Yes. The fact that there haven't been many people from the Kashmir province to appear for the UPSC in the last 15 years was a motivating factor. I wanted to dispel the myth that we are incompetent people and the profiling that goes on...
How do you plan to reach out to the people of Kashmir if you get the Jammu and Kashmir cadre?
First, I'd like to ensure safe space to the youth. Besides this, my endeavour would be to bring about more connect and communication between the young people in Kashmir and the government so their grievances can be addressed.
How did you prepare for the exam?
I did not study for the exam; I studied for myself with the sole idea that if I could explain the basic concepts of a subject to a layperson only then would I have understood the subject completely.
What would your advice be to youngsters appearing for the exam?
Study extensively!
If you have failed, keep trying until you have attempts left.
Know everything that there is to know about India. Learn about its politics, geography... its culture because that is what it is all about.
What has been your biggest learning?
Despite evidence of favouritism, merit is respected, come what may.
How do you plan to break the stereotypes of babudom in India?
I am aware that the bureaucracy has been branded as being corrupt, defunct and hostile. You cannot blame them entirely because for the bureaucracy to change, the social system and its mindset must change.
How did you overcome the odds you faced in your early life?
There is nothing you can do besides move on. I believe in the cliched phrase that when the going gets tough, the tough gets going. Life has to go on.
If you surrender to the adversities your ego is defeated. Learn to bring in your ego in such situations and move on.
Tell us something about yourself.
Although I am 27, my perception of the world is that of a middle-aged person. I am often by myself and lost in some thought.
I read quite a bit. I don't watch a lot of movies. I am quite an atypical 27-year-old that way.
What kind of books do you read?
Persian, Urdu and English literature fascinate me. I am also studying philosophy these days.
Among the books I have liked are Imagining India by Nandan Nilekani, Oscar Wilde's plays because I like the wit and humour in them and also because I feel they are great in sharpening your articulating skills!
I also like Dr Iqbal's poetry and the philosophy and messages it carries.
I believe you also write plays. What are they about?
I have finished a play called Leap to Freedom. It discusses the exodus of Kashmiri Pandits from Kashmir.
The themes of all my plays revolve around political circumstances in Kashmir and the human tragedy there. None of them have been staged as yet.
What according to you is the single biggest issue facing the youth in Kashmir?
It is the sense of insecurity. One needs to address this issue from various sides. Besides for things to change, it is important that one gives them the voice and space.
How do you think we can help in integrating the youth in Kashmir with the rest of the country?
You need to identify with problems there and instil a sense of belonging. You need to take them out and show them the world, show them how peace can prevail and how life can become wholesome.
You cannot continue to be tourists all the time.
Photograph: Hitesh Harisinghani