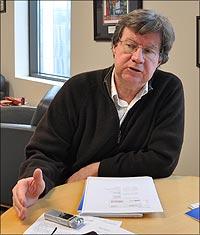 The Ted Rogers School of Management will focus on India at the third CEO Outlook Conference, June 1. The theme for this edition of the annual conference is 'Engaging India: Doing Business with a Rising Giant'.
Ken Jones, dean, TRSM, said about 1,000 students in the business school were Indo-Canadians. So he was interested in increasing "the awareness... of the contributions of the Indo-Canadian community" and looking "at ways in which we can engage India as an economy".
His interest, Jones said, lay in city-to-city linkages. He said participants would look at Toronto-Mumbai linkage in the finance and entertainment sectors and Toronto and Hyderabad in the information technology sector. "We picked Hyderabad because of its structure and size, and because everyone else is looking at Bangalore," Jones said.
The objective of the seminar "is to bring in business leaders, entrepreneurial leaders of the Indo-Canadian community... so that you start building that relationship at the school level," said Jones. "We have a large proportion of Indo-Canadian students. What better place for them to be introduced to these successful Indo-Canadian business leaders than at their own school."
About 100 Indo-Canadian businessmen have been invited to the seminar. Speakers will include corporate magnates like Prem Watsa, chairman and chief executive officer, Fairfax Financial Holdings, and Ray Sahi, CEO, Morguard Real Estate Investment. Watsa hardly ever accepts such engagements, and Jones said it was made possible by Diane Francis, editor, Financial Post, who will moderate the proceedings. 
The first session on 'celebrating Indian entrepreneurship' will have Surjit Babra, chairman and CEO, Skylink group; property magnate Bob Dhillon and Ajay Virmani, CEO, Cargojet, discussing their companies. The second session will be on international outreach. Watsa and Sahi will appear in the third and fourth sessions where the talk will focus on corporate Canada.
"Francis will interview all the participants on entrepreneurship," Jones said. "It is an engagement, not speech making." 
Hari Panday, advisor to ICICI Bank, who will discuss the Toronto-Mumbai financial linkage said TRSM, through this forum, "should help Ryerson link with the local Indo-Canadian leaders for their knowledge".
Rana Sarkar, president, Canada-India Business Council, said, "Ryerson represents the future of the urban university and... a key link in the emerging Canada-India corridor. The seminar promises to showcase some of the key success stories of the diaspora and the next generation for whom we have such hope."
Photograph caption: Ken Jones, dean, Ted Rogers School of Management, wants to focus on city-to-city linkages between Canada and India at their CEO Outlook Conference this year