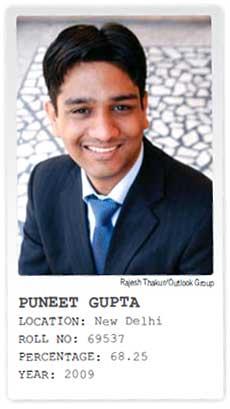 Puneet Gupta, a consultant (Tax and Regulatory Services) with Ernst & Young, took just 24 days of leave for dedicated exam study. A Chartered Accountant qualification obtained in 2007 may also have given him an edge in his preparations.
According this 25-year-old Delhi boy, his reason for attaining the CS qualification after having cleared the CA programme -- a qualification widely perceived as the tougher of the two -- is his penchant for acquiring diverse knowledge.
Soon after he passed out of class 12 from St George's School in 2002, Puneet enrolled in CA and bagged the all-India 16th rank in the CA final exam.
"I also enrolled in the BCom (Hons) course at Shaheed Bhagat Singh College, Delhi University," says Puneet.
Out of the three stages of the CS course: Foundation, Intermediate and Professional (referred to as Foundation, Executive and Final Programmes after periodic course revision), Puneet skipped the Foundation level, as he is a qualified CA. The Foundation course stipulates 10+2 pass as minimum eligibility criteria for enrolment. From Foundation to Professional (or Final Level), the CS course is of three years if completed without flunking. However, one needs to undergo training for 15 months to qualify for CS membership.
Company secretaries are much-sought-after professionals in the booming job market and have knowledge of corporate laws, governance, arbitration and conciliation, investor relations and corporate advisory services amongst other areas.
Puneet was encouraged by a teacher, and his family's leanings towards the finance profession, also edged him closer to a career in finance. Puneet explains, "I stay in a joint family where both my father and uncle are active investors in the share market, so numbers have fascinated me for long." His aunt has been his guiding star ever since Puneet lost his mother while still in school. "She took care of me and backed me all the way, "says Puneet.
After completing the CA, was CS an easier proposition? "I really didn't find any specific paper difficult," he recalls. "But I did pay extra attention to Strategic Management, Alliances and International Trade, which is a theory paper," he recalls.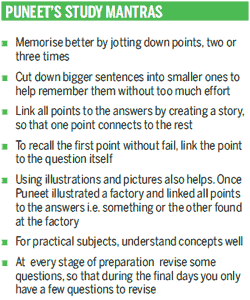 Puneet did not join a coaching class for CS but focused on self-study, referring mostly to study material provided by the institute, especially for theory papers. For a few papers he found notes by Sangeet Kedia (trainer) very useful.
"Practical exposure is necessary," advises Puneet. Articled training in the CA course as well as professional experience in the real world widened his perspective and helped in his preparation for the final exam. Allocating between two and two-and-a-half days to each of the eight subjects, he assigned the rest to revision.
Puneet lays specific emphasis on thorough revision, a must for excelling in examinations such as the CA and CS. He revised each subject two or three times.
The cost of the course is Rs 20,000-Rs 25,000. "After completing CS you could join the corporate sector or start your own practice," says Puneet.