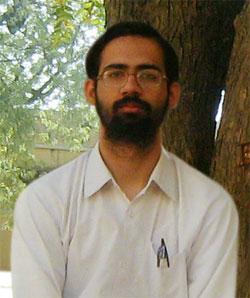 A final year student pursuing a dual degree, MSc (Hons) in physics and mathematics, at BITS Pilani, Ishan Mata topped the Graduate Aptitude Test in Engineering (GATE) 2010 (Physics). He scored 77.6 on 100 marks, among 5,578 candidates.
Though not expecting to get the topmost rank, he had a fairly modest ambition of making it to the top 40. Ishan also topped the Joint Entrance Screening Test 2010 (JEST) conducted for admission the to PhD programme at leading research institutes like the IISc.
Again, Ishan chose physics for the exam and scored 78.33 on 100, earning a percentile of 99.98. For a student who describes mathematics and physics as 'beautiful', Ishan is in a league of his own. "I find it interesting that physics helps explain many natural phenomena by some basic principles," says the 22-year-old, who developed a keen interest in the subject in Class 9.
Ishan's father, a veterinary scientist by profession, would tutor him in science, after school. Young Ishan grew excited about the subject when he received a gift, a science kit comprising various instruments such as lenses and a compass. "I would read up and experiment with these; it was exciting," he explains, enthusiastically.
He stresses on the importance of practicals in science. "The practicals we perform in schools are designed in a particular way. It would be more stimulating for students to design their own experiments after reading books and understanding concepts."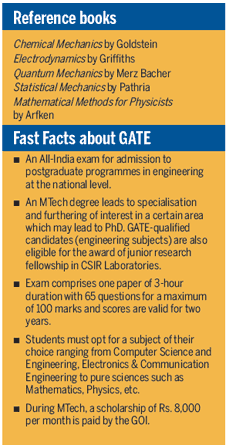 Ishan studied at Yaduvanshi Shiksha Niketan in Mahendragarh, Haryana and got admission for a BE (Electrical and Electronics engineering) at BITS Pilani in 2005. But, given his interest in pure sciences, he shifted to a dual degree course in Physics and Maths, after a year and a half. Thereafter he decided to go for a PhD in theoretical physics, a field, which according to Ishan, offers research facilities in India as good as the ones abroad.
He began preparing for GATE 2010 in September 2009. Initially, he would devote one or two hours a day to revise physics concepts, and focus on intensive study a few weeks before the exam. This is his advice to GATE aspirants, "Study physics for enjoyment. Do not focus on mugging things up to clear the exam. Once you have understood the fundamental principles, revision should suffice for the exam."
Ishan has already appeared for interviews at the Tata Institute of Fundamental Research and Harish Chandra Research Institute, Allahabad. And interviews at IISc, Bangalore and Institute of Mathematical Sciences, Chennai, are in the pipeline. He is all set to fulfil his dream of becoming a scientist when he starts his programme in August at one of these premier research institutes.
"As a scientist one needs to question the status quo; only then there is a chance of progress. Also never get bogged down by  problem-solving, but always be eager to solve them," he concludes. Ishan, for one, is already on that journey.