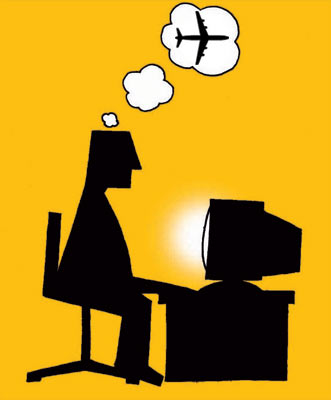 As thousands of students across the country prepare to fly to the United Kingdom this year, we invited students to share what's life on campus is like, what they can look forward to and what things to bear in mind as the prepare to fly out. Here Jaspreet Singh, a second-year engineering student at the University of Leicester, shares his tips and experience of studying abroad.
Illustration: Uttam Ghosh/Rediff.com
Choosing a university in the UK for an undergraduate degree was a tough decision. One has to go through a lot of background reading -- education, facilities and most importantly, the outcome of the education an institution will bring to your future.
A good balance of overall university rankings, subject ranking, the future growth of the university and a scholarship were of utmost importance, closely followed by the facilities provided by the University Student Welfare department, job search, medical facilities, various societies, location and accommodation.
It was also really useful to have a good counsellor helping me through the entire process over e-mail and telephone as I was in a hostel and could not meet her regularly.
In India, getting your passport and visa ready on time is important. This had given me enough time to book a student ticket.
Clothes
I made the mistake of carrying too many clothes from India. It is better to keep buying clothes now and then of your choice and of their fashion in the continuous changing weather. Even warm clothes were bought there for most part.
Travel
The journey to the UK was smooth. The rush at Heathrow for immigration and customs made me halt for about two hours. The university bus was there to pick us up and take us straight to our accommodations in Leicester for the ISWP (International Student Welcome Program). Attending this is a must as it helped me settle down at the university and the environment five days prior to the academic semester. It was enjoyable meeting people from diverse countries and others from India.
Freshers' Week
The first two weeks are called Fresher's Week. It is specially meant for the first year students, to meet each other in various events organised by the student's union. The University of Leicester student's union is said to be one of the most active student unions in the country.
I met and became friends with most of my housemates (23 of them) in these weeks. Most of my housemates were Britishers besides some from Mexico, Canada, Hungary, USA, Denmark and Malaysia.
Studying in the UK
Most of my days in the first and the second term were spent in the library. My evenings were mostly spent with some left over work and friends. The student life in the university is very satisfying with the professors, union and the various societies trying their best to give you the best student life.
The job search department in the university was a great help to me. Overall, the university is a friendly place for students.
Academic support
Academically, the university has a very strong structure. Personally, I have spent extra time with professors and PhD students on various occasions. The professors are a great help. Unlike most of the other universities, the professors have been allotted a time schedule outside the normal routine for students. Small groups of students are assigned to a professor, who is called a tutor. He is the direct link to the various university authorities and also present for your academic support. The environment is great and the seniors are glad to help. So there is no need to worry about ragging or anything like that.
Academic achievement
I studied in India at Doon School and was nervous like everybody else about competing in an international environment. Before I left, my counsellor really helped me to get the 3,500 pound scholarship at the university. Once I reached there I wanted to prove myself and I regularly worked hard and did my assignments to the best of my capability.
I am proud to say I got the University of Leicester Engineers' Association Prize which is basically awarded to the best engineering student of the year. So it is possible to excel in a top-ranked UK university provided you work hard and put in your best. 
Leicester has been a very good experience so far. Being a small city, it is very student friendly and is close to all the major cities of England. Unlike many others, the university is located in one campus. I have some wonderful memories so far and have friends which I am eagerly waiting to meet when I head back.
Have you studied abroad? Do you have some words of advice for students heading to the US, UK, Australia, New Zealand or any other country for further studies? Share your experiences and advice right here! Simply write in to getahead@rediff.co.in with the subject 'My study abroad tips' and we'll feature them right here on rediff.com! Don't forget to send in pics and videos of yourself at university too!