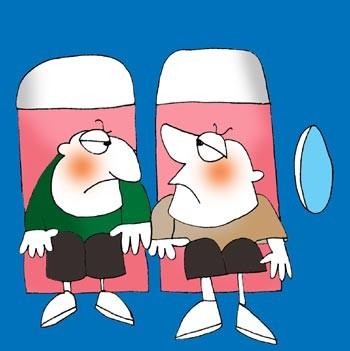 We recently discussed airline bloopers and invited readers to share their air travel stories with us. Here, reader Harsh Vaishnav shares an amusing experience. Illustration: Uttam Ghosh
I work as a business manager at a leading IT MNC and my profile entails me to travel quite frequently. This happened on one of my trips from Mumbai to Ahmedabad a couple of years ago. It's a very funny incident that I thought would be worth sharing.
There was a family seated across me from the aisle. They were so loud that you could literally hear them thinking (pun intended)! The airline was a budget carrier -- no frills -- which did not serve any food or beverages. If you wanted something to eat or drink, you had to buy it. This family, who did not seem to be regular travellers, probably had preconceived notions about the airline service and literally hogged everything that came up for sale, without realising that they would have to pay for their binge!
Once they finished gobbling up the food, the air hostess asked them for the money. This really shook up the man and he ended up paying very reluctantly. Once the passengers were through with the grub (those who bought it), the air hostess came up to clear the boxes. She picked up the man's box -- he was on the aisle seat -- and requested his wife and son to pass on their boxes so that she could clear them away. And then came a reply that not only left her in splits, but left me nearly rolling on the floor, laughing! The man said, "Ek to khaane ke paise bhi liye, ab uthvaoge bhi hamse kya? Kaisa ghatiya airline hai? Itne paise liye, kuch khilate bhi nahi ho aur safai bhi karvate ho! (First of all you take our money, then you ask us to pick things up? What kind of second-rate airline is this? You take so much money, don't give us any food and then have us clean up for you!)"
I was continuously laughing for the remaining 20 minutes of the flight. This, to me, was one of the funniest incidents that has taken place on a flight. You have a lot of such nouveau riche people travelling, who pretend to know it all and end up dishing out bloopers!
Do you have an interesting, amusing or downright annoying airline experience to share with us? Send us your story at getahead@rediff.co.in (subject line: 'Annoying airline experience') and we'll publish the best ones right here on rediff.com