Father's Day is on June 21, and we asked readers to send in their special messages for their fathers. We also asked dads to share photographs of their little darlings on Father's Day. In
response, we have been flooded with touching, sentimental messages and photographs that celebrate fatherhood. Here are some of the messages we received:
---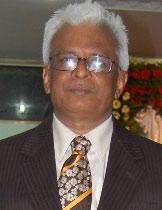 Dearest and the Best Dad in the World,
I will really run out of the words and the whole dictionary won't be able to help me to pen my feelings, to convey tremendous love and respect I have for my Dad and Mom.
You never told us how to live; you lived, and let us watch you doing it. You're someone to look up to no matter how tall we've grown. Your guiding hand on our shoulders will remain with us forever.
You and Mom are often so busy with the physical rearing of both of us and in caring us and giving us whatever we need that you miss the glory of parenthood, just as the grandeur of the trees is lost when raking leaves.
You have given us so many gifts, and we're truly thankful that we have a loving father like you. There are so many reasons why we both love you a lot, but one thing stands out.
We love you most, because you made us proud of who we are. You never put limitations on us. You made us believe that we could do anything.
There's no end to our appreciation for such a precious gift from you -- the beautiful, wonderful and the best Mom in the world and this beautiful life we are living today.
Thanks a lot for not only giving us lives,
but also for making it worth living.
Thank you for not only giving us love,
but also for making it unconditional.
Thank you for not only encouraging us,
but also for teaching us to do my best.
Thank you for not only being there for us,
but also for making the most of the time we spent together.
We both would really like to apologise for all the mistakes we did and for pains we gave to you and Mom knowingly or unknowingly.
You are the one with courage, strength, honesty and integrity with a caring and loving gentle heart.
You're always willing to lend a helping hand to those in need. You are dependable, strong, and protective.
You and Mom have always been a great source of inspiration to us.
We truly, really love you and Mom from the bottom of our hearts. I am really missing both of you a lot.
Happy Father's Day!
You and Mom both deserve the best!
With lots and lots of Love and Care!

-- Nishit and Himanshu
---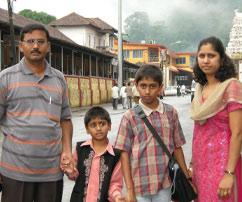 I love my little sons Harinath Reddy & Sai Harsha Vardhan Reddy. I am giving confidence to my sons in each and every step and teaching them what my father taught me in my childhood which helps in their growth and to come up in their life. We have to teach our children in all respects, like, love, affection, peace, environment protection, water and energy conservation to excel in their life. I request all the parents to teach these things in daily life to their children and follow this themselves since children follow exactly their parent's actions. 
-- P. Sudhakara Reddy
---
Dearest Dad,
No words in the world could describe the selfless love and care of a Father. I would regard my dad as one of the best gifts bestowed to me from Almighty!
My dad has always been there -- in tough times, happier times encouraging all the time. If today in my life I'm something it's all the love, care and trust shown by parents.
Thanks for everything Dad!
-- Sneha and Gautam
---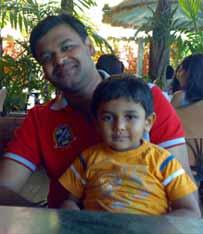 Myself and my son Akshhat. We always have a good time whenever we are together. He is 3 years 3 months old, born on March 25. A guy full of energy and fun.

-- Mitesh Kumar

 

 

 

 

 
---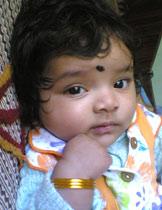 I wish my Angel would go through this post once she grows up:
Dear Sweet Heart
This photo of yours for many could be cute
But I understand you u think so deep
Well it's a fact that I'm struggling
But for you my darling, I can overcome any struggle in my life
I thought I lost my life
Here I see it in you
I thought I lost my happiness
Here I see it in you
I thought my end has begun
Here I see a beginning in you
I thought though thought
You have proven all my thoughts wrong :)
I can and I will come up again to see you happy in Life
What I wished for
-- Lokesh Rajendran
---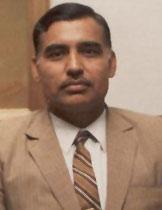 Respected Papaji,

Just wish I could be there with you in your final moments. Today, when you are no more there with us, we still feel your presence everywhere and your guidance in every step that we take. We all miss you so much, and I want to say thanks for all the things you have given me! With your blessings, I have started my career and hope to excel in it.

Please forgive me for any mistakes that I have committed. Whatever I am today, is just because of your support and sacrifices and you will always remain my hero.
Your son,

-- Madhur Yadav
---
Dear Paapa,
As children we always thought you were strict and unapproachable. We thought ma always understands us and we shared everything with her. But as we grew older we have had a special attachment for you. We realised you have always put us in front of your wishes in life, even now you do. You have been our role model and will be forever. We have at all times admired your strength as a husband and as a father. Your principles, ethics and mannerisms are lifetime lessons for us.
You have given us a rich but warm culture for which we are always grateful to you. We have achieved a commendable place in life but we completely owe it to you and ma. But as humans we still have a lot to achieve and we hope to follow your path always. Paapa thank you for the wonderful life you have given us and we will always love you however far we are. Happy Father's Day!!
Your loving daughters
-- Divya and Shwetha
---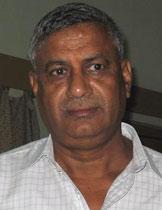 Papa,
You are a very special person in our lives. You have always been a very positive influence, a role model for us. You are someone that we look up to and you have always been a source of inspiration for us. I wish I were there with you and share the beautiful moment when you read this message.

We wish you A Very Happy Father's day. Thank you for being what you are.
-- Shruti & Deepak
---
Dear Papa,
Let me start by saying a big THANK YOU for being so wonderful! I feel I'm the luckiest girl on this planet to have a father like you,or rather a best friend like you.
Papa,you have always been there whenever I would look back, needed support or a loving hug from you. Thank You for being there whenever I needed you, thank you for loving me so unconditionally and hammering those morals and values into me.
Just as a flower would never blossom without a garderner, I would never have grown like this without you.
I may not always express my love for you, but you mean the world to me -- Love You Papa!!
Happy Father's Day!!
Loads of Love,
-- Esha Nadkani
---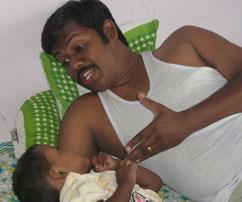 I am very proud to be a Dad to my son.
-- Sunil Jaya Kumar
---
Dear Dad,
I am still struggling to find the right words to say thank you. For all that you have given me and taught me, for the very first day as far as my memory goes back, when I had given you a hard time running around in park and you would run behind me even after a hard and tiring day at work, to the days when I had chicken pox and you would not sleep the entire nights.
You made sure that I get the best education even though you had to sacrifice so many things for it. I still remember the days when you went early to the office even before I woke up and won't be back even after I go to sleep. In what way can I thank you for all those things. You made sure that I never face any hardships in life and when I hear from grandpa and others about what all you have gone through during your childhood makes you even more special. Probably I would not be able to do or achieve what have you achieved in your life.
And now when you need me most, I am away from you stating the pretext of my life and career. Hope you will forgive me for that, as always I am taking you for granted. And I still now, it's only to you that I can come back anytime I have a problem and you will always be there with your arms open. I wish I could come back home and stay with you. And I want to tell you that I love you and will always do and pray to god he gives me more opportunities to be your son.

-- Sudhish
---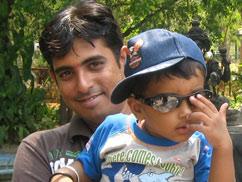 My son is 2 years old, not old enough to understand the meaning of Father's Day. But I certainly feel proud to be his dad and I am enjoying my Fatherhood like anything.
 
-- Vishal Chaudhari
---
Hi Dad,
All I want to say is that I love you. You are the best dad in the whole world. Infact, I am one of the luckiest. Thanks for being so supportive, loving, caring. Even when I have not been good you've been with me like a solid rock, supporting me, making me see things as they should be rightly. I am really lucky and thankful to god for being born to you, for having a dad who is one in millions. I am sure of that. Love you a lot Papa. Hope I have been a decent daughter. I am really sorry for the times I have hurt you. I really am. But hopefuly, I can make up for it. I hope I can give you all the happiness which you truly deserve. Happy father's day! Your best[:)] daughter.
-- Shruti
---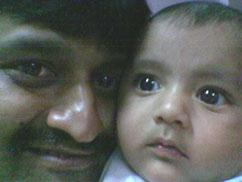 My son Mackwyn.
-- Melvin Lobo
---
Dearest Baba,
You are the BEST dad a kid can have and we are just so glad that we have you :)
To us you have always been our "Puchi" who has always been there for us for everything :)
You need to know that we all were shaken to the core when you fell sick sometime ago :(
I am so waiting to see you spoil my kids now and be the sweet adorable nana :)
Love you the WORLD :)
Your badmash daughters :)

-- Ani

---
If you would like to share your photographs, messages, memories and videos write in to getahead@rediff.co.in
with the subject line 'Dads' and make this Father's Day one your dad will long remember.