Father's Day is on June 21, and we asked readers to send in their special messages for their fathers. We also asked dads to share photographs of their little darlings on Father's Day. In
response, we have been flooded with touching, sentimental messages and photographs that celebrate fatherhood. Here are some of the messages we received:
---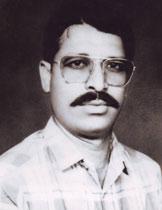 My dearest Papa,
I want to tell you that you are the only person whom I have ever loved and you mean a "BIG WORLD" to me. Papa, I miss you very much though I have turned 30 now and a father of a 3-year-old son, I am still your child and need your supporting hand. I know you left us for heavenly abode 16 years back but I still feel that somewhere or somehow I will meet you once in my life.
Papa, when I am in times of trouble I remember you. Thinking if you were with me, you would have guided me and held me in your loving arms. Though it's been 16 years now, I still remember and feel your touch, the way you used me hold me in your arms, embrace me, your smile used to be big support and would build a big confidence in me.
Every moment I spend time with your Grandson (my son), I see you in him and it reminds me of every moment I have spent with you since my birth. I make it a point to bring up your Grandson, the way you have brought us up and give him everything that you have given us.
Papa, every year Father's day is a very special day for me. When I see other children embracing their father, I feel hurt which cannot be expressed and I wish Papa you were with me. But I'm glad that God made me a father where my son will embrace me on the Father's Day.
Though I must be sounding foolish, I pray to Lord Jesus, that whenever I leave this world , God should place me in your bosom & in your arms to be with you for Eternal life..
Love you and miss you papa,
-- Sunil (Raja Beta)
---
The day I missed your hug chasing my blues,
I understood loneliness.
The day I knew no one was there to control me,
I understood insecurity.
The day I realised no one can replace you,
I understood sorrow.
The day I knew you'd never come back,
I understood darkness.
The day I realised my world was falling apart,
I understood you Dad.
Miss you daddy...
-- Martina
---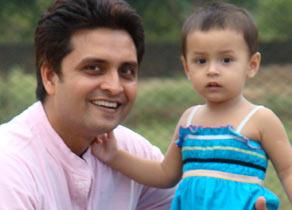 My daughter Kyra. I was blessed by god 1 and 1/2 years back when I got my angel. She completes me now. I feel responsible and on the top of the world after I became dad. It is a great feeling to be a FATHER.
-- Vivek Singh Panwar
---
I don't want to thank you dad, it'll be impossible to do so as the number of times I should is millions and millions. Just wanted to tell you I still feel that warmth in your arms. I still remember the sparkle in your eyes when I become successful in anything. You always told "keep it going son". Still I can remember you used to tell me I am the best son you can get in your life, and it always gave me a great amount of joy. Hope you are reading this, if it is so I want to tell you one thing I MISS YOU dad, I miss you a lot.
I am not as successful a person today as what you have dreamt for me but whatever I am today, wherever I am, it's only because of you and I am very very happy with my life.
And yes, if there's anything I can give you in return it is my love. I LOVE YOU DADDA, I love you very very much.
-- Joy
---
Dearest Pappa,
What can I say. It's been exactly 10 years, 3 months and 26 days since you left us so very suddenly.
There is not a single day that I don't think of you. You were the greatest and there is no one in this world who could be like you.
You struggled so much in life and I only regret that I could not give you enough happiness and joy.
I am deeply sorry if I ever hurt you. I pray to Lord Ganesha to keep you happy in heaven.
-- Sujata
---
Sweet Memories
If we talk of memories the one that I remember and love the most is my first day at school. Well the day at school with my Dad who had come to leave me. Seeing tears in my eyes, he was bitterly crying like a small child with me. I still remember that he asked the permission to sit besides me that day till the school for one hour got over. The best part was he had taken nearly ten days leave just to see me be comfortable in my class. Standing at the window and pointing at the teacher to be attentive. I was more comfortable to see him at the window then to sit and look at teacher. After school, a shop at which there was a regular halt and I used to get Limca to quench my thirst. He used to carry me and hardly make me walk.
I know today what it feels to be a father when I have my son. On the June 15, when the school reopened and when we went to leave our son for his first day at school, I looked at my dad and told him that there can only be one dad who can stay and sit with his son and it happens to be just you. He had tears again when my son cried and my mom told my dad to repeat the same thing that he had done long years ago.
Well Dad we all love you. We know and find that you love us the same way that you used to when we were small.
Love you Dad and happy to have a loving father like you. May God bless you with abundant love, happiness and health.
I am glad to have a father like you. Happy Fathers Day to you DAD.
-- Melvyn Lobo
---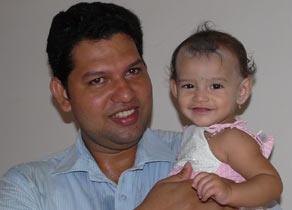 Dhruvi is my daughter of nine months. She is very cute. I wish her all the success in life. May God bless her.
-- Santosh Devadiga
---
Respected Papaji,
I wholeheartedly convey my gratitude to you for attaining my life in a right direction with your selflessness hard works for us. It's my honour to have a father like you!!!!
I pray to God to give you a healthy life ahead.
-- Paramjeet Singh
---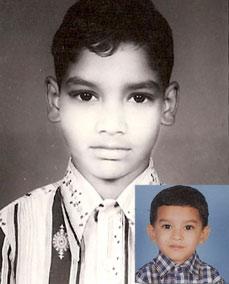 They say I am his photocopy, I look just like him
My Papa gives complete justice to the word "Perfection"
He always makes sure to be present on all my school open days and functions.
He is the best father one can have. He is tall and has a mustache. My Mama is very proud to have him as her husband. My Mama tells me, he is there for me everyday, played with me when I was little and even now he gives me time and attention.
My father is a very influential person as well. He helps people in any way he can. No matter how you look at him he is the greatest father one can have.
I am proud to be his photocopy and as it is rightly said "My Papa is Strongest"
This is a photo of my dear Papa when he was as small as me.
-- Aditya Prashant Bhosale
---

Father's Day Poem
If mothers are diamonds,
Fathers are no less
Loving and caring they are,
May god bless
They are like a precious treasure,
Strengthing the relation bonds each day more and more
Whenever you seek them,
They will be always there with you,
Ready to hold your finger in whatever trouble may be you,
Thou heart shall now acknowledge how philanthorpic and generous they are,
So go ahead this father's day
Tell them how special and noteworthy they are.
Happy Father's Day Papa!
--
Navrose kaur
---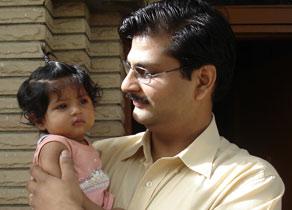 My daughter Manasvi and I.
-- Sanjiv Kumar 



---
Dear Papa
Thank you for being with me always and giving me the wings to fly high. Thanks for always being my best friend and the best guide and counsellor. If today am in LSE, London its all because of you. Thanks Papa for infusing that confidence in me and always standing by me no matter what. This is the first time I am away from you, today am in UK and you in India.
Thanks papa and Happy Father's Day.
-- Harshika Singh
---
Love You lots. You have no idea what you to mean to me. You always gave me whatever I asked for including unconditional love.
You kept us strong even after mom's demise. I know life has been very rough for you but you still laughed and cried in our joy and sorrow keeping your own loss aside.
Dad I just wanted to let you know I will always love and adore you.
They say God couldn't be everywhere so he made mothers. I say god made my father special with a mother's patience and father's unconditional support.

Love you Dad, as always.
-- Pragati Kalu
---
Dad,

I really love you a lot. You have always taught me good things in life and supported me in every step. You have also given me a lot of inspiration in whatever I do. I know I cannot repay by doing anything for you that but I really wish that I always make you proud. Please forgive me for any mistakes. Love you.

-- Santosh
---
With tears, I am writing this.

I had a Dad who was a friend, philosopher, and guide to me. I used to take care of him as my kid. He was very active until his last minute. Even at his last minute, he did not care for his pain.

I do not know how I am going to live without him for the rest of life. Last month this day, he was with me but not today. May his soul rest in God.
-- Rajesh Kumar Chandran
---
If you would like to share your photographs, messages, memories and videos write in to getahead@rediff.co.in
with the subject line 'Dads' and make this Father's Day one your dad will long remember.