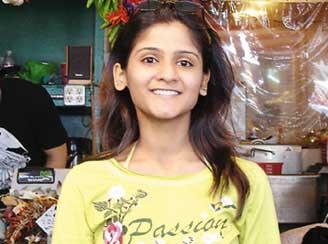 The inclination towards this field was natural for Sanjhi Agrawal, the CA topper (Marks: 545/800; total percentage: 68.13), an alumnus of Mayo College Girls School, Ajmer. Urmila Rao for Careers360 speaks to the young go-getter.
Delhi-based Sanjhi Agrawal, 22, is a BCom (Honours) gold medalist from Shri Ram College of Commerce. Currently an article (trainee) with global consultancy firm Ernst and Young in Gurgaon, Sanjhi shares that clearing the final exam didn't mean a backbreaking study schedule for her.
Having topped Professional Education-II (the second stage before the Finals), she was already clued in to concepts.
Having a CA for a father, uncles and nephews in the same profession, the inclination towards this field was natural for Sanjhi, an alumnus of Mayo College Girls School, Ajmer.
Though her elder brother Vaibhav (an IIT Delhi student) chose to pursue management studies at IIM Indore, Sanjhi opted to follow in her father's footsteps.
The support and encouragement of her doting mother Renu, was reassuring. "My mom used to drop me at my coaching centre at 6 am, located a good 23 km from our residence," shares Sanjhi, who also topped her Class 10 and 12 board exams, earning an all-India second rank.
Her father Raj Kumar's advice came in handy. "During Professional Education-II preparations, Dad coached me in audit, law and accounts," says Sanjhi. She cleared PE-I in 2006 without professional coaching.
"The questions were much the same as in Class 10 and 10+2," Sanjhi clarifies. Her final year of the 3-year articleship gets over in next nine months, after which she will obtain a CA membership.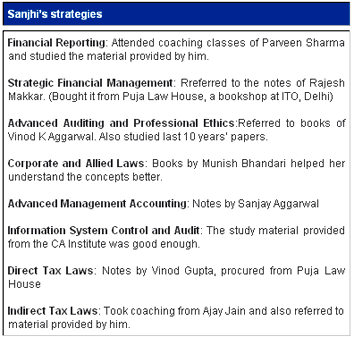 Preparing for success
Regular office timings preceded by thrice-in-a week professional coaching didn't leave Sanjhi with much preparation time. She started with theory subjects on weekends giving three to four hours on an average before taking study leave in January. Once the timings were consolidated, Sanjhi went on to strategise her study plan.
She started with a broad monthly schedule, breaking it down to weekly allocation of timings per subject, on to per day preparation, slicing it downright to hourly basis. By February end, as per self-set itinerary, she had familiarised herself with all the eight subjects once.
"Then came apportioning the days, for instance,12-13 days for direct taxation, 7-10 days for law," explains Sanjhi. The days on which she would finish her 'per chapter-per hour' scheduled topics earlier than the stipulated time, she would reward herself.
"She used the time to watch TV or catch up with friends," her mom explains. And 7-8 hours sleep was never compromised on. An average of 12-hour of day study with regular breaks was pretty much the regular routine.  
Did coaching help?
While preparing for PE –II, Sanjhi joined a coaching class, run by Parveen Sharma and Ajay Jain, for two subjects, accounts and costing. And in the final year, it was accounts and indirect taxes. The former is a core subject and the latter was a new area for her, she said.
With 500-600 students in one class, is coaching a big help? It provides guidance, motivates and orients students in a certain way, says Sanjhi who paid, Rs 10,000 as fee for three months of coaching. One reason why classes don't help some students is because they are irregular, observes the ex-Mayo school captain and debating champion.
Now, who can debate that?