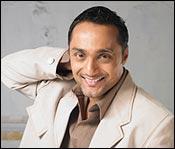 The Mumbai Marathon is scheduled for January 17 this weekend and the city will turn out in full force to participate and witness the sporting spectacle that is getting bigger with each passing year.
Celebs and common folk, the rich and the poor, the young and the old are on an equal footing for those few hours and actor Rahul Bose, who has been associated with the event right from its inception in 2004, is only too glad to point out that fact.
We caught up with Bose for a quick tete-a-tete about the marathon and why it holds so much meaning for him, as a Mumbaiite, a philanthropist and a sportsman. Excerpts from an interview:
Tell us a little about your long association with the Mumbai Marathon.
I've been part of every single Mumbai Marathon since its inception in 2004. As a matter of fact, I was the event ambassador back in 2006.
Also, I run my own NGO called The Foundation( www.thefoundation.in, which, among other things, works at providing marginalised kids from the Andaman and Nicobar islands an education. Six children were chosen back in 2006 to avail of a sound education on the mainland. They study at Rishi Valley School near Bangalore and every year I participate along with the six of them in the Mumbai Marathon -- we started when they were in Std VI, now they're in Standard VIII.
Which segment of the race are you participating in -- the Full Marathon (42.195 kms), the Half Marathon (21.097 kms) or the Dream Run (6 kms)?
Well, I was planning on running the Half Marathon this time, but the kids wanted me to run along with them so we'll all be taking part together, in the Dream Run (laughs).
How have you trained for the race this year?
Well, I haven't trained actually! But I have been running 11-12 kms thrice a week since last April. No matter where I'm shooting, I make it a point to do so -- I've run in New York, Toronto, Copenhagen, Bhopal, Rajasthan -- wherever I go, I try to stick to it. And it's not too difficult, because it takes me about 60 minutes to run that much of a distance -- an hour a day can easily be spared.
Also, I'm always in decent shape -- I play badminton, I swim, I play rugby. I've retired from the Indian Rugby Team now, because I thought it was better than getting dropped! That actually happened to a couple of guys younger than me, so I thought I'd bow out gracefully. But I still play club rugby from the Bombay Gymkhana against international clubs.
Any specific diet plan you follow to keep fit?
I call my diet the 'lion diet'. Lions eat what they want to, only when they're hungry and whenever they feel like it -- and I do too! (laughs) I have absolutely no habits when it comes to food -- if I feel like it, I'll have biryani for breakfast or a smoothie for dinner. That is not to say I gorge on junk food mindlessly -- I keep it healthy, because I'm a sports person.
How does running the marathon each year benefit

The Foundation?
I don't use the event as a fund-raising exercise. I know a lot of other organisations do and as a matter of fact, it's one of the best fund-raisers in the country, but the truth is that 90 percent of The Foundation's funding comes from me. Yes, I may get donations from a couple of friends, but that's it.
What makes running the marathon so special to me is that it's all about an equal Mumbai. Rich, poor, Hindu, Muslim, young, old, men, women -- we're all in this together. When people start running on the streets, everyone is equal.
I remember last year, I didn't stop at a drink station and a man running alongside me was holding half a cup of water. And I was thirsty, so I asked if I could have some. What are the odds of me asking a stranger in the street for a sip of water? What I mean is, for those few hours, we're all on the same footing, even the spectators. They're standing by the side of the streets and everyone has a front row seat, whether you're a vegetable vendor or an industrialist. For those three to four hours, you get a taste of how the world should be.
In fact, this year, I've told my kids we're supporting somebody else instead of our own foundation. There's this DVD that's just been released, called Little Dreamer and it teaches how to deal with children's learning disabilities. So I said to the kids, "You've got to level the playing ground. You were not privileged once, now you are, in a way. So we'll show them our support now." Our corporate sponsor, Raheja Universal, was most pleased. And we've managed to receive a grant of Rs 2.25 lakh, although that's nothing too ambitious. Some people raise Rs 50 lakh or more using this event, but for that I need to be a little more proactive and a little less busy! (laughs)
Do you think the Mumbai Marathon can be improved in any way? Is there anything about it that you'd like to change?
Um, no. It's fantastically organised and it keeps getting better every year -- it rates internationally, among the top 12 marathons in the world. In fact, this year, the International Amateur Athletic Federation listed it among their Blue Riband events.
Finally, any advice for readers who are going to be running the race?
Eat a lot of carbs, pastas etc, sip water during the race at regular intervals, stretch well before it and even better after it, keep your stomach light and most important -- run with happiness in your heart.