As part of an ongoing series, we bring you another excerpt from Mumbai-based chef Zubin D'Souza's Khana Sutra: An Aphrodisiac Cookbook.
Part I: Passionate Nibbles
Part II: Love Bites
Part III: Sensual Endings
Part IV: The Morning After
Presented here is an excerpt and recipe from Chapter 13: Not Tonight Darling...I Have a Headache!
Words that every man would dread to hear. For ages men have been battling the demons of headaches and mysterious maladies that tend to strike late in the day and ruin the perfect evening. What can we do besides take the good with the bad?
Well, for starters, we could apply these little Ayurvedic herbal home recipes to relieve symptoms of the most common ailments that could ruin the perfect evening.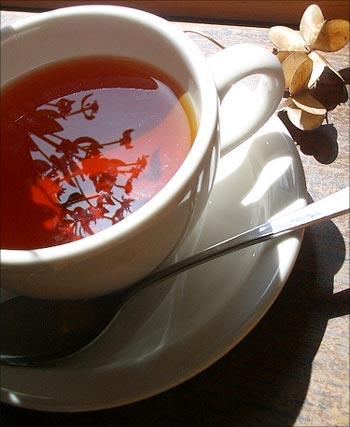 Elaichi Wali Chai (Cardamom and rose petal tea)
This is the perfect reliever for headaches. Cardamom is considered the second most expensive spice in the world after saffron and the wide ranging curative properties that it possesses sure ensures that you will get your money's worth.
Ingredients:

Green cardamom pods: 10 nos
Peeled and roughly crushed ginger: 10 g
Cloves: 2 nos
Fresh rose petals: 20 nos
Sugar: 60 g
Water: 300 ml
Method:
Bring the water to a boil along with the cardamom, ginger and cloves; reduce the flame and simmer the liquid till it has reduced to two-thirds of its original volume. Stir in rose petals and the sugar. When the sugar dissolves, remove off the flame and let it steep for fifteen minutes. Strain the liquid and serve hot.
Excerpted from Khana Sutra: An Aphrodisiac Cookbook (Rs 250) by Zubin D'Souza, with the permission of publishers Jaico Publishing House.
Click here to buy Khana Sutra from rediff Books!