Father's Day is on June 21, and we asked readers to send in their special messages for their fathers. We also asked dads to share photographs of their little darlings on Father's Day. In
response, we have been flooded with touching, sentimental messages and photographs that celebrate fatherhood. Here are some of the messages we received:
---
Dear Baba,
You have been the reason for all the gargantuan tasks I have tried achieving in my life. You advised me never to look back. You are the strongest wall of our close knit family, weathering all the thunderstorms and cyclones hitting you time and again. I still remember the day when I wanted to pursue my MBA and I was well aware of your financial credentials. The stand you took on my decision was applauding and huge, knowing the financial glitches we were facing. Look Baba, I am an MBA today, working with an MNC. The pride, the sense of achievement is deeply smothered with your endless love and spirits in making a good person out of me.
You always had an open heart and ear for me, even if Ma used to differ with my decisions, you took the toughest stance every single time, assuring I give it the best shot, and even if failed, patted on my back for the exemplary efforts (obviously not) I displayed. You and Ma are always in my and Didi's thoughts; whatever we do, wherever we go, we just remember your and Ma's indefatigable love, support and the sacrifices you two have borne for us. I pray to GOD each and every night before going to sleep to take the utmost care of my parents and give my life to them whenever needed. I want to be your kid only, every single birth I get, every single breathe I take, every single moment I spend, BE MY DAD ALWAYS!
Yours and only yours,
-- Babai (Amitabh)
---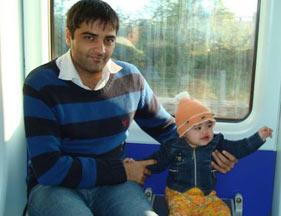 For Father's Day, I'll send a cute photo of me and Papa. I'm sure my Pops will get a kick out of seeing our photo on rediff! Happy Father's Day, Papa! Love you!
-- Anvi Kohar for Papa Ajay
---
Dear Father,

I thank you for all the small but significant things that you have done for me in life. Many a time you have sacrificed your own comforts to fulfil my every dream. Dad, almost all my dreams have been fulfiled by you except one. But this dream can be fulfilled only by me. I want to earn and take care of you and mom during your old age. As a student, this dream inspires me harder to work towards achieving my goals. Very soon, your son will make you a proud father. I promise you this, dad. Thanks again for being there with me always.

Your son,
-- Abhinav
---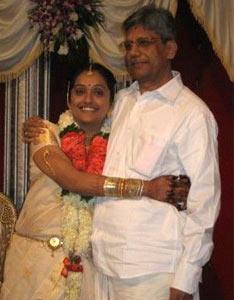 To my dearest Appa,

Father, Daddy, Pappa, Appa as we fondly call our dad. Every Father is special. Father is an epitome of selfless love, affection and inexorable support.

Like every Father, my Father is also somebody very special. However, I've never told him that how much I love him or what he means to me. But I know that he is somebody who has always inspired me at every walk of my life.

I remember how we used to fight, shout at each other. Now when I'm married and away from him, I realise how much I miss him.

My dearest Appa, I really love you and miss you the most. Though I've never expressed this to you, I thought this is a platform for me to express all my love and respect for you.

I want to give the best of everything to you. And I'm sure that one day I would definitely be successful in living this dream of mine.

This picture of ours was clicked on my wedding day, this is the most precious picture with me and my appa.

Yours and only yours
-- Vidhya
---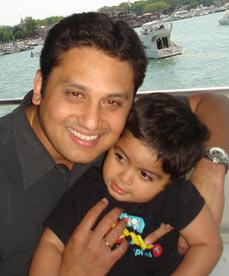 Dear Daddy,
I want to thank you for being a wonderful dad, I want to grown up to be jusr like you a wonderful, caring man, if I could be half as good as you are, I think I would consider myself successful in life. When you are away for work I hold your shirt and miss having you around. I couldn't possibly express it in as many words but my gestures say it all.
I love you lots, help me be as wonderful as you are.
Your loving son, Neev
-- I am writing this on behalf of my son to his Daddy (my husband). From Krupali Bhayani
---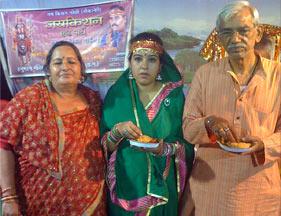 HEY DAD :)
Wish you Happy Fathers Day. On this day I take this opportunity to thank you for all the support, love and happiness you have given. I love you Dad, and I am very proud to be your daughter and am very proud of my upbringing as well -- the way you've brought us up.
I always wanted to be like a son to you and not daughter, hope I've succeeded.
You and Mom are one of the best things to happen to me. God has blessed me with such great parents that I would like to be your daughter in every birth I  take.

-- Nupur Yeshwanth Raj
---
For me, my Dad is my Hero, my world.
He is an Army Officer by profession, a thorough Gentleman and the best person to know.
My dad, Brigadier Chandra Ballabh Khanduri is also a well known writer and speaker.
The most loving person to know and be with. All this I am saying not because he is my father but because he lives up to all these exceptional qualities. Always willing to help people, always happy under any circumstance and always smiling.
The best Grandfather any grandchild can pray for. My niece Medhavi has received the best upbringing thanks to my Dad.
Yes, being a Senior Army Officer he is strict with exercising and being fit, which I often hate because he does not let me sleep late but whatever he does he does to make sure that I am fit, free of any disease and not FAT.
I can go on non-stop about my Dad. The most learned and well read man. What I like the most about him is that he will make some silly mistake and when my sister Gitanjali, my mom and I pounce on him he will admit that yes he has made a mistake and will never do that again, but believe you me he will end up doing the same thing again.
He is simply the most adorable person to be with.
-- Meena Khanduri Pandey
---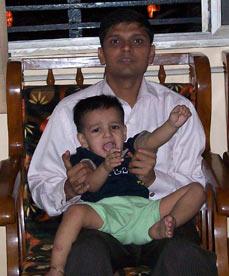 Me and my son Ruchit.
-- Ritesh Nehete
---
Dad, you are my hero!
I wanted to let you know that I love you and respect you a lot! The way you have sacrificed all the little moments of luxury for us is just something which cannot be explained. I wish every father in this world feels the same as you for his children. Thank you so much for being such a nice father and caring so much about us. I LOVE YOU!!!
-- Dheeraj Gambhir
---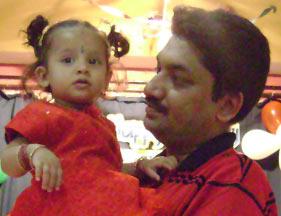 Me and my precious daughter Amulya.
-- Naveen
---
Hi Abbu,
 
I do not remember the day when I started to walk holding your finger and though I am walking alone and fighting daily life, I still feel I am holding your finger. Your thoughts, guidance keep showing me right way, I only learned how much a father loves his kids when my daughter cries in the night and I wake up to see her. I am your stick for old days, I am your legs to carry you, and I am your eyes and ears for listening and seeing the world.

Abbu you lost your father very recently, but do not feel alone, I am with you always, 
I love you Abbu,
-- Sajid
---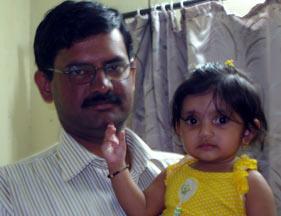 Myself and my daughter Manasvi.
-- Digvijay V Nair

---
Pappa,
I miss you a lot Pappa. You are always alive in my memories. I love you Pappa.
-- Sicily
---
If you would like to share your photographs, messages, memories and videos write in to getahead@rediff.co.in
with the subject line 'Dads' and make this Father's Day one your dad will long remember.