Father's Day is on June 21, and we asked readers to send in their special messages for their fathers. We also asked dads to share photographs of their little darlings on Father's Day. In
response, we have been flooded with touching, sentimental messages and photographs that celebrate fatherhood. Here are some of the messages we received:
---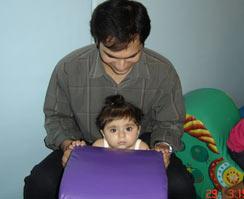 Dear Papa,
I LOVE U so much.... Happy Father's Day.
I miss the day when you first held me in your arms.
You were confused and you were scared!
Before I cud see my mom I saw you the first.
I too was so confused and was very scared!
But after getting the tenderness of your love I was relaxed.
I didn't miss my mom and was enjoying the outer world.
When mom came after 2 hrs and held me in her arms
I told her that I saw with my Dad the first phase of this world.
I told her that I was enjoying my new life with my Dad.
She too was very calm after listening all about you Dad
and told me one more truth about you that time.
That you are the best husband and would be the best Father in this world, Dad.
Love you PAPA.
Lots and lots of love,
-- Agrima
---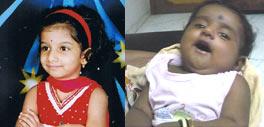 This Fathers' Day is a very special one for me as I am celebrating it as a "complete" family man. My 4-1/2 year old daughter Arya has recently got a little brother, Vignesh, and our days are filled with sweet dreams about their future.
I expect my children to be straightforward, loving & caring to all, particularly among themselves. I and my lovely wife Savita are little worried about the 'trends' seen in the new generation, including their behaviour, dressing & conduct. We are, however, sure that our children will follow us in simplicity, uprightness & keeping up traditional values. As Arya grows (though she is only 4-1/2), I am quite happy with her tastes & style, which exactly match with that of ours and our expectations. She speaks good Malayalam at home (I am very particular at speaking mother tongue & following mallu-traditon) while trying to pickup English & Hindi as well. I wish she will keep up her simplicity & adjusting nature as she climbs the ladder of life.
-- P. Muraleedharan
---
Dear daddy, though you are not with us anymore, we still miss you and remember you each and every single day. Dad was a selfless person, ever smiling, witty, perfect gentleman, handsome, a person with high standards. My dad was very encouraging and did his best to bring us up. He is just like a god to us. Though he had faced lots of problem in his life, he has never made us realise the same. He was a family man, very attached to mummy. I still miss you. My tears start falling when I remember your ever-smiling face when in troubled times also. I still feel you are with me always supporting.
Dad you are the greatest. I miss you. Thank you for everything.
Your ever loving
-- Kunji
---
Hello Papa,
I hope you read my message. First time in my life I am expressing my feelings to you. You have done a lot for us .You are amazing papa. You have struggled a lot to give all comforts to us. Life was not easy for you but you made our lives very easy. Whenever I had any problem in my life, you were there to support me and now after my marriage also you are supporting me in all ways. Whatever I am today its just because of you papa. I love you papa... and I miss you so much papa. I wish you "HAPPY FATHER'S DAY"
Love you papa,
-- Shruti
---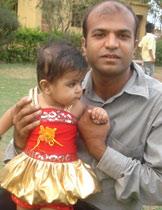 Saanvi is just 9 months old I'm proud to be her father. She loves and cares for me. So do I.
-- Prashant Sorty
---
My Dad is Great
How children think of their dad at different ages
At 4 Years, My daddy is great.
At 6 Years, My daddy knows everybody.
At 10 Years, My daddy is good but is short tempered.
At 12 Years, My daddy was very nice to me when I was young.
At 14 Years, My daddy is getting fastidious.
At 16 Years, My daddy is not in line with the current times.
At 18 Years, My daddy is becoming increasingly cranky.
At 20 Years, Oh! It's becoming difficult to tolerate daddy. Wonder how Mom puts up with him.
At 25 Years, Daddy is objecting to everything.
At 30 Years, It's becoming difficult to manage my son. I was so scared of my father when I was young.
At 40 Years, Daddy brought me up with so much discipline. Even I should do the same.
At 45 Years, I am baffled as to how my daddy brought us up.
At 50 Years, My daddy faced so many hardships to bring us up. I am unable to manage a single son.
At 55 Years, My daddy was so far sighted and planned so many things for us. He is one of a kind and unique.
At 60 Years, My daddy is great.
Thus, it took 56 Years to complete the cycle and come back to the 1st stage!
-- Lakshmi Shankar
---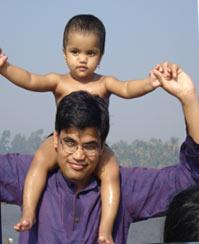 Dear Papa,
I love you dad and I'm proud to be your daughter!
-- Gargi
---
To my dearest Appa,
You are everything for me a pillar, a teacher, a friend, love, care, strength, emotions, GOD...everything. You are the first person to whom I hold the finger and learn walking.
Without you nothing can be done. I am praying GOD to give my next birth as your child only.
LOVE YOU Appa

--- Bhagya


---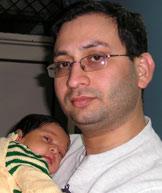 Dear Dad,
Now that I have become Dad, I know exactly how feel you about me.
I loved you before, now I love you even more.
-- Nitin
---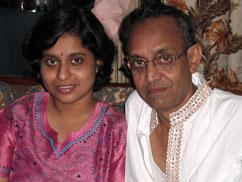 To me my father, Mr. Parthasarathi Gupta is the ultimate source of strength. He is the most practical man on earth and can be trusted with anything and everything. I pray to god that I may enjoy many more years with him.
-- Suchetana
---
Wish you a very happy Father's day Papa !!!!

Simmi, Sanju and I wish u a very happy, healthy and long life! You have given us lot of learnings both academically and personally.

On this auspicious day, I would like to take the opportunity to thanks Mumma as well who is not there physically with us but will always be there with us mentally!

Actually, we cannot imagine you without mumma so thank you both for giving us this life with so much of learnings! You both have taught us how to live and enjoy every bit of our life. We are proud to learn honesty, sincerity, and timeliness do not hurt anyone and love all qualities from you.

You are the best parents of this world!!

-- Seema
---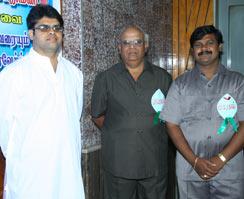 I really thank to god because everyone gets dad but I got DAD as God, my soul is my father, I remember one thing when I was going for my job I asked him to get me a 2nd-hand cycle. He gave me a new bike in a few days. My hero is my dad, a great guy with no bad habits, straightforward guy, he always says:
Think good
Speak good
See good
I love u daddy. Please be with me until I'm in this world.
-- Star Anand
---
Thatha and Nanna,
Having both of you has been the most treasured thing for me in life. I feel privileged to be a loving daughter for these two wonderful people, being born to one and brought up by another.
Growing up with grandfathers surely makes every child's life beautiful, and it is with you Thatha, that I learnt everything in life. All the stories you told me, all the games we played together to the mischief partner you have been to me every moment has been very special and treasured. You are the most wonderful DAD.. I could have!
Nanna, although I have not spent my childhood living with you, the very little time spent with you means the world to me. It gives me so much pride when people tell me I resemble you or act like you. I have just grown up with you as my idol in life! Love you so much for being such a fabulous Dad!
 
I'd also love to take this opportunity in saluting and thanking all the DAD's I've seen growing up and for everything they've done for me, my uncles -- Suri Mama, Ravi Mama and Babai. Each of you has made my Father's day very very special all through.
Words would never be enough to express what all these wonderful people mean to me. Happy Father's Day All!
Miss You and Love You!

-- Sreya
---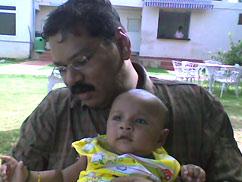 Thank you very much for everything you have given me.
I am proud to be your son.
-- Nagaiah Chowdary
---
I respect my Dad not only becoz he's my Dad, but for the person he is. My mother got a severe attack in the year 1997 and till today she is not back on her feet completely, its been more than 10 years. It's becoz of my father that we never shattered. He took care of us as if nothing happened. Making us more strong to fight back every day, he has taken care of all his 3 children -- our education, finances (despite of crunches), marriages, occasions (small or big), and is always ready to sacrifice. He is my hero indeed. I think it's some good deeds of mine in last life for I got him as my Dad. Dad though I am far away from you there's not even a single moment I don't think about you. I know I have never said this to you but I Love you loads and respect you for what you are and all that you have done for us. I can't think of a life without you!!
For my friends, express your love to your parents today or you'll wake up some day when it'll be too late.
-- Swati Chitre
---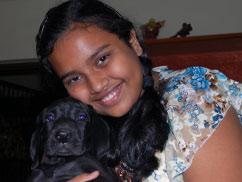 My lovely & dear daughter Ojaswini along with her Great Dane puppy.
-- Ajay Prabhakar Kambli
---
Our dad is our mentor, guru and a pillar in my life without which I wouldn't have achieved this much. I owe him all my success and love him very much. He is the biggest inspiration in my life.
-- Sandeep
---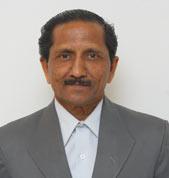 Dearest Dad,
What can we say about you? There are lot many things those we always wanna say you, sometimes we did and some times we missed it. So on this special day, we are grabbing this opportunity to convey the importance you have in our lives and the warmth and love you showered on us.
There's a special kind of warmth in your love like that carried on angel's wings from heaven above. You hardly express the depth of your love with words but the caring in your eyes speaks a love that's felt, not heard. In fact, everything you do is an act of love that will ever be true; while your dedication to family and home is as great as the sky is blue.
Dad, you always lended strength, gave love, and you showed the way to the happiness that we've dreamed of. And we'll always be thankful that God sent us, a father that encouraged us to believe in ourselves. We truly appreciate everything you've done!
We just want you to know that you're on our minds every day. We've always thought of you as a guiding light in our lives. You've lead us in the right direction and helped us become the human being we've always wanted to be.
You protected us and cared about us and were always there to shelter us with all your love, affection and care. You always gave us what we needed without hesitating for a minute. We can not ask for anything better than this.
We hope you have a Father's Day that's as great as your patience and understanding.
On this special day I just want to say that,
A Father means so many things...
An understanding heart,
A source of strength and of support
Right from the very start.
A constant readiness to help
In a kind and thoughtful way.
With encouragement and forgiveness
No matter what comes your way.
A special generosity and always affection, too
A Father means so many things
When he's a man like you...
Truly, no one on earth could be as forgiving, loving and affectionate as you are.
We really love you Dad!!!
I misssssss you a lot!!!
With all the love,
-- Monu and Ruju
---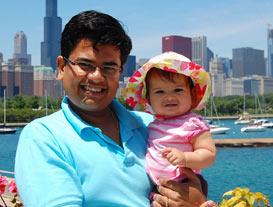 My daughter Ananya and I, will be celebrating my first ever Fathers Day !
Ananya is the love of my life, my Raison d'être.
 
-- Ashish Rajan
---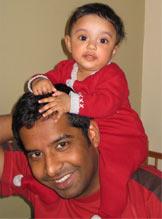 Hi DADA,
This is my first message to you, I LOVE YOU for what you are.
HAPPY FATHER's DAY!
Your cute little darling,
-- Avisha
---
If you would like to share your photographs, messages, memories and videos write in to
getahead@rediff.co.in
with the subject line 'Dads' and make this Father's Day one your dad will long remember.