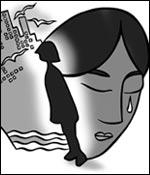 We invited readers to comment on how young people can deal with stalkers and obsessive lovers. We also carried professional advice and a few harrowing accounts from young women. Here, reader Shibani Malik* shares her harrowing experience at the hands of an office admirer:
I am a working lady, employed with a company under the Central Government. A colleague of mine started seeking too much attention from me in the name of work, which I felt weird about and so Istarted avoiding him. Gradually, he stopped talking to me as none of the favours sought by him were justified and I would direct him to the concerned person.
Then, he started roaming near my work station, places I would go for recreation provided by the company. I could spot him, but couldn't say anything to him because these areas could be visited by all employees. However, I informed my seniors and they gave him a verbal warning. Things then turned became worse. He planned to secretly get married to me on the pretext of inviting me over for a religious function and smearing vermillion on my forehead in the presence of everyone. I was notified of this incident by others. Fortunately, I didn't turn up and this angered him further. However, on being informed of this incident, I personally gave a verbal complaint to the higher-ups of the company. I was informed of some paperwork being done in this regard by them.
After 4-5 months of having given my complaint, though, still no action was taken. A sense of insecurity cast over me and finally I suffered an anxiety attack. I was declared to be suffering from acute psychosis and sent to seek psychiatric counselling. The change of place had me recover from the anxiety soon enough and I joined work after a week and a half. However, I was subjected to social discrimination and some fractions in society taunted me as a psycho and the like; some would make fun of me and my decisions and opinions. There were still others who preached to me that what happened was due to my anger (since I had approached the higher-ups) at a weak person whose only fault was that he loved me.
I went into a depression and lost trust in people. I thought of resigning or seeking a transfer, but neither was granted. Now, after facing all this, I have turned stronger, more patient, careful, cautious. I am still working with the stalker in the same office. He now walks past me as if nothing happened, but makes it a point that I see him having a great time. Personally I feel humiliated, but keep my anger at bay. Also, it may be noted that I am not under any psychiatric medication or counselling and am perfectly sane, doing my duties and interacting with other people (except those in this workplace) as before. Besides verbal warnings, he too was sent to seek psychiatric help and his seniority was affected by a few months. Now, it's been almost two years since my anxiety attack took place, but please advise me, what should I do? Was his punishment justified, didn't I have to pay too much for his actions? Please treat this matter seriously.
*Name changed to protect privacy.
Have you ever been stalked? How did you deal with it? Please share your experiences and suggestions with us. Send your stories to getahead@rediff.co.in (subject line: 'Stalker experience') and we'll publish them right here on rediff.com
Illustration: Uttam Ghosh